Cup expediting sports equality
July 4, 2010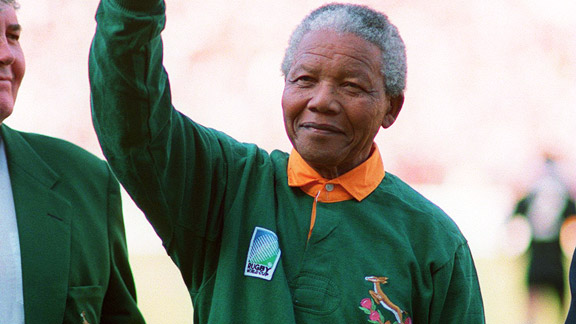 David Rogers/Getty ImagesNelson Mandela's famous donning of Springboks colors in 1995 was a turning point for South Africa.
CAPE TOWN -- What a thing to do.
At the final of the 1995 Rugby World Cup, held here in South Africa, the new president of the nascent post-apartheid democracy, Nelson Mandela, famously appeared wearing a Springboks jersey.
It was much more than a skinny older man putting on the cotton of his nation's rugby team. He embraced an institution that had stood as the proud symbol of white arrogance, the favorite of the ruling white minority -- rooted against by the blacks for what it stood for, Mandela among them while incarcerated on Robben Island. Apartheid divided sports, too: the rugby-playing whites separated from and placed above the soccer-playing blacks. Thus, Mandela's gesture was and is seen as a landmark moment in the reconciliation of South Africa that he had preached -- of the coming together of the "rainbow nation," as Archbishop Desmond Tutu baptized it.
If Mandela, who had lived in the Soweto township and spent much of his life oppressed, is the embodiment of the new black community, Schalk Burger Jr. is his white antonym. Burger spent much of his childhood living on the vineyard his father runs and went to Paarl Gimnasium, a preppy school for Afrikaners famous for its school sports teams but where soccer wasn't offered. His father, Schalk Burger Sr., played a few tests for the Springboks in the "isolation years," when South Africa was frozen out of international competitions during the 1980s because of its apartheid regime.
Burger started out as a professional cricketer but eventually tried his hand at rugby and was an instant sensation, becoming a Springbok at 20 and the IRB International Rugby Player of the Year at 21 as a flanker. Burger, by many measures, is firmly ensconced in South Africa's white society.
The first thing you notice when Burger walks into a coffee shop in the lobby of a classy hotel, other than that he's 10 minutes early, is his enormous right hand, which plants a surprisingly gentle handshake. Tufts of long blond hair hang down his forehead; long sideburns delineate the end of their territory. Bushy eyebrows and lips that look as though they've been busted once or a thousand times give away his profession, as does a nose that, while still remarkably straight, has seen its share of abuse. His 6-foot-4, 250-pound frame occupies much of your field of vision. He looks like a bigger Owen Wilson who has a more manly job.
Rugby players used to be superstars among the white population -- which makes up not quite 10 percent of South Africans -- and walk around black neighborhoods without fear of recognition. Not anymore.
"In the old days it was like that, but in our days it's changing all the time," Burger said. "The amount of black people that actually start watching rugby and are rugby supporters and are actually recognizing you, especially in the last four or five years, has been amazing."
Rugby has built on the momentum of that watershed 1995 World Cup, when South Africa won against almost impossible odds, and has grown in national stature. "I think '95 was the big turnaround but I reckon the last five or six years or so it's really changed around," Burger said. "You walk around the streets and it's not only whites recognizing you, it's every walk of life."
Yet the inverse is happening too. Rugby has gone onto the back burner during the World Cup, even among whites. The Springboks are playing at smaller venues in smaller towns, rather than the choice arenas in the big cities now devoted to the World Cup.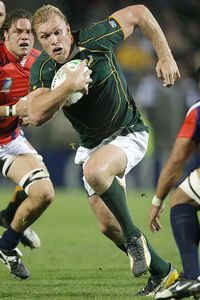 AP Photo/Mark BakerSchalk Burger Jr. is one of several Springboks who have embraced the World Cup.
"During this World Cup, it has been about just soccer," Burger said, leaning on our glass table, which slants his way at a 20-degree angle. "Normally this time of year -- June and July -- rugby takes center stage. This is the first time that I've been involved that in South Africa, rugby has taken a back seat. It's pretty weird."
But do the Springboks resent soccer for it?
"It's fine with me," said Burger, who proclaims himself a devoted Liverpool fan. "All the guys I've spoken to have really embraced the World Cup. … It's a once-in-a-lifetime experience. I really wanted Bafana to do well -- get top-16, maybe quarterfinals, maybe win the bloody thing! We've taken a back seat to soccer, and it's been fantastic."
Most of the rest of the white community is in agreement. In South Africa, despite the gains, wide disparity still exists, but soccer has now joined rugby in transcending race.
"You could see from the white attendances at Bafana matches that we have definitely embraced soccer," Burger said. "I went to a school that didn't have soccer. The chances of me ever becoming a soccer player was nil percent. But I'm a good soccer supporter now. The awareness of Bafana from now onwards from every part of the public will be that much more. The awareness [stemming] from a thing like [the World Cup] just trebles."
My driver, Alan, a family friend of the Burgers, has noticed the difference at a more personal level.
"My father is 75," Alan said. "He never, ever cared about soccer." After South Africa's win against France, Alan got a call from his old man: "Jeez, did you see the game of Bafana? They were good!"
"I'm watching soccer, my children are watching soccer," Alan said. "Us white South Africans are suddenly backing the team."
"I've enjoyed the World Cup," Burger said. "The only thing I haven't enjoyed is I haven't been able to watch enough matches."
Burger has attended one of South Africa's games too. "I wore my Bafana jersey," he said with a smile as broad as his chin. A Springbok in a Bafana jersey, a proposition once as unthinkable as Mandela wearing the rugby jersey.
Fifteen years after the rugby World Cup, which brought the blacks to rugby, the soccer World Cup has brought soccer to the whites. South Africa has come full circle.
Leander Schaerlaeckens is a soccer writer for ESPN.com. He can be reached at leander.espn@gmail.com.