Street vending is no easy gig
July 1, 2010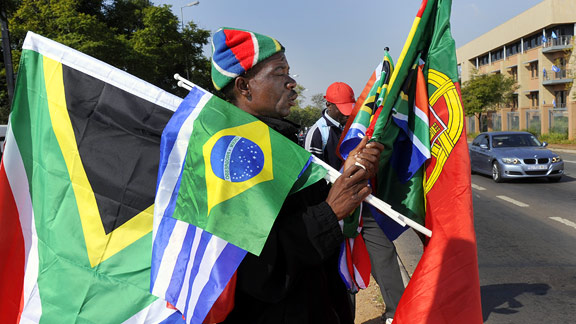 Daniel Garcia/AFP/Getty ImagesThe fortunes of street vendors can vary depending on location.
JOHANNESBURG -- Bedlam.
The evening rush-hour traffic crawls along, slowed by robots -- Afrikaans for traffic lights -- and jaywalkers scurrying to the city's central train station while bakkies, low-slung pickup trucks, perilously transport workers.
Shrill vuvuzelas pierce the dense night air. Black smoke -- billowing from tires set alight by those seeking warmth -- irritates the back of the throat and fills the lungs. Barbed wire stretches forever, seemingly enough to span the globe three times.
Downtown Johannesburg is a shadow world. After the sun sets, only the fires illuminate the city. Rare is the working street light, and the dilapidated project housing and office buildings are dark. Most buildings are either vacant or occupied by squatters.
This is where street vendor Sean Shame works.
By 4:30 p.m., most other street vendors have packed it in. It will take them hours to travel the 20 or so miles to their homes in the townships. Besides, it's best not to linger too long after dusk on some of the most dangerous streets in the world.
On this day, Shame is still at it, though. In the shadow of a boarded-up building, stained gray by the smoke on a side street where police don't come by much, the biting cold doesn't keep him from calling out to every car that comes by. Pleading with its occupants, while trying not to get hit, as sometimes happens.
Shame is 25. He's married and a father to a 19-month-old girl. Shame is trying to flog hats, scarves, jerseys, vuvuzelas and flags to World Cup-goers. Shame, like so many others, is having a hard time of it. Year-round, he sells knockoff gear outside the city's stadiums on game days. South Africa's cities teem with street vendors, selling food to the locals and trinkets to tourists. It's an occupation often passed down from generation to generation. "Here the population our age has no jobs," Shame said. "So it's better to do this, because they don't give us a job."
Shame had high hopes for this World Cup. But the World Cup has no place for him.
"I had a big dream," he said. He is missing a front tooth and has one lined with gold -- as if to compensate for its absent neighbor -- which is offset against his black skin. His hair is dreadlocked into inch-long spikes. A goatee frames his mouth.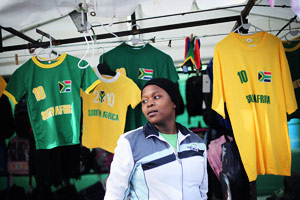 Dan Kitwood/Getty ImagesSome street vendors, like this one based in Pretoria, have a clean environment to work in.
Shame grabbed every penny he could find and spent it on merchandise, anything World Cup-related a visitor might want. In total, he spent 3,500 South African rand -- a little more than $450, an absolute fortune in a country where 50 percent of the population lives on less than $1 a day.
Shame wasn't the only one with a dream. Like so many others, he thought his ship might come in this World Cup, that he'd make a killing selling things. Make some real money for once, and stop having to always scrape by.
David Mufandaedza, 21, an immigrant from Zimbabwe, had the same idea. "I buy my stock in January," Mufandaedza said. "It was good price." He spent 4,000 rand.
But Mufandaedza, like just about every other vendor, didn't know about the "exclusion zone." FIFA has erected a strictly enforced perimeter, encircling exactly 1 kilometer (0.6 of a mile) around every World Cup venue. Only the tournament's big-money sponsors -- all Fortune 500 types -- can sell merchandise within that area and get to profit directly from the World Cup. Shame and Mufandaedza are not welcome on FIFA territory.
Bye-bye, killing.
"I never knew that, because most of the time we used to sell around the stadium, selling local football jerseys," Mufandaedza said. Adorning his head is a yellow helmet with plastic antennas with Brazilian flags glued to them, on which he hopes to double his 100-rand investment.
FIFA told ESPN.com that the exclusion zone is intended as a safety measure. However, to CNN, FIFA general secretary Jerome Valcke said "a stadium is a FIFA perimeter, and within this perimeter there are people who have the rights to do things and others have no rights."
"FIFA must let us do our job," Shame said. "We are not stealing. They must allow us to do our business."
But FIFA isn't the only impediment to making a buck. As if selling World Cup paraphernalia far from the stadium -- where fans are scarce and competitors many -- isn't hard enough, the vendors also have to compete with thieves. According to Shame, criminals pretend to be selling things and then ambush would-be customers.
Corruption can also prove ruinous for the vendors.
"It's very difficult for us," Shame said. "I can't commit crime, but I just sell my things. But police, sometimes they come and take my stuff. There is too much corruption. They take it for themselves, especially the jerseys."
Having goods confiscated is something vendors regularly deal with when they're caught selling in unauthorized areas, like in front of government buildings. But, say the vendors, the police make it so that they can't recover their property.
"They don't take it to the depot," Mufandaedza said. "They go and sell it somewhere. They don't give you a slip so you can't come and collect."
"You can't pay that fine," Shame said. "They don't give back your things."
Mufandaedza said that in the first week of the World Cup alone, police stole his wares three times.
The Johannesburg Metropolitan Police Department denied the accusation of theft. "What we have experienced is that these people run away, and then there's no one to give a slip to," spokesman Wayne Minnaar said. "We can't run with the goods, so the officers confiscate the goods for violating the bylaws. It's not the metro police's policy to steal stuff."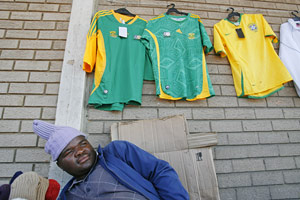 AP Photo/Vadim GhirdaFIFA merchandise is a hot commodity at the World Cup.
The difficulty in converting the World Cup into cash threatens to taint the tournament's legacy for the locals. "After the World Cup, us Africans must gain some benefit from it," Mufandaedza said. "I thought that if I tried to sell something, I can benefit something. As Africans in one's life, this is the only golden opportunity to make money for us."
But for the vendors, this tournament has yielded little but disillusion. "We are very disappointed. Very, very disappointed," said vendor Billy Banda, 23, in his deep voice. "We were chased out."
"We were feeling it, that we are going to make money," Banda said. "All our plans [are] for that period."
For its part, FIFA said in an e-mail that it is "sure the country will reap the benefits once the hard work has been completed."
Shame, Mufandaedza and Banda all said they expected to lose money rather than profiting from the world's biggest sporting event washing up on their shores.
"It's hard for us to make a living," said Shame, who has no more money left for his family to live on. "Ja, that is my problem. I spent all my money to buy my stuff."
Mufandaedza isn't sure how he'll be able to sustain his business after going for broke on the World Cup. "I don't know that I'll be able to raise enough capital," he said.
For them, this tournament won't be "Once in a Lifetime," the way local television suggests. They'll go back to toiling in the streets, in smog, smoke and cold darkness.
"It's a difficult way of living. But that's how they operate, day by day," said my driver, Jan, who works as a police officer in Pretoria.
The vendors stalk off into the cold night, trying to make a living against the odds. They disappear into the bedlam.
Leander Schaerlaeckens is a soccer writer for ESPN.com. He can be reached at leander.espn@gmail.com.