What we've learned (so far)
June 17, 2010
OK, so the World Cup hasn't exactly been a free-flowing goalfest (Germany's 4-0 shellacking of the Socceroos notwithstanding). And the stars of the show have not been Messi and Rooney and Ronaldo, but a slippery ball whose name sounds like a New Orleans fish stew, and a plastic horn more loathed than BP.
But just because scoring is down and goalkeepers are still making more excuses than acrobatic saves, doesn't mean that compelling storylines aren't emerging. And if you keep following them, redemption will surely follow. Here's what to look for in the next first-round matchups:
GROUP A
Is it too early for South Africa to be tooting its own horn?
Well, it was nice while it lasted. South Africa made the world's heart soar when it opened the tournament with a valiant tie against Mexico, but now it would take pioneering cardiac surgeon Dr. Christiaan Barnard to piece that organ back together. Uruguay's crushing 3-0 defeat of the hosts was a series of firsts. Diego Forlan was the first player to score two goals; Bafana Bafana is now on the brink of being the first host nation in World Cup history not to qualify for the second round; and the humbling score line proved to be the perfect silencer to the incessant screeching of 90,000 plastic horns.
Uruguay, meanwhile, now finds itself in the unexpected position of topping the group, thanks to Forlan's twin strikes. Before today's match, Uruguay had shown about as much flair as a roll call vote on C-Span, as evidenced by its turgid 0-0 stalemate with France. The match was so depressing that the French soccer god Zinedine Zidane gave coach Raymond Domenech a postgame verbal head-butt. "He's not a coach," sniffed Zizou on behalf of 65 million Frenchmen. But against South Africa, Uruguay opened the throttle and Forlan, along with his attacking partner Luis Suarez, tore apart a defense that lost its goalkeeper, who was sent off in the 80th minute for a foul in the box.
Based upon its play, Mexico, led by the best young player in Group A, quicksilver midfielder Giovani dos Santos, should advance easily against France, but it's South Africa which will now need a minor miracle to avoid making unwanted history.
GROUP B
What will burst first -- the South Korean bubble or Maradona's pants seam?
It's hard for any reasonable person to imagine Diego Maradona being a good manager. For one thing, the job requires responsibility and discipline, two words that have never been associated with Maradona the player. And Maradona the manager can still be quite the loose cannon. Just yesterday, he lashed out at Pele, saying that the Brazilian legend should "go back to the museum."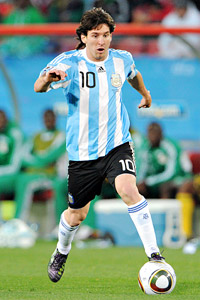 Valeria Witters/US PresswireCan Lionel Messi raise his level for the next game?
And yet, after the opening game, the 49-year-old Maradona -- looking dapper (for him) on the sidelines in a gray designer suit and having trimmed his Joaquin Phoenix-like beard -- has seemingly gone from wild to wise man. He assembled what many had proclaimed to be a disjointed, unhappy Argentina team, but Maradona has surprised his critics by keeping his players rested and healthy in the run-up to the Cup.
The result was a joyful but not overwhelming debut performance for Argentina as Lionel Messi & Co. romped to a 1-0 win over Nigeria that would have been 5-0 were it not for the acrobatics of goalkeeper Vincent Enyeama, aka the anti-Robert Green.
But Argentina may not even be the best team in the group. South Korea gave plenty of well-choreographed reasons why it will give the Albicelestes all they can handle in Thursday's pivotal encounter. Its impressive, composed demolition of a hapless Greek side served as a warning to Maradona's men that they'll need to defend instead of just relying on the improvisational brilliance of Messi, Higuain, Aguero and Tevez to score goals. If there's a team outside of Asia with bigger heart and drive than South Korea, it's been well hidden so far. Look for South Korea to have Maradona thinking about subbing himself in.
GROUP C
Who are you calling EASY?
Imagine how delighted Slovenia must have been watching the lowlight reel of England versus U.S. From the way captain Steven Gerrard tore through the American defense faster than Larry King goes through wives, to the "Hand of Clod" mistake by England albatross Rob Green, the Slovenes could be forgiven for thinking "Wait, cancel our safari plans for next Wednesday. We might be playing soccer for a few more days."
Seriously, who would have thought that Slovenia would wake up Monday and find itself atop the table? After all this was the group the English press dubbed EASY -- England, Algeria, Slovenia and Yanks -- because, based upon the pedigree of the teams involved, it should have been. Now Group C might be dubbed SE(E) YA because both England and the U.S. find themselves with must-win games to avoid what would be a national tragedy for one and a big step backward for the other.
U.S. coach Bob Bradley got his tactics right in Rustenburg, flummoxing the overpaid, underachieving English stars with a highly disciplined performance, but his team will need to raise its game against the suddenly confident Slovenes. With three points already in the bag for Slovenia, the onus is on the Americans to take the game to their Eastern European opponents, which is not the natural style of the counterattacking U.S.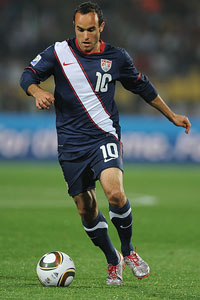 Michael Regan/Getty ImagesLandon Donovan and the U.S. face a must-win match against Slovenia.
Will the subdued Robbie Findley make way for in-form and feisty Edson Buddle? Will Tim Howard's mobility be affected after taking one in the ribs from Emile Heskey? And, most importantly, can the Americans bring the same level of commitment and energy to the game that follows The Most Important Soccer Match In U.S. History?
A win for Slovenia puts the smallest nation in the World Cup into the next round, and it's already trash-talking as if it expects to be there. "We are going to win this match," said midfielder Andrej Komac, with what passes for subtle Balkan humor.
But the stakes are even higher for the press-anointed genius that is Fabio Capello. Despite having put a U-8 keeper in goal, England will surely rebound against the Algerians, who seem to view playing a man down as a point of national pride (four red cards in their past six games). Conventional wisdom has England scraping through as it always does, but anything less than a 4-0 demolition of the toothless Algerians will have the entire nation in therapy for the next four years.
GROUP D
Germany may be that good -- but is Ghana?
In spite of all the German whining and moaning that accompanied the demise of uberballer Michael Ballack, Die Mannschaft now knows what Chelsea fans learned two years ago -- that Ballack is more millstone than maestro. Instead, Kevin-Prince Boateng's hatchet job on Ballack's joints in the FA Cup final has freed quicksilver midfielder Mesut Ozil to emerge as the best young player in these first 16 matches. One shredding of the Socceroos later, and most Aussies would agree with that assessment.
The traditionally mechanical Germans out-Braziled Brazil, out-flaired France and outworked every other European squad. Germany was, in a word, wunderbar.
Now Germany plays its antithesis, the dour, joyless Serbs. Everybody's fashionable dark horse pick, Serbia is kicking itself (instead of its opponents' limbs, which the Serbs typically tattoo with their cleats) for losing to a spritely Ghana that displayed the swift, brilliant attacking soccer that has long been the hallmark of the continent. The Black Stars should easily dispose of a mainly useless Australian outfit and be the first African team through to the next round.
But what we're all waiting for is June 22. If you anoint Germany as the Group D winner, that means in the first match of the second round it gets to pummel the second-place team from Group C, spelling an early end to the World Cup for either the U.S. or -- and you can see the tabloid headline writers salivating already -- England.
GROUP E
Netherlands' Oranje is far from clockwork, so is the time right for Japan?
In soccer circles, Holland is spoken about with the hushed reverence normally reserved for Mother Teresa -- or Megan Fox. But we've come a long way since the Dutch masters finished runner-up in 1974 and 1978. This was supposed to be the year they finally put their considerable talent to good use. Then again, we've been saying that every four years since Jules Rimet first sketched out the idea for a global soccer tournament.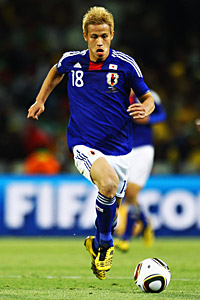 Jeff Mitchell/Getty ImagesJapan's players, including Keisuke Honda, showed delightful fearlessness against Cameroon.
Against the Danes, the Dutch looked slow and unsteady, surprising given the sublime season turned in by Inter Milan's Wesley Sneijder and the cutting edge up front provided by Robin van Persie and Arjen Robben (who missed Game 1 but should return this weekend). Still, the Dutch got the solid 2-0 win and have the chance to regain their attacking mojo against the group's scrappiest and most surprising team, Japan.
My, how everyone laughed when coach Takeshi Okada announced that his goal was to reach the semis. And yet, for all their quiet poise, the Japanese showed a delightful fearlessness in the Cameroon penalty area, grabbing a deserved goal and holding the lead despite immense pressure at the end of the game. No one expected anything from Japan, and perhaps playing without such weighty Dutch-like burdens has liberated the team. How the two manage their rising/falling performances is going to decide the group.
GROUP F
Will the defending champs show up this time?
Anyone who bravely sat through the Italy-Paraguay game noticed that this was not your papa's Italia. Marcelo Lippi was forced to cut down his Metamucil budget and jettison the senior citizen-friendly selection policy that so surprisingly yielded the '06 trophy. What disappeared with the pensioner gang was vehement, lockdown defense, and while some of the creaky vets, notably Fabio Cannavaro and Mauro Camoranesi, who lofted the Cup four years ago still linger, there's a vein of youth woven through the team that's giving the Italians a slightly uneven feel. Paraguay matched Italy admirably in the middle and would be top of the group were it not for Justo Villar's egregious blunder. (Villar has Robert Green to thank for not being the laughingstock keeper of the tournament.)
Nothing much was expected from Paraguay, easily the most unsung country in the quartet. But it became battle-hardened playing in the riotous South American region. Paraguay gets the underwhelming Slovaks next, and has a chance to confirm to us its position as the best team in this group by riding its Italian-style defense and tireless midfield play. Now if the team can just keep Villar from getting his hands on the ball …
GROUP G
Could Brazil be … vulnerable?
Does Brazil know the first round has started? Because based on its opening match, it doesn't look as though the Samba Kings have shown up yet. (With the exception of Dougie Maicon, perhaps the most in-form Brazilian around. I mean, how many days and nights did he practice with the Jabulani in order to perfect that shot?)
Given the talent in this group, the Brazilians may regret not ringing up more goals against the doughty but woefully undermanned North Koreans. With tough games ahead against two of the most potentially potent offensive lineups in the field, it's now conceivable that Portugal, Ivory Coast and Brazil could end up with six points apiece. So perhaps Brazil's overly cagey coach Dunga should unleash Robinho and Kaka and tell them to play with the joyful abandon that is Brazil's heritage. Either way, Kaka will have to perform more like FIFA's 2007 World Player of the Year than the nonfactor he was against North Korea.
And you have to feel bad for those plucky pups from Pyongyang, whose enterprise and hustle gave Dunga nightmares on the sideline. You can bet the players were all shedding postgame tears in Kim Jong Il's honor -- much like "The People's Wayne Rooney," Jong Tae Se, did during the opening anthems. But the team's impressive performance against Brazil sets up the next couple of games nicely. C-Ron gets next crack at the team with the invisible phone and absolutely anything can happen in this one.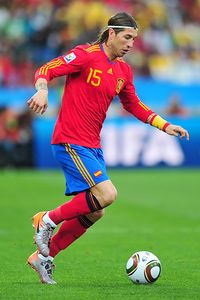 Philippe Huguen/AFP/Getty ImagesSergio Ramos and his Spanish teammates need to rebound -- and quick.
GROUP H
Will the Spanish fly again?
When it brings its A-game, Spain can play about as well as 11 Lionel Messis. However, when it's off-form, Spain is as much fun as a sound check at a Josh Groban concert. Its first match against Switzerland was no exception. Despite Spain's much-vaunted attacking prowess provided by Los Dos Davids (Villa and Silva), Xavi, Iniesta and Xabi Alonso, the Swiss parried every thrust like an insouciant matador while scrambling home a goal that left two Spaniards dazed and bloody. Then again, considering how good Roger Federer is on grass, perhaps we should have seen this coming?
Even a Fernando Torres cameo couldn't help, but the big question now revolves around just who is escaping this group. While Spain remains the Iberian class of this limited field, it's worth noting that no team has ever lost its first match and won the tournament. Chile, with its relentless attack-minded approach honed to perfection in its victory over Honduras, will take aim next at the Swiss defense, which showed more versatility than its multifaceted Army knife.
You might need to set your cuckoo clocks for that one. After all, whoever finishes second in this surprisingly difficult group is staring down the gun barrel of Brazil in the round of 16. And if that team is Spain, a lot of World Cup brackets are going to take a nasty beating.
David Hirshey is the co-author (with Roger Bennett) of "The ESPN World Cup Companion: Everything You Need to Know About the Planet's Biggest Sporting Event."