The search for Joe Gaetjens' number
June 10, 2010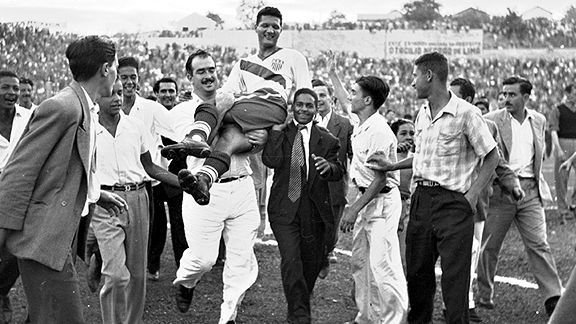 AP PhotoBrazilian fans carried Joe Gaetjens off the field after the U.S. shocked England in the 1950 World Cup.
A few months ago I wrote a long article about Joe Gaetjens, who scored the only goal in the U.S.'s unfathomable victory against the mighty English at the 1950 World Cup in Brazil and was later murdered by the Duvalier regime in his native Haiti.
As is sometimes the case, I started getting e-mails from readers sending along their reactions to the piece. That lasted a week or two. Then questions started tumbling into my inbox, pertaining to the England-USA rematch during the World Cup in Rustenburg, South Africa, on June 12. Well, it was just one question, really.
"I want to get a USA jersey with his name," wrote Peter Schmidt, an assistant professor at UNC-Charlotte. "I want to wear Joe's name to honor the history of the game in the USA, and to celebrate the role of immigrants in our society."
"If I'm going to wear a U.S. men's soccer jersey, why wouldn't it carry the name and number of the player who scored what is arguably the biggest goal in U.S. soccer history?" asked Rob Spence, a photographer from Minnesota.
Others had more sinister motives, wanting to have Gaetjens jerseys made to serve as powerful ammunition for psychological warfare in the stands.
"I think it would be a nice dig to the Brits when I wear the jersey in Rustenburg during the England-USA match," said David Rey, an emergency room worker from East Hanover, N.J. "I'm working up a rub-your-face-in-it plan for the match on the 12th," e-mailed Steve Casteel.
But after announcing their differing intentions, the readers inevitably asked the same thing. The sudden boom in interest for Gaetjens jerseys had necessitated one important question after all: What was Gaetjens' number?
Good question.
I'd been asked before, when soccer writers Adam Spangler and Greg Lalas had me on their "Waiting for Gaetjens" podcast -- which patiently and passively awaits the arrival of another savior to American soccer while cutting up wide-ranging U.S. soccer topics -- to talk about the article.
His number? I didn't know.
Nobody seemed to know for sure.
"We can't find it, either," Gaetjens' nephew James confessed. He too had been trying to figure it out, since he too wanted to make T-shirts for a party he was holding during England-USA.
"My mother says he wore number 10," e-mailed Lesly Gaetjens, Joe's oldest son. "But it may be that he only wore it in Haiti because some say that during the World Cup he wore number 18. My cousin, Ti Jean, thinks it's 9. I always thought it was 10."
A thread on the Big Soccer web site's U.S. soccer fan forum mentioned 17, 18 and 9 as his number. Some wondered if the 1950 team had worn numbers at all, since this wasn't always common. But pictures clearly show numbers, just not Joe Gaetjens', so I kept looking.
The laughably inaccurate movie about the game, "Game of their Lives," showed Gaetjens as No. 11.
The American Soccer History Archives has no documentation on numbers of the 1950 squad.
FIFA's official game report mentions no jersey numbers. Nor do any other reports.
The U.S. Soccer Hall of Fame had it down as 18, pointing to 1950 U.S. team member Walter Bahr as its sole source. Bahr doesn't recall ever citing such a number.
"I doubt very much that it was 18," Bahr told me over the phone last week. As Bahr pointed out, numbers were given out by position. Gaetjens was a striker. Strikers wore number 9. And only two substitutes would usually get a numbered jersey, skipping 13 because it was bad luck. "When they went above 12 and 14, they usually supplied jerseys with no number on them," said Bahr. So where a jersey with the number 18 would have come from isn't clear.
Nevertheless, an ESPN producer working on a segment on Gaetjens for "Outside the Lines" was "98 or 99 percent sure" from working closely with grainy footage that it was 18.
One explanation could be that Gaetjens was a late addition to the team, and that 9 had already been given out. Yet according to Bahr, even after Gaetjens and two other latecomers had been added, the team consisted of just 16 players. If the team had gone the unusual route of giving out numbers past 14, they wouldn't have gotten to 18.
Could wearing No. 18 have been one of Gaetjens' eccentricities -- like rolling his socks down? Possibly, but he doesn't seem to have worn 18 before. As stated, members of his family remember him as wearing only Nos. 10 and 9.
"I settled on 18 because it felt like a dead end, and that was just from the Hall of Fame," says Spangler, who had a jersey made up to give away to listeners. "I just started poking around and sent a few e-mails to England that I never got any responses from. But I figured if the Hall of Fame isn't getting any deeper than 18 then maybe I'm not going to get any further myself."
Wise.
Mystery left unsolved.
Leander Schaerlaeckens is a soccer writer for ESPN.com. He can be reached at leander.espn@gmail.com.