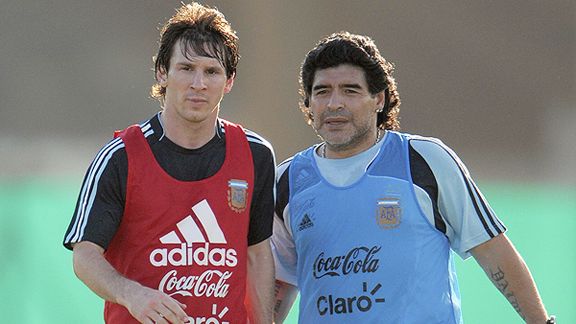 Juan Mabromata/AFP/Getty ImagesWill the M&M boys lead Argentina to a title? Or flop on the world stage?
Editor's note: The big kickoff is just a few days away. In anticipation of the World Cup, we brought together our team of writers and editors to kick around the 10 big questions leading into the tournament. Our panel: Leander Schaerlaeckens, Jeff Carlisle, Brent Latham, James Martin and Ravi Ubha. You can also read all the reports and musings of our writers over at the World Cup blog.
1. How will the African teams do? Can one of them reach the quarterfinals?
Jeff Carlisle: It's possible, but each team has some massive obstacles in its path that could offset the benefit of playing on its home continent. Based on talent, Ivory Coast looked the favorite to make a deep run, but changing its coach smacks of panic, and it's in a terribly difficult group and now faces the loss of Didier Drogba. Nigeria fired its coach as well, and although Lars Lagerback is very capable, the team doesn't seem as deep as in years past. Ghana looked to be well-positioned after showing well at the African Cup of Nations, but losing Michael Essien is a massive blow. Both Algeria and South Africa don't appear to have the quality and depth needed to go far.
Ravi Ubha: I'd be surprised if one surpasses the group stage. The two best African teams, Ghana and the Ivory Coast, got horrible draws. With Essien out, Ghana is missing its best player, too. As talented as they are, African teams still lack European steel and organization. And a word on the so-called home-continent advantage -- rubbish. If my geography is right, Algeria, the Ivory Coast, Ghana, Nigeria and perhaps Cameroon are all closer to Spain than South Africa.
Leander Schaerlaeckens: While I think the African teams are slightly overhyped this cycle -- the home-territory angle is overblown -- I do think one can become the third African team to reach the quarterfinals after Cameroon in 1990 and Senegal in 2002. Do keep in mind that at the last World Cup, just one of five African nations made it to the knockout rounds (Ghana, which lost to Brazil 3-0).
Brent Latham: Absolutely, an African team could reach the quarterfinals. Will one? With the groups they face, it's hard to envision. The problem is that the best teams are in the toughest groups. African teams are up against a perfect storm -- all six face possible first-round elimination. But there's strength in numbers, and out of the half dozen, at least one or two may be able to make the second round. From there it depends on the breaks, and there should be plenty for the African "home" teams.
2. Is England overrated?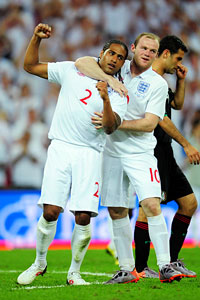 Shaun Botterill/Getty ImagesEngland is expected to go far ... well, at least by those betting in England.
James Martin: I don't know if I'd say overrated, but the team is probably guilty of getting a bit more pub than it deserves. England turned a major corner when the don, Fabio Capello, took over and installed a degree of discipline and professionalism in the team. The back line has some major question marks -- with Rio Ferdinand out, will Ledley King be able to play in back-to-back games, and can John Terry keep his ... never mind. But in the end, England's hopes will come down to how well Wayne Rooney plays. He ended the season a bit beat up, but if he gets quick, reliable service when he's in the box -- watch out for his new-and-improved heading ability -- England will be a force.
Carlisle: Not with Capello as its head coach. Capello has the English playing with a lot of discipline and self-belief, which they've lacked in Cups past. The only thing that can stop them is injuries.
Schaerlaeckens: I would say yes, mostly because England keeps inventing new ways to underperform. England never lacks in quality players (except for in goal) yet never seems to mesh all that well, which is surprising, considering that the players all play in the same league and for clubs that play similar styles.
Ubha: Yes. There's too much hype, considering England last reached a World Cup semifinal in 1990 and didn't even make it to Euro 2008. Capello has added much more discipline to the team and knows his tactics, but facing Spain, Brazil or Argentina, it won't be enough. Working in England's advantage is the draw.
Latham: The team is overrated only in England, where bookmakers -- reflecting bettors' attitudes -- make England third favorite to win. Few serious observers would make it any better than sixth or seventh favorite. They have some great talent, but plenty of holes, as well. And the Three Lions are yet to prove in recent years that they have what it takes to win a tournament at this level.
3. How can Spain not win?
Carlisle: Just ask the United States. Facing a team with a hot goalkeeper and a tough defense is usually the kryptonite for a presumed favorite. Some days the ball won't go in, and every team needs luck. As well as Spain played at Euro 2008, people forget it needed a penalty shootout to get past Italy in the quarterfinals. And like England, injuries could play a part.
Ubha: Injuries can play a part. Fernando Torres didn't end the season healthy with Liverpool, for instance, so breaking up the Torres-David Villa partnership up front would hurt. Spain is one of the World Cup's perennial underachievers, and with the pressure on it failed at the Confederations Cup. Spain could only edge the UAE in a recent friendly.
Martin: Ah, we must have faith that Spain will find a way to snatch defeat from the jaws of victory. True, the team's Euro 2008 victory was historic, leading many pundits and experts, Pele included, to predict that La Furia Roja will win. But the squad's two key midfielders, the puppet masters who run the show, are not in the best shape: Xavi has been playing with a slight tear in his calf muscle, while Andres Iniesta missed most of the second half of the season. And if Torres, Spain's injury-prone star, goes down again, so too will the country's hopes.
Latham: There are plenty of ways. A date in the round of 16 with a team from Group G is a start. The Spanish will have to beat four top-level teams to win the World Cup. They've never proved they can do that at this level. Throw in some key injury worries and the Spanish juggernaut, though still a co-favorite, is far from a sure thing.
4. Over the past two decades, every other World Cup has been Brazil's. Will it do it again?
Martin: I think so. Of course, Brazilians will bemoan that it won't be pretty. Even Pele laments the lack of free-flowing football, a style that he and Garrincha so eloquently articulated with their dribbles, passes, feints and goals. But will anyone be complaining when Dunga, a disciple of discipline and counterattacking, leads his side to another World Cup? Not a chance ... at least for the first few days of celebration, anyway.
Latham: That's where the smart money would go. Thanks largely to Dunga's emphasis on defending, Brazil is a complete team. But it doesn't lack firepower, and unlike Spain, Brazil is not afraid of success. It may also have an easier path to the final than some other major powers.
Carlisle: Given the relatively calm run-up to the tournament it's had in terms of health and a lack of controversy, Brazil has probably become the favorite. It will help if it can avoid having to play Spain in the round of 16.
Schaerlaeckens: They certainly have a good chance to, but they don't have that embarrassment of riches in talent that they've had in recent years. I don't think that's a relevant statistic either, since it entails just two World Cup wins.
Ubha: No, I don't think so. It's hard to put my finger on it, but there's just something off with Dunga's team, despite Brazil winning the Confederations Cup and finishing first in South American qualifying. Kaka had a poor season at Real Madrid, and if he's not in form, that's bad news. I think it was a bad call leaving Ronaldinho out of the squad, and choosing the erratic Robinho instead. Ronaldinho would have provided cover off the bench, at least.
5. No one is talking about the defending champions. But we shouldn't write off the Italians, right?
Schaerlaeckens: Wrong. Italy was old in 2006 and older still in 2010, since much of the team is unchanged. What's more, the hunger might be gone, and the squad won't be galvanized by the siege mentality induced by scandal this time around.
Latham: Don't write them off, no. Italy is one of maybe eight teams with the quality to get to the final. They weren't highly favored in 2006, and they won it all. Plus they are a tournament team with veteran experience that knows how to win the big games. Italy will be a tough out, but don't expect a repeat of 2006.
Carlisle: I honestly don't see Italy doing serious damage in this tournament, especially given its reliance on aging players like Fabio Cannavaro and to a lesser extent Andrea Pirlo (who now must deal with a calf strain as well). They'll get out of the group stage, but not much farther.
Ubha: Never write off the Italians or Germans. They just know how to grind out wins. Plus, the Italians probably still have the best keeper in the world in Gianluigi Buffon and got a nice draw. Italy will win its group and thus probably face Denmark in the round of 16. So, into the quarterfinals it is. From then on, only three more wins are required.
Martin: I envision the Italians arriving to the stadium after an early-bird dinner, lathering themselves up in Bengay and drinking a pre-match Metamucil. Creaking bones, they take the pitch -- and proceed to shut down offenses run by kids half their age. I kid, of course; the Italians aren't that old, but by football standards they are the senior citizens of this tournament. (Perhaps that's why the 23-year-old Giuseppe Rossi got the boot -- the over-30 brigade of Gianluca Zambrotta, Fabio Grosso and Cannavaro just thought he was too darn young.) And yet, on the international stage, you won't find a more consistent, and consistently deliberate, side. Write Italy off at your own risk.
6. Is the Group of Death overhyped?
Ubha: Yes. There's one weak team -- perhaps the weakest in the tournament -- in North Korea. In 2006, the Group of Death -- Argentina, the Netherlands, the Ivory Coast and Serbia and Montenegro -- was fully stacked. Brazil and Portugal advance, comfortably, even with Portugal's recent stumble against Cape Verde.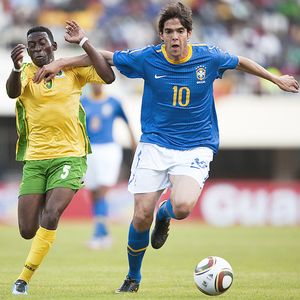 Antonio Scorza/AFP/Getty ImagesCan Kaka lead Brazil to its third title since 1994?
Martin: In a word, yes. Maybe we'll still get the battles royal between Brazil, Ivory Coast and Portugal. As of now, however, Portugal has seemingly forgotten how to score -- unless you count Ronaldo on holiday in Hollywood. With an anemic offense, Portugal isn't going to beat anyone except perhaps North Korea. It looks like it'll come down to Brazil and the Ivory Coast (assuming Drogba sees some action), unless Ronaldo can summon the ghosts of Eusebio, who scored nine goals in the 1966 World Cup to carry his team to third place.
Latham: Absolutely. An argument can be made that three or four groups are stronger from top to bottom. What gave this group its name was the assumption that three of the teams would be favored to advance from most other groups, but I'm not so sure that's the case given the injuries and form of Ivory Coast and Portugal. In the end North Korea may surprise by determining second place when it takes points from one of those teams.
Schaerlaeckens: A little. Traditionally, the Group of Death is defined as a group in which every team would be expected to advance if it were in any other group. So by that definition it's not quite a Group of Death. It certainly is the most interesting group we have, though.
Carlisle: That depends on your definition. If you're referring to Group G with Brazil, Ivory Coast and Portugal, in my opinion it's hard for any group containing North Korea to have that tag. I still say, top to bottom, that Group D -- with Germany, Ghana, Australia and Serbia -- is the toughest. Any two of those four teams could progress.
7. Which intangibles -- weather, time difference, crowds and culture -- will have the greatest impact?
Martin: Is this going to be a World Cup like 2002? In that one, there were a ton of upsets (France, Portugal and Argentina going out in the first round) while the U.S., South Korea and Turkey exceeded expectations. Then there was the farcical refereeing. Plenty of theories were floated, but it did seem as though the traveling distance, time zone and cultural differences in Asia freaked out more than a few teams. I don't think this will happen in South Africa, but you never know.
Latham: Weather will definitely have an impact on the games. We'll see more active, higher-scoring contests in the cool climate, but I'm not sure that will affect too many outcomes. What will is travel. Some teams, like the U.S., lucked out on their travel schedules, while others will have to move extensively around South Africa during the group phase -- a tiring exercise, especially by the final group matches.
Ubha: Getting used to the altitude (not to mention the extremely annoying vuvuzelas) might take some time. Weather shouldn't play a part, at least not for the European teams, who are used to competing in cooler conditions. In fact, the lack of steamy weather should lead to more energetic games -- no wilting in the latter stages.
Carlisle: I'd also say the altitude could be a factor, especially for a team like Germany that starts out at sea level in Durban and then finishes in Johannesburg, which is more than a mile above sea level. Granted, many teams are training at high altitude now as part of their preparations, but the differences in altitude, game to game, could be taxing.
Schaerlaeckens: I think it will be a quick World Cup, as players won't be hampered by obscene heat. I also think the vuvuzelas will jar quite a few players.
8. Will Maradona help or hinder Argentina?
Ubha: There are two schools of thought. Maradona figures to say or do something off-field sure to generate headlines, increasing the media frenzy, if that's possible. Not ideal. However, in drawing attention to himself, he'll release pressure from the players, a la Jose Mourinho. In the end, I think he'll do more harm than good.
Carlisle: He'll hinder them, especially if he has to dig deep into his team, and thus expose players with limited international experience. His in-game tactical changes have been highly suspect. The fact Martin Palermo, he of limited mobility, scored a crucial goal in World Cup qualifying no doubt gave Maradona a false belief in his own tactical abilities.
Martin: It's all we really want to talk about, right? The M&M boys, Maradona and Messi. One can't keep his mouth shut, the other has yet to shine on the international stage. But to his credit, Maradona -- seemingly capricious in most of his decisions -- has held steadfast in his decision to build the side around the little assassin so he has the freedom to blast through two or three defenders at a time when the mood strikes. Plus, now that Maradona has only 23 players to pick from as opposed to the gazillion he used in qualifying, the squad should have a modicum of stability. In that system, how can anyone mess up Lionel Messi? Unless, of course, FIFA allows Maradona to drive himself to the stadium -- then all bets are off.
Schaerlaeckens: Flip a coin. Heads: He motivates them and Argentina catches fire. Tails: He drives over Messi's leg, chews him out and it all falls apart.
Latham: With so much skill in the Argentina player pool, it's not hard pick out a lineup capable of winning the World Cup. You, I, or any of the fans at Soccer City could do it while blowing a vuvuzela, wearing a makarapa and doing the Diski dance. But no one's sure Maradona can with the roster he's selected. So that's your answer.
9. If you had to pick one team to watch, which would it be and why?
Martin: That's a tough one, but I'd go with Spain. In an era when "well organized" is a euphemism for anti-football and parking the bus, La Furia Roja are actually organized to score by passing the ball on the floor. You won't see a lot of long balls; you won't see a team hanging back, waiting to counterstrike like a cobra. What you'll get are exquisitely timed passes and attacking football the way it was meant to be played, with verve and smarts.
Carlisle: Chile. Manager Marcelo Bielsa has developed a style in which he tries to outscore the opposition, rather than simply beat them. One can only hope that Chile's group finale against Spain means something. If it does, it will be highly entertaining.
Schaerlaeckens: I'd say France. There's an awful lot of talent there -- terrible coach or not. And he's gotten them to a World Cup final before.
Ubha: Argentina. With Maradona at the helm, there won't be a dull moment. Further, Argentina's strike force is scary -- Messi, Carlos Tevez, Diego Milito and Sergio Aguero. When firing, the goals will flow. At the same time, when things aren't going well, compelling viewing is still guaranteed.
10. Who wins?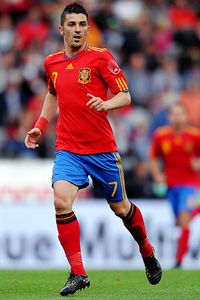 Jasper Juinen/Getty ImagesDavid Villa is one of many scoring options for Spain.
Carlisle: My head says Brazil. My heart says Spain, because of the way it plays. I think Brazil will take it, though. Dunga has settled on a style that, while it isn't joga bonito, is highly effective.
Ubha: Spain. All the weight was lifted when Spain won Euro 2008, and if it needed a wake-up call, Vicente del Bosque's side got it at last year's Confederations Cup. The squad is absolutely stacked, especially in midfield, anchored at the back by the inspirational Carles Puyol and goalkeeper Iker Casillas. David Villa and Fernando Torres are lethal up front. The goals can come from so many sources.
Latham: Brazil. It has all the elements for a sixth World Cup title -- a coach who is a winner, has learned the ropes, and knows exactly what he wants from his team; perhaps the world's best goalkeeper; a solid back line; and multiple offensive weapons.
Martin: Was I just extolling the virtues of Spain? Yeah, well, beauty is only skin deep, right? While Spain can, and should, go far in this edition of the World Cup, Brazil is the team to beat. Dunga might be public enemy No. 1, especially among the "traditionalists" who want to see 4-2-4 attacking, but he knows how to win (and did so, back in 1994, on a fairly pedestrian team by Brazilian standards). And when good managers take control of the kind of talent Brazil has -- Kaka in midfield, Julio Cesar in goal, Maicon or Dani Alves with Lucio in the back -- great things can happen.
Schaerlaeckens: Spain.