Game preview: France-Uruguay
June 6, 2010
What's on the line:
Both these teams are capable of going deep into the World Cup. In a complicated Group A, both also face the real possibility of a first-round knockout. This match could go a long way toward revealing the destiny of each.
Both teams are widely respected, but Uruguay has won only once in World Cup play since 1970, and France's qualifying travails have been well documented. So each needs momentum on its side as it faces two difficult group opponents down the road. A win in the opener is not mandatory -- even a loss would not ruin either team's chances -- but playing well and gaining some confidence is a must.
Style and tactics:
Uruguay prefers a flat-back three with a stacked midfield and two wingers around a center forward. Creeping around the offensive third is their primary scoring threat, Diego Forlan, who can take a creative role or turn up in the box to put the ball away.
Despite a plethora of stars, under coach Raymond Domenech, France can seem a disorganized jumble of individuals on the pitch. Are the French in a 4-3-3 or 4-4-2? It's sometimes hard to tell as Franck Ribery wants to play the role of a winger while Thierry Henry and Nicolas Anelka play center forward -- often both at the same time. However the offensive options are arranged, much will depend on the playmaking of midfielder Yoann Gourcuff.
Players to watch: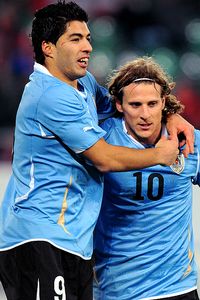 Frederick Florin/AFP/Getty ImagesUruguay's forward pairing of Luis Suarez and Diego Forlan represents a formidable challenge for France's back line.
Thierry Henry, France. What you want to watch with the French icon is whether he starts the game anywhere but on the bench. That will tell a lot about the chances for France. Les Bleus are better off with one center forward, and Anelka is the in-form choice, supported by Ribery and Florent Malouda on the wings. Will Domenech make that call? We'll know when the team sheets are printed.
Hugo Lloris, France. The biggest difference-maker on the French side might be in goal. Lloris is young, but by all accounts ready to stake his claim to a place at the top of the world's goalkeeping pecking order. His first World Cup test comes against Uruguay.
Luis Suarez, Uruguay. The striker is the perfect partner in crime for Forlan. The duo will be a handful for a highly competent French back line. If the French can keep Uruguay in check, they will erase a lot of doubts about their chances of advancing.
What we can expect:
Both sides could use a boost to start off the tournament, although with Mexico and South Africa remaining on the schedule, neither team will be finished no matter the result in Cape Town. The teams will have that in mind as they feel each other out.
There will be plenty of talent on display, so there's the potential for a good game. But Uruguay tends to back away from entertaining soccer and end up grinding out results, and France has struggled mightily to find a rhythm coming into the tournament. So look for the flow of this game to be somewhat disjointed, with fewer clear chances than these teams will generate as they find their legs later in the tournament.
Intangibles:
France has more off-the-field issues facing it than other sides in South Africa, from Henry's handball to the ever-present sex scandal. Domenech has never been one to rally the troops, and with the coach on the outs after the World Cup, France has the look of a team more likely to fall apart than coalesce under pressure. Uruguay will test their teamwork and determination right off the bat.
Who'll win:
Uruguay 1, France 1. Group A will be a tightly contested one from start to finish, and the congestion will begin immediately when these evenly matched teams draw in Cape Town.
Brent Latham covers soccer for ESPN.com. He previously covered sports throughout Africa for Voice of America radio and now works as a soccer commentator for a national television station in Guatemala. He can be reached at brentlatham@ymail.com.