PRETORIA, South Africa -- Vuvuzelas. They aren't just for matches anymore.
For the U.S. men's national team, Sunday's open practice at Pilditch Stadium in Pretoria was just the latest in what has been a long line of sessions ahead of the World Cup. But rarely has a routine, day-after-a-game workout had quite the same atmosphere.
More than 350 children from surrounding townships were bused in for the event, and it seemed as though every single one of them had contracted a virulent strain of the "Vuvu" flu. The horns were everywhere and even doubled as flagpoles in many cases. In fact, the enthusiasm the kids showed in waving the Stars and Stripes was outdone only by their impressive lung power.
Granted, there was a reason for the positive vibe -- and noise -- directed at the U.S. team. Nearly all of the children in attendance participate in various aid programs run by the U.S. Embassy, the U.S. Agency for International Development or the Peace Corps.
"It's really exciting for us to be here," said 15-year-old Daisy Manene, whose voice could barely be heard over the din generated by her fellow attendees. "We really wish the U.S. soccer players well over here."
Not that Manene had completely checked her sense of patriotism at the stadium gates. She was quick to identify South Africa international midfielder Bernard Parker as her favorite player.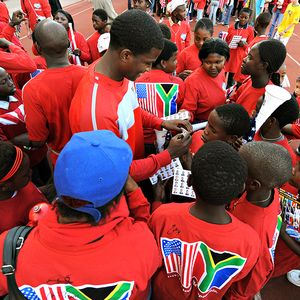 Timothy A. Clary/Getty ImagesEdson Buddle signs autographs for local school children after an open training session.
But for Manene and many of the other children in the crowd, Sunday's session was their World Cup. Not only was the day a rare opportunity to rub elbows, take pictures and get autographs from players who will take part in the world's biggest single-sport event, but getting the chance to travel was a novelty as well.
"These girls and all of these learners that we've come here with, very few of them have ever left their village," said 24-year-old Peace Corps volunteer Haley McDonough, who traveled with 50 children on a 2½ hour bus ride from KwaMhlanga. "They've never seen a stoplight. They've never been to a stadium. So just being here, being amongst kids from other villages, to be able to see sports in person and not just on their television, it's very powerful for them."
It's a power current that runs both ways. Several players like defender Jay DeMerit and goalkeeper Tim Howard mingled with the children and other fans long after their sessions with the media were over, indulging every request.
"It's these kinds of occasions that make the World Cup special," said DeMerit. "For us, it's part of our job as players and part of our job as a team. It's a combination, [the kids] need to help us feel welcome and we need them to feel welcome as well. It's a great combination and it shows in the smiles on everyone's faces.
"It makes a big difference in a lot of people's lives. For us, it's a really special time and we need to enjoy every second."
The hope, of course, is that the impressions made Sunday will last long into the future.
"Part of what we're trying to teach [the children] is life skills and that if you work hard you can achieve your dream, and make the right decisions," said Donald Gips, U.S. Ambassador to South Africa. "Getting to meet these players who have dedicated their lives and proved that they can do that makes a huge difference. Each one of these kids will take that memory away with them."
And a vuvuzela or two as well.
Jeff Carlisle covers MLS and the U.S. national team for ESPNsoccernet. He is also the author of "Soccer's Most Wanted II: The Top 10 Book of More Glorious Goals, Superb Saves and Fantastic Free-Kicks." He can be reached at eljefe1@yahoo.com.