Tortured history? A bit overblown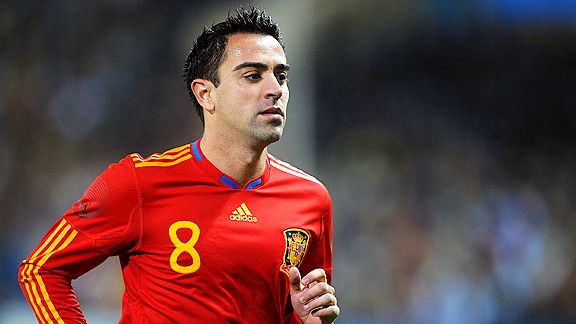 Denis Doyle/Getty ImagesThe pressure is on for Xavi and his teammates to finally bring Spain a World Cup title.
When it comes to the Spanish national team, much of the world of international soccer has found it difficult over the past few years to avoid a constant state of awe.
With perhaps half a dozen of the world's top 20 players among its ranks, Spain commands plenty of respect. It has earned it on the field as well, with a European championship in 2008 -- part of a 35-game unbeaten run that ended last year at the Confederations Cup. La Roja haven't lost -- or even tied -- since that defeat at the hands of the U.S., finishing their World Cup qualifying campaign with a perfect record in 10 games, and cementing their status as co-favorites to take the World Cup home this year.
So why is it so hard to get anyone at the Royal Football Federation to talk about the history of the Spanish national team? Calls to Madrid in search of some insight for this article went unanswered, and usually chatty contacts suddenly turned quiet. It seems most everyone in Spain would prefer to concentrate on the present, and forget the past.
In the context of Spain's long and somewhat tortured soccer history, that wait-and-see approach makes plenty of sense. Though the current form of the national team, and the deference it commands, might suggest a proud history for Spanish soccer, the nation's track record in international play is far less impressive than a casual fan might suspect.
Everyone knows Spain's hard-luck story these days -- the typical "always the runner-up, never the champion" tale. Much of the attention focused on the team in the run-up to the World Cup has been built around questioning if this is finally Spain's year -- with the subtle insinuation that the country has come close many times, without ever winning that world title.
But the history books say differently. In reality Spain's track record is not nearly so achievement-laden as one might think. In fact, in 13 World Cup appearances, Spain has never really come close to winning a world title. Its best finish? Fourth place, way back in 1950.
Back then, the tournament was played in a dual round-robin format. Spain advanced from its opening-round group (the same one that famously included the U.S. and England), only to finish last among the four finalists, without a win in the final phase. More than half a century later, that effort still marks Spain's best World Cup showing, challenging today's generally lofty but somewhat misguided appreciation of the nation's near misses.
Much of the confusion would seem to stem from the vaunted history of Spain's national soccer league, and some of its teams. The nation boasts a handful of storied clubs, including two of the most accomplished of all time -- Real Madrid and Barcelona (they've combined for 12 European Cup and Champions League titles). La Liga itself is considered by many as home to the highest level of club soccer in the world.
But the history of club soccer in Spain and the accomplishments of the national team have not always coincided -- indeed, much of the nation's footballing success through the years at the club level has been achieved by importing foreign talent. There are only a few Spanish legends sprinkled throughout the decades who can compare to foreigners like Johan Cruyff or Alfredo di Stefano, or newcomers such as Leo Messi, whose exploits in the Spanish domestic league have played a large role in glorifying the Spanish game worldwide.
On the other hand, for much of past century the Spanish national team accomplished little compared to the clubs. During decades of underachievement, Spain was often less than the sum of its parts, with internal rivalries between contingencies from some of the country's most powerful clubs reflecting cultural rifts between regions, and producing occasional upheavals in national team chemistry.
After that 1950 World Cup, La Roja failed to qualify for four of the next six tournaments, and made first-round exits in the two they did reach. That dark age was broken only by a European title in 1964. It wasn't until the nation hosted the tournament in 1982 that Spain made it back to the second round of a World Cup, and even that accomplishment was tempered by some mediocre performances, including a tie with Honduras and a loss to Northern Ireland.
So Spain is not quite the traditional juggernaut that has repeatedly come up just short on the world stage. History's judgment, though, has begun to turn more recently, as Spain has qualified for every World Cup since 1978. Perhaps it's no coincidence that La Roja's improvement has coincided with a degree of gradually increasing harmony among internal regions, as Spanish soccer, like the country in general, has grown in leaps and bounds in the post-Franco era.
In turn, bigger and better things have been expected of La Roja at each passing World Cup. But the team has delivered only in fits and starts. Spain has made the second round of all but one tournament since 1986, but has not made it past the quarterfinals. Thus, the growing reputation as a team capable of more, but prone to falling short under pressure on the world's largest stage.
When it wasn't sheer underperformance that impeded the Spaniards in recent decades, it was bad luck. The most infamous example came in their 2002 quarterfinal loss to South Korea, decided by shambolic refereeing. By the time a favored Spanish team at the top of its game met neighbor France in a round of 16 clash in 2006, losing early round knockout matches had become something of a Spanish tradition. The team didn't disappoint those expectations, and La Roja had earned a firm reputation of a team that couldn't handle the pressure.
The hope in Spain is now that the European title in 2008 -- which included a bit of good luck along the way, when La Roja eliminated Italy on penalties -- may have signaled a change of fortune, and instilled a championship mentality in a group that had always succumbed to doubt at critical moments.
But few are willing to stake too much to that hope, just yet. Whether the Spaniards can call on that newly found champion's edge when they need it in South Africa is the largest question surrounding this talented team. There's no doubt Spain has a roster full of game-changers, with the weapons and style to dismantle all comers, and make some new history to match its now fearsome reputation. So respect for Spain is due -- but for its present, more than its past.
Brent Latham covers soccer for ESPN.com. He previously covered sports throughout Africa for Voice of America radio and now works as a soccer commentator for a national television station in Guatemala. He can be reached at brentlatham@ymail.com.