In memory of the paradinha
If you're getting ready for the World Cup, get ready for penalty shootouts, too. There will, however, be one notable absentee in the gamut of penalty-taking techniques on display. The International Football Association Board (IFAB), responsible for making the game's laws, met on May 18th at FIFA headquarters in Zurich, and signed off on an amendment to Law 14 (The Penalty Kick).
"Feinting in the run-up to take a penalty kick to confuse opponents is permitted," the amendment says. "However feinting to kick the ball once the player has completed his run-up is now considered an infringement … and an act of unsporting behaviour for which the player must be cautioned."
So farewell then to the paradinha (or "little stop" in Portuguese), a favorite in Brazil as the name suggests -- its overuse there is arguably what put it on IFAB's agenda. Fluminense striker Fred's penalty in a Taça Guanabara shootout against Vasco da Gama in February was a blatant example, very deliberately dummying the goalkeeper before scoring in the opposite corner.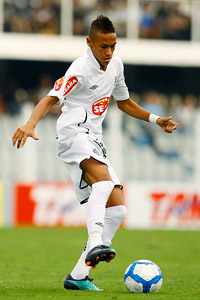 Douglas Aby Saber/Getty ImagesNeymar is one of the practitioners of the paradinha.
Santos' Neymar pulled a similar trick the week before, flummoxing the experienced Rogerio Ceni of Sao Paulo.
Even old stager Ronaldo had a go last year against Atletico Paranaense -- see it here -- though this was little surprise. The first time this writer saw O Fenomeno in the flesh, in Real Madrid's larruping of Sevilla back in 2004, he scored the game's final goal, going clean through and pausing for an age before dispatching into the net. He was asking the goalkeeper from which side he would prefer to fetch the ball, the grinning Ronaldo explained afterward.
Penalty-taking pranksters do have plenty of other avenues to keep themselves amused, though for every spark of genius there are a hundred poor imitators. In 2005 Robert Pires and Thierry Henry, for Arsenal against Manchester City, embarrassingly fluffed their attempt to replicate Johan Cruyff and Jesper Olsen's iconic one-two penalty for Ajax against Helmond Sport in 1982. Take a look at the brilliant penalty take here and the botched imitation here.
The international piece de resistance of creative penalty kicks remains Antonín Panenka's nerveless chip to win the 1976 European Championship for Czechoslovakia against West Germany. But this technique is known worldwide as "The Panenka" because his execution was unique. Even the magnificent Zinedine Zidane nearly botched it in the 2006 World Cup final.
Some do. The last man to try it in a high-stakes game was Leicester's Yann Kermorgant in a shootout against Cardiff to win a place in the playoff final for promotion to the English Premier League. Check it out here. The Frenchman's failure is now the subject of a hit musical "tribute" from Foxes fan Dave Henson.
My advice? On PKs, put it on the spot and hit it as hard as possible.