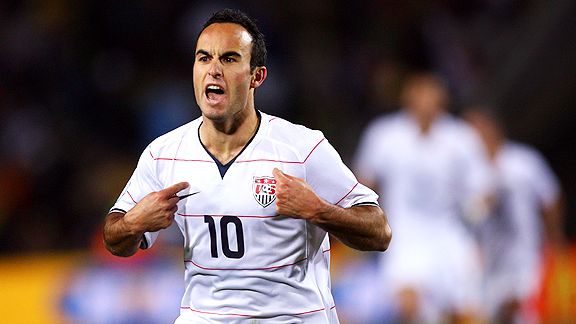 Alex Livesey/Getty ImagesLandon Donovan is focused and fired up to lead the U.S. in South Africa -- and erase the bitter memories of Germany 2006 along the way.
If acceptance is the seventh and final stage of grief, consider Landon Donovan healed from all that has transpired over the past four years. Whether it was the disappointment of the 2006 World Cup, his recent divorce from actress Bianca Kajlich or his previous difficulties in Europe, it's clear that the U.S. international has emerged from those experiences in a better place. And his recent successes for both club and country have his confidence at an all-time high, leaving him perfectly poised to have a strong World Cup.
Yet even as the stars appear to be aligned for the 28-year-old midfielder, one question lingers: Will the 2010 World Cup really be different for Donovan, or will he once again fall short of the considerable expectations that have been set for him?
The primary source of that doubt is Donovan's forgettable performance at the 2006 World Cup, one in which he crumbled under the responsibility of being the team's attacking catalyst. His lack of confidence was especially evident late in the last group game against Ghana. With the Americans trailing 2-1, Donovan received the ball at the edge of the opposition penalty area in a position to do some damage, either off the dribble or with a penetrating pass. Instead, he played a safe ball to Ben Olsen, a gritty player possessing a sliver of Donovan's creativity.
That sequence seemed to confirm the worst fears about Donovan. Never mind his stellar performance at the 2002 World Cup. The years spent in MLS had blunted his progress toward becoming an elite player, or so the conventional wisdom went.
Last Tuesday, during the national team training camp, Donovan acknowledged that he wasn't ready for the burden that was placed on him in 2006.
"You can take the soccer component out of it," Donovan said at the news conference. "In life you have opportunities that come around every so often that you'd like to take advantage of, and I wasn't prepared in order to take advantage of it. Whether that's in any facet in your life -- in your job, in your personal life, anything -- when you don't do that, that's disappointing."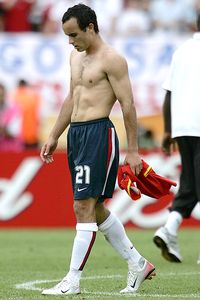 TIMOTHY A. CLARY/AFP/Getty ImagesDonovan's career hit a low point at the 2006 World Cup.
Later, in an exclusive interview with ESPN.com, Donovan was asked if he felt like he had to carry the team in 2006. "I felt that way, but I shouldn't have," he said.
With the help of such lessons, the ensuing years have seen Donovan repair his psyche, his game and his reputation brick by brick. Whereas in the past Donovan could be seen cruising through some MLS matches, he now consistently performs at a much higher level.
A greater willingness to challenge himself by playing in Europe has also paid dividends. There have been ups, like his loan spell with Everton last January, as well as downs, such as his unsuccessful stint a year earlier with Bayern Munich. But both experiences had the effect of pushing Donovan to sharpen his game.
"These have been important years for [Donovan], and I think that shows with his play," said U.S. national team manager Bob Bradley. "In the final round of qualifying and the Confederations Cup, he really raised his game in terms of his ability to push himself further and understand what the hardest games are about. And physically put more into it and still do it in a way where the pure skill and talent of making big plays was there."
But the biggest change in Donovan has less to do with technique and more to do with his maturation as a person and player. While he has long had world-class skills, his mind game could let him down. Now, after plenty of introspection, especially after the breakup of his marriage, Donovan has gained a greater understanding of himself, his role on the national team and how to manage his own expectations.
"I'm confident because I know what I'm doing now," Donovan told ESPN.com. "There's no uncertainty now, and I know what it takes to be successful. When you're prepared, and you know what to do, it's just a matter of doing it. There's no mystery around it, and that's why I feel good."
"

I'm confident because I know what I'm doing now. There's no uncertainty now, and I know what it takes to be successful.

"

-- Landon Donovan
The importance of Donovan's confidence can't be underestimated. When he was foiled by German goalkeeper Oliver Kahn in the quarterfinals of the 2002 World Cup, former German international Juergen Klinsmann said that Donovan's failure to convert was down to a lack of self-belief. Eight years later, Klinsmann feels that will be the difference for Donovan once again.
"Donovan has matured a lot," said Klinsmann, who coached him when the two were at Bayern Munich. "He's a different player compared to 2002. In 2002, he probably went into the tournament not thinking too much, and then kind of seeing where it goes. He did very well, but those moments when you come across a world-class goalkeeper like Kahn, it's only a confidence issue then. And when he didn't score then or kill the situation, it's a mind thing. In big tournaments, when you are healthy, if you are well prepared -- which most of the people are -- it's only played in the mindset."
Yet for all the talk of Donovan's improvement over the past several years, some gnawing doubts remain. Does Donovan's style and ability lend itself to picking the U.S. team up off the floor when things aren't going well? And is the team good enough to allow Donovan to show off his undeniable talent?
Certainly the expectation is that Donovan will deliver, but the reality is that he's also dependent on his teammates to get him the ball in spots where he can have an impact. In a side that at times struggles to possess the ball, this can become problematic, especially now that injury has robbed the U.S. of forward Charlie Davies, whose speed could be counted on to create space for Donovan in midfield.
"[Donovan] is not the kind of guy that will take the game over," said San Jose Earthquakes manager Frank Yallop, who coached Donovan when he first broke into MLS with San Jose in 2001 and also later with the Los Angeles Galaxy. "He's a guy where if the team's playing well and moving the ball well, then Landon's fantastic because he knows when to join the play and when not to.
"But he's not going to dribble around you. He's not a good dribbler. I don't think he's ever beaten anybody one-on-one other than push the ball and run. He's one of the best I've seen at arriving late and always at the right time and either finishing or sliding a guy in. The team needs to play well for Landon to play well."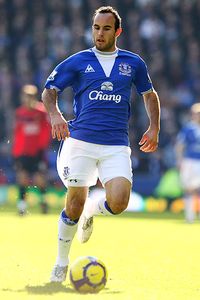 Clive Brunskill/Getty ImagesPlaying for Everton this spring helped sharpen Donovan's game.
This was apparent in the U.S. team's 2-1 friendly defeat to the Netherlands in March. The Dutch dominated possession on their way to building a 2-0 lead. Donovan was largely invisible until a flurry of substitutions and a move up top allowed the rhythm of the game to change, and for him to become more involved.
Granted, Clint Dempsey, the Americans' other attacking triggerman, missed the game due to injury, allowing the Netherlands to focus its attention almost entirely on cutting off the supply route to Donovan. But even with Dempsey on the field, Donovan can expect to encounter some extended periods when the U.S. doesn't get him the ball, and how he reacts will be telling.
"When things don't go well, [Donovan has to get] himself mentally and physically back into the game, almost forcing himself back into the game," said former U.S. international and current ESPN broadcast analyst Alexi Lalas. "He has a tendency at times to shut down. The U.S. can't afford to have Donovan shut down for a game."
Donovan insists that won't happen, and that the team is ready to provide the platform he needs to have an impact, allowing him to either set up goals or score them himself. Over the past several years, the U.S. has played quality teams with a wide variety of styles, giving the side the belief that it can compete no matter what gets thrown its way.
"Last year was priceless for us, playing in the Confederations Cup," said Donovan at Tuesday's news conference. "That experience was very valuable. So I don't worry about anyone. There may be a few guys that will get caught up in [the World Cup]. But I think we do a really good job of making sure that guys are prepared for what's coming."
After the past four years, it's clear that Donovan is.
Additional reporting by Leander Schaerlaeckens.