Bradley hints at lineup selections
May 20, 2010
PRINCETON, N.J. -- We had plenty of questions going into training camp. After spending the better part of the week with the U.S. national team, we've been able to nail down some answers, and raise a few new concerns, too.
Gooch is Good to Go
It's been seven months since U.S. central defender Oguchi Onyewu's patellar tendon in his left knee snapped when his foot got caught in the grass at RFK Stadium in Washington, D.C., in the Americans' last World Cup qualifier, against Costa Rica.
Since then, Onyewu's knee has been through a grueling rehabilitation process. On Wednesday, he returned to the practice field for the U.S., participating in every segment of the workout without apparent limitations. He did it all while sporting a new Kimbo Slice-style beard. "Razor blades are expensive these days," quipped one reporter, alluding to Onyewu's offer to his club, AC Milan, to extend his contract by a year, during which he would collect no salary to make up for the year he lost to injuries.
Clean-shaven or not, Onyewu's progress is good news for U.S. fans, because Gooch will be crucial in any success the U.S. hopes to have this summer.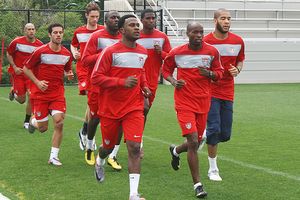 Wayne Drehs/ESPN.comDefender Oguchi Onyewu (far right) arrived on Wednesday to join his U.S. teammates at the squad's New Jersey training camp.
Not surprisingly, Onyewu is a bit off the pace. "You can see moments when maybe his releasing of a pass takes a split second too long," said head coach Bob Bradley. "But we're always confident that those are the kind of training sessions that get players back where they need to be quickly."
Getting defensive?
Also not fully fit are defenders Carlos Bocanegra (abdominal strain), Jay DeMerit (ditto) and striker Eddie Johnson (pulled hamstring), who all warmed up with the team and participated in passing exercises on Wednesday. Defender Chad Marshall (hamstring) worked out individually after the team warm-up. Goalkeeper Tim Howard (strained quad) participated in part of the training while defender Jonathan Spector (sore calf) begged out of the conditioning drills.
With three weeks until the World Cup, it's not time to panic. Still, the U.S. could travel to South Africa with the projected starting back line (Spector, DeMerit, Onyewu, Bocanegra) and the starting goalkeeper (Howard) coming off injuries. Also injured at some point this season were Benny Feilhaber, Maurice Edu, Stuart Holden, Ricardo Clark, Clint Dempsey and Brian Ching -- making it a staggering 13 out of 30 players in camp.
Bradley indicated that a player not being totally fit won't automatically disqualify him from contention for the final 23-man roster that is due June 1.
"In some cases, guys might be on the fence for the 23 and the idea is that we're going to try to have a roster selected after the [May 25 friendly] game in Hartford [versus the Czech Republic]," said Bradley, implying that for those bubble players an injury could be fatal to their chances. "In other cases you may feel more confident that there's time and you're going to bring a player to South Africa knowing that you've got the confidence that in those weeks he's ready to go."
Leave it to Beasley
During a scrimmage, winger DaMarcus Beasley stuck away a wonderful goal. On Tuesday, Landon Donovan had mentioned in his press conference that something had "clicked" for Beasley during his substitute appearance against the Netherlands. Could Beasley be making a surprise run into the starting lineup with Donovan moving up to forward?
The Starting XI
During a press conference, the famously tight-lipped Bradley gave a few hints about the starting 11.
When asked about where he planned to play captain Bocanegra, Bradley said that in last summer's Confederations Cup he "felt that Gooch and Jay [DeMerit] were playing really well" when paired together in the center of defense.
Translation: Bocanegra will probably play on the left.
About Spector he said: "One of his qualities is his versatility. He can play really anywhere across the back line."
Translation: We'll find him a spot, perhaps at right back.
There's also been speculation about where Clint Dempsey will play. "[His club] Fulham use Clint [Dempsey] in almost the same way that we do," Bradley said, which is to say, out wide with license to cut inside and get forward.
Translation: Dempsey's prowess on the right could mean that he won't be pushed into a pure forward role in Bradley's preferred 4-4-2 to replace the injured Charlie Davies, as has been widely forecast.
Under the radar
Lineup limbo has been a key talking point in recent weeks, especially with Davies' recovery falling just short. With two positions -- in central midfield and up front next to Jozy Altidore -- unaccounted for, several under-the-radar players could land starting jobs.
In the case of one, Real Salt Lake striker Robbie Findley, it is as conceivable that he'll start in place of Davies. Findley appears to have a lot of credit with Bradley in spite of a mixed bag of performances. "I think he sees something in my game that he likes," Findley said after a practice.
Another player who could sneak onto the team is midfielder Benny Feilhaber, the most creative central midfielder available to Bradley. Creativity is a scarce commodity on this team, and it could be badly needed against defensive opponents -- such as the squad's Group C opponents, Algeria and Slovenia -- that are not easily broken down.
"It's going to depend a lot on how everybody is training, how I'm training myself, how I prove myself in the friendly games and things like that," Feilhaber said. "Bob [Bradley] has always been pretty fair with the guy that he puts out there depending on how his form is at the time. So I think if I show well in the games I have a good chance of being that player that gets called on to help the team creatively."
Another long-shot starter suddenly within arm's length is Stuart Holden, the Bolton winger who could step into the job on the right, if Dempsey moves up top after all.
Playing politics
The media throng mobbing the players after practice was even more eclectic than usual, ranging from Fox News to Comedy Central, which had dispatched "The Daily Show with Jon Stewart" Senior Political Correspondent John Oliver.
What exactly he had come to do, beyond shooting a segment for the show, was hard to ascertain. He interviewed defenders Jonathan Spector and Jay DeMerit -- the latter got a big hug from Oliver, who closed his eyes for the occasion -- and goalkeeper Tim Howard.
Leander Schaerlaeckens is a soccer writer for ESPN.com. He can be reached at leander.espn@gmail.com.