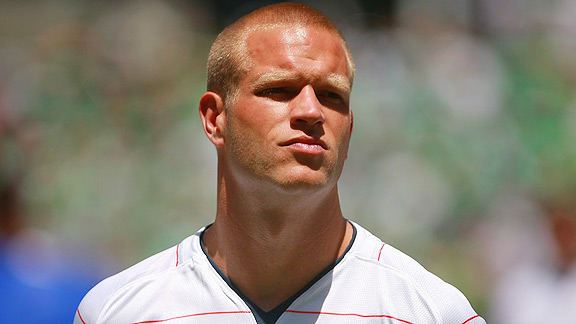 Jaime Lopez/Jam Media/Getty ImagesThe most unlikely player at this year's World Cup might be Jay DeMerit.
PRINCETON, N.J. -- Several hundred players will play at this summer's World Cup. But the one who will have travelled the longest road to get there probably will not have come from New Zealand, North Korea or even Honduras. He'll have come from Green Bay, Wis.
We're talking about Jay DeMerit, of course, who has gone from being a non-prospect without a prayer of playing on the world's biggest stages to a national team regular who'll feature this summer in South Africa.
"Everyone has their own individual paths in how they get here," said the tall defender, his blue eyes protruding from a rugged face, topped by shaved blond hair. He's speaking after a rainy and wind-swept U.S. national team practice Tuesday. "I definitely wouldn't have mine any other way."
DeMerit's "path" has taken him from the pub to the Premier League, with plenty of detours along the way. In 2001 and 2002, more than a hundred players were selected in the MLS SuperDraft. A handful made the U.S. national team. But none would end up doing as well as this guy whose name was never called. DeMerit, after a productive but unremarkable college career at the University of Illinois-Chicago, had no offers. Unless, that is, you count an unpaid stint for the Chicago Fire reserve team.
So what's your next move if your country's average professional ranks show no interest in you? Head for one of the world's most prestigious leagues, naturally. So in 2003, DeMerit packed up and went to England -- temerity in tow.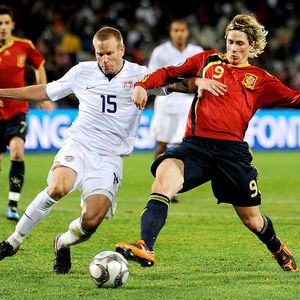 Jasper Juinen/Getty ImagesDeMerit holds off Spain's Fernando Torres at last year's Confederation's Cup.
"He has a really cool story, coming from kicking balls against the side of a barn in Wisconsin to the Premiership," said U.S. captain Carlos Bocanegra, whose injury last summer allowed DeMerit to establish himself as a U.S. starter in central defense during the Confederations Cup.
In England, a first round of tryouts proved fruitless, as did a tour of Europe designed to get more looks. Low on cash, DeMerit returned to Chicago and saved up while working as a bouncer and a bar tender before leaving for England again, like a defeated boxer who refuses to drop to the canvas.
But DeMerit found a team … in the ninth division. On Saturdays, he played for $70 a week -- riding to games on a box in the back of the coach's minivan and playing in front of single-digit crowds. When money got tight, he painted houses. On Sundays, he competed in a pub league with half-drunk teammates and opponents. He couldn't have been so foolhardy as to think he was working his way up the ladder.
"He's taken a very different path from a lot of other players, and he's been extremely successful, too," said fellow U.S. defender Jonathan Spector. "He started a little bit later than some players did but it really is a pretty amazing story, his meteoric rise to the top."
That rise finally set in when DeMerit joined a team in England's seventh division. In a preseason friendly against Watford, a second-tier team, DeMerit stood out. It earned him a trial, and eventually a contract, at Watford.
Impossibly, he'd reached the upper echelons of the sport.
DeMerit has since played some 200 games for Watford in six years, becoming its captain and even scoring the goal that won his club promotion to the Premiership a few years ago.
"The journey has to start somewhere, and mine had to start with my own backpack," said DeMerit, 30, who made his debut for the U.S. national team in 2007. "It's the end destination that really matters, and I wouldn't have started that journey if I didn't think I could eventually get here."
Perhaps even more impressive than DeMerit's successful club career is his progress within the national team. Although not the most technically gifted player, he has gained an appreciation among his teammates for his relentless effort.
"He's one of those guys that puts everything out on the line every time he plays and you know what you're going to get from him," Bocanegra said. "Anytime you can play next to someone like that, it's great because you can count on him and you know the effort you're going to get from him."
DeMerit had treated his teammates with the reverence you would expect from someone who had fought so many battles to even be considered worthy of their presence. "As you come in, you're the new guy and you need to integrate yourself on many levels," DeMerit said. "Once you start to learn how to do that, you become more comfortable and then you settle down and play your own game."
The captain, for one, has noticed the improvements in DeMerit's technical ability. "He's progressed on the ball, and he knows that, and technically he had to get a bit better and raise his level, and these last few years coming in with the national team he's done that," Bocanegra said.
Yet all that growth, all those endlessly long odds overcome, almost were for naught. The 2006 World Cup came too early in his development, and the 2010 edition almost came too soon in its own way. One day in September 2009, a speck of dirt scratched and infected DeMerit's right cornea after practice with Watford. Within hours, his vision in the eye was reduced to 20 percent, making driving, let alone soccer, impossible.
"[Making the World Cup] was a legitimate concern at that time," DeMerit said. "A normal recovery for a major cornea replacement surgery is usually six to nine months, and I was at about a 'nine months until the World Cup' stage." Not for the first time in his career, DeMerit caught a well-deserved break. New technology, halving the recovery time, had just come out. "Once I had the surgery done, I recovered in less than two months," DeMerit said.
His vision isn't yet back to 100 percent, but DeMerit isn't bothered. "Your brain and your eyes can do amazing things when they compensate for each other," he said. "And since I've been back it hasn't really affected my game."
What's next for DeMerit? He is dealing with an abdominal strain, but with his track record, that can hardly qualify as a hurdle to this year's World Cup.
Leander Schaerlaeckens is a soccer writer for ESPN.com. He can be reached at leander.espn@gmail.com.