Why the World Cup won't make money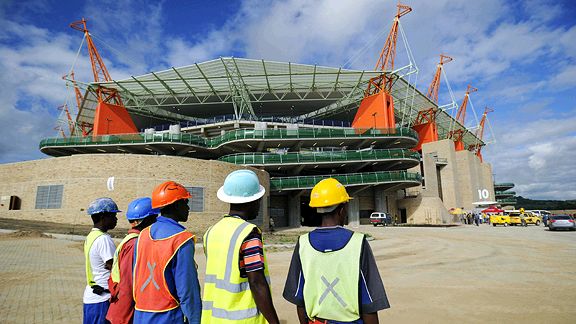 AP Photo/Denis FarrellThe Nelspruit soccer stadium cost more than $100 million but will host only four games.
In South Africa, a third of the population lives on $2 or less a day.
In rural Nelspruit, where many of the locals live without electricity or running water, four World Cup games will be played in a state-of-the-art, 46,000-seat structure that was built at a cost of $137 million.
The South African government has spent an estimated $6 billion on World Cup-related infrastructure, from new stadiums to transportation improvements.
The justification for the monumental cost of hosting this summer's World Cup: an economic bonanza; a watershed moment for the African continent; an investment that will reap handsome rewards; an opportunity to attract foreign investors.
All these arguments are tenuous at best.
More likely than not, this tournament won't be a cash spinner but a money pit. It could even cause the South African economy to slow down. And South Africa's image could suffer, rather than enjoy a fresh coat of polish, ravaging both tourism and foreign investment prospects.
Six years ago, a South African government website boasted, "While South Africa's economy will receive a massive direct boost from hosting the 2010 World Cup, the likely spin-offs of an improved image abroad will have an even greater impact." Consulting firm Grant Thornton, which put together the bid committee's economic projections, claimed that the tournament would pump some $7.5 billion into South Africa's economy and provide the tax man with a $2.59 billion windfall. Almost half a million tourists, meanwhile, would leave behind more than a billion dollars.
Yet some economists are saying that such projections are unlikely to materialize.
If such a notion is defeatist, it is not without base. There's every reason to suspect that the picture of economic riches painted for the South African people is lavishly optimistic, bordering perhaps on the delusional.
"What the people who promote these events never consider in these calculations is the fact that some of the resources that go into making a World Cup otherwise would have been devoted to other activity that would have had some value and increased economic activity somewhere else," said Stefan Szymanski, a sports economist and the co-author of "Soccernomics," a book about soccer's inefficiencies.
Indeed, the $6 billion the government has already spent on infrastructure could have been more beneficial elsewhere. "You have to take into account the way the resources would have been used had they not hosted the World Cup," Szymanski said. "The best alternative in a developing country like South Africa would have been very positive. Extra schools and extra hospitals would have made a huge difference and they've foregone those to host the World Cup."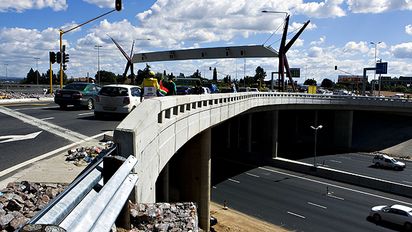 Foto24/Gallo Images/Getty ImagesHosting the World Cup means South Africa had to spend billions of dollars on infrastructure upgrades, like new roads.
Rob Baade, a professor of economics and president of the International Association of Sports Economists, said, "The so-called benefits to the gross domestic product of a country are fiction." Grant Thornton disagrees, predicting that 0.54 percent of South Africa's projected 2.5 percent growth in GDP in 2010 will be a result of the tournament.
The tournament's organizers also contend that the infrastructure built will yield dividends for decades. While this may be true for the upgraded transportation facilities, the boon from stadiums, one of the biggest costs, is heavily overstated. The bill for the five new stadiums and five refurbished ones -- not to mention the other facilities upgraded for practices and scrimmages -- stands at about $1.6 billion, allegedly a multiple of original estimates.
Unfortunately, however, stadiums do little to regenerate the surrounding areas. While some assume that a stadium brings new businesses to the area and makes the area more desirable for living in, this rarely occurs.
"There are lots of reasons to suspect that stadiums are not good investments," Baade said. "There are all these tradeoffs that generally lead to no positive impact from the stadium and in some cases a negative economic impact from them.
"When you're building a stadium in an urban setting or the periphery of that, you're not necessarily building something with a symbiotic relationship with other kinds of economic activities," Baade said. "That's due to the fact that stadiums are infrequently used, so there's a lot of dead time. If they're only occasionally used you can't expect that they're going to stimulate the kind of hotel and restaurant development some people expect." The dead time also causes the neighborhood to frequently look deserted, making it unappealing to live in and hard for business to thrive. The sudden excess of traffic when the stadium is in use is often detrimental to other businesses that don't benefit from the foot traffic.
"Some people think commerce will slow down from normal economic activity," countered Gillian Saunders, author of the Grant Thornton study. "I don't think it'll do that."
Baade disagreed, saying, "There's very little evidence that stadiums are anything more than a benign economic development in a neighborhood." Since a stadium is designed to capture any discretionary spending by its customers within its grounds, few businesses outside the stadium actually profit from foot traffic.
"Stadiums aren't necessarily good neighbors because they're after the revenue that used to spill over into the neighborhood," Baade said.
In Nelspruit, which is located in the northeast part of the country, what use the impoverished area will have for its new stadium after the stadium's six hours of soccer are completed is unclear. Even Johannesburg's 94,700-capacity Soccer City stadium could prove hard to fill once the tournament ends. Only mega-events such as the World Cup and the Olympics are logical tenants.
"Look at the stadiums we have," countered Rich Mkhondo, chief communications officer for the 2010 Organizing Committee. "Each one of them has management companies running them and all of them need only 25 events a year to break even. The majority of the stadiums already have 40 events lined up for next year."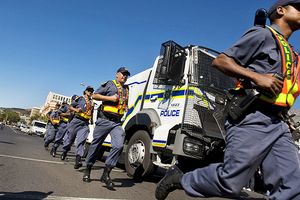 Rodger Bosch/AFP/Getty ImagesIn Cape Town, police recently had a practice run for dealing with potential terrorist issues.
"It would take a super-successful team on the field to fill the Nelspruit stadium after the World Cup. Is there enough of a fan base to in fact fill the stadiums?" Baade asked. "It's all so iffy. We're talking about an enormously risky venture with a potentially modest payoff even if things go very, very well. The mix of risk and reward in the case of stadiums is just not very favorable."
Saunders of Grant Thornton says there are thousands of global events that can be lured to Africa. Such events, she argues, would have use for the new stadiums. "We should be able to win far more of these events in South Africa," she said. Yet how many events can consistently fill 10 stadiums with a capacity of at least 43,500 each? And how many can you line up in a single year?
If the stadiums aren't likely to pay for themselves, pushing the tournament into financially solvent territory depends on tourists.
The tournament's disappointing ticket sales abroad have been well publicized. Original estimates of almost half a million foreign visitors pouring into the country had to be downgraded. Some say it could be as few as 200,000. Grant Thornton maintains 373,000 will show and adds that they'll stay longer, thus making up for income lost from the dearth of visitors. According to its projections, people will stay an average of 18 days, rather than the 14 it had forecast earlier, and will attend an average of five games. During the 2006 World Cup in Germany, foreign visitors took in 2.6 games on average.
"Our projections are still accurate," Saunders said. "People are making estimates for only people with tickets. We're including people without tickets to come through. The ticket sales have been hugely disappointing but we always projected lots of non-ticket holders to come as interest from the neighboring African countries is extremely high." Grant Thornton predicts that of the 373,000 foreign visitors, 105,000 will come without tickets or any intention to buy them, basing that total on the huge numbers of ticketless visitors who turned up in Germany.
Even if one accepts that at face value, the spike in tourism is at most a 5 percent increase from normal. In 2009, South Africa drew some 9 million tourists. Which is to say that the increased tourism derived from the tournament is relatively small.
Many tourists will be what are called "time-switchers" at that. Time-switchers are travelers who would have gone to South Africa at some point anyway but timed their trip to coincide with the World Cup, according to Szymanski. In 2006, time-switchers made up an estimated four-fifths of all World Cup-goers. These people do not represent a World Cup-induced contribution to tourism, since they would have come to the country regardless.
South Africa hopes the World Cup will allow the country to tap into new demographics not previously interested in visiting it, and that they will return in greater numbers in the future. "If we leverage the event properly there is the potential to bring more tourists to South Africa," Saunders said. "Three hundred percent more people than those that come don't even consider South Africa because of their negative perception of the country. This event will play to a different market like people with children or those from South America."
Yet economists are skeptical. "I don't think this makes any difference in tourism at all," Szymanski said. "Why would you go to South Africa? The main source of tourism is the wildlife and I don't think the World Cup does anything to change that. If you didn't already nurse an ambition to go see elephants and game parks I don't think someone will suddenly acquire that ambition after seeing people playing soccer in Johannesburg."
Baade adds that evidence following the 2002 World Cup in South Korea and Japan shows there was almost no gain in tourism. "The people that came to the matches almost person-for-person replaced those that would have gone otherwise as tourists," he said.
"One thing it will do is because all of the hullaballoo around the World Cup an awful lot of people who would otherwise have gone will have been put off," Szymanski added. "Anyone who wanted to go [for the wildlife] will steer a clear berth. This was most notable during the Athens Olympics in 2004. In 2003 there were 14 million tourist arrivals [in Athens] and in 2004 there were 13 million, so they lost a million tourists."
What's more, if fears about crime or terrorist attacks materialize, South Africa's brand, which it so desperately hopes to improve, could suffer, taking its toll on tourism and investment. As such the economic legacy of the World Cup could ultimately be a negative one.
"The numbers are extremely deceptive," Szymanski said. "Part of the dynamic is that the government -- and this is the fault of FIFA trying to squeeze subsidies out of the government -- has to justify to its own people the beckoning benefits. It tells people there is going to be a bonanza."
The 2010 Organizing Committee contends that the tournament is profitable already. "The event has profited more than one billion dollars even before it began," Mkhondo said. "There are about 19 sponsors who have partnered with FIFA and ourselves to pay for the event. By last month we have used only 82 percent of the budget." Yet in that calculation, the colossal cost of building stadiums and airports is not included. "The airports, roads and stadiums and so on are part of government construction and redevelopment. We as the organizing committee are not involved in building stadiums and airports."
Szymanski says the big question to ask is what would have happened if there had been no World Cup. "If 2010 had been an ordinary year, what would have been different? If they've had to raise taxes or borrowed money for the World Cup they could have built hospitals or schools and that could have cured people and made them more productive and led to even more economic activity.
"The most likely outcome is this is a negative for the South African economy rather than a positive," Szymanski said.
But if it's so hard to make a World Cup repay itself, even in the long run, why do more countries line up for it each bidding cycle? Why is the thought that it's a good investment left to masticate on long enough to convince another round of countries to convince themselves that it's a good idea?
People who are excited about hosting a World Cup, write Szymanski and Simon Kuper in "Soccernomics," "are merely expressing in extreme form a conventional belief: that hosting a big sports event can make a place rich."
In truth, write the authors, while World Cups don't produce much monetary gain, they have been shown in several studies to be good for general happiness among the hosting population and a country's self-esteem. Thabo Mbeki, South Africa's president until September 2008, declared in a speech that the tournament would be "sending ripples of confidence from the Cape to Cairo." It doesn't look bad for a politician looking to get re-elected, either.
"FIFA and the Olympics all enjoy monopoly standings," Baade said. "And that permits them to foist enormous economic cost on those that compete for mega-events like the World Cup. They're in a position to expropriate public funds. The argument is made that we're going to bring in so many non-native spendthrifts that that will offset the expense of stadiums, but there's very little evidence to support that."
Chances are that like many predecessors South Africa will eventually discover that hosting the World Cup was a poor choice, at least from a financial viewpoint. But by then, FIFA will have moved on to flattering some other country into believing it should pour the money it doesn't have into hosting another glorious edition of the World Cup.
Leander Schaerlaeckens is a soccer writer for ESPN.com. He can be reached at leander.espn@gmail.com.