Soccer isn't for ballerinas
April 29, 2010
Editor's note: The following is excerpted from "The ESPN World Cup Companion: Everything You Need to Know About the Planet's Biggest Sporting Event," copyright 2010 by David Hirshey and Roger Bennett. Reprinted by permission of ESPN Books and Ballantine Books. Available in bookstores May 4.
Soccer players don't have the armored advantages of their counterparts in other physical sports, like football and hockey. Their only protection is two small, plastic, token shin guards. As a result, every soccer player's résumé includes fractured ankles, shredded metatarsals, knee ligaments twisted like shoelaces, and heads cracked open like soft-boiled eggs.
But thugs are a dying breed now that flagrant violence -- once the default strategy for overmatched teams throughout the World Cup eras of Pelé and Maradona -- means almost certain banishment. Modern soccer etiquette has of necessity spawned the Thug's descendant, the Hard Man, who seeks and gives no quarter, but stops short of maiming opponents.
Herewith, a studs-up tribute to the notorious hit men of the past and their more discreet heirs.
THE THUGS
ANDONI GOIKOETXEA, SPAIN
If Goikoetxea were a fan of "The Simpsons," his favorite episode would be "Lisa on Ice," where Lisa exhorts her team to "hack the bone, hack the bone."
The "Butcher of Bilbao" never encountered a leg he didn't want to chop, but he took special pride in slicing open opposing stars. Of his many victims, two stand out: Bernd Schuster and Maradona. Schuster, West Germany's golden boy of the early '80s, was just 21 and starring for his club team, Barcelona, when Goikoetxea slid into him and all but carved his initials in his knee. Two years on, in another Spanish league match against Barcelona, Maradona gathered the ball just inside the Bilbao half. Almost immediately, he was scythed down by Goiko. "I hadn't seen him coming on the pitch or I would have dodged him as I had on so many other occasions with so many other kicks," the Argentinian star wrote in his autobiography. "But I just felt the impact, heard the sound, like a piece of wood cracking, and realized immediately what had happened."
The assault broke Diego's ankle and severely damaged the ligaments, and was such an ostentatious display of goonish behavior that Goiko was hammered with an unprecedented 18-match ban (remarkably, he did not receive a red card for the foul itself, only a yellow). Did Goiko feel remorse? You be the judge: He placed the boot that did the damage in a glass case on his mantelpiece.
While Goikoetxea eschewed such blatant thuggery in his four World Cup games for Spain -- he collected only two yellow cards -- it was due mostly to the effect of his reputation on opponents, and not to any concerted effort on his part to behave. As The Times of London famously put it: "The Butcher of Bilbao was plainly a prawn short of a paella."
BENJAMIN MASSING, CAMEROON
There are many ways for a plucky no-name underdog to show its heavily favored opponent that it will not be cowed. Cameroon's approach was simply to try to kick the stuffing out of more illustrious foes. Drawn against defending champion Argentina in the opening game of World Cup '90, the Indomitable Lions committed 30 fouls, more than half of them on Maradona, whom they mistook for a human piñata. At least Diego escaped with his limbs intact.
His strike partner, Claudio Caniggia, wasn't as lucky, thanks to Benjamin Massing, a bruising, thick-thighed defender who set the tone only 10 minutes into the game by picking up the first yellow card of the tournament. As it turned out, he was just getting warmed up. After Cameroon's André Kana-Biyik was sent off for mauling Caniggia in the 61st minute, the Indomitable Lions improbably forged ahead six minutes later. Desperately searching for the equalizer, Caniggia again ran at the heart of the Cameroon backline, eluding two defenders as they tried to cut him down. The second sliding tackle partially clipped him, though, and Caniggia was stumbling, fully exposed, when Massing ended a 30-yard sprint by launching himself into the stringy-haired striker with such brute force that Massing's boot flew off on impact. Caniggia crumpled in a heap. Massing was ejected from the game, but even with only nine men left on the field, Cameroon held on for a historic 1-0 upset.
While Massing's flying leg whip was deservedly chosen as one of the five worst tackles in the tournament's history by The Guardian, his entire World Cup career consisted of only two matches, in which he managed to collect two yellow cards and one red. No one can say Massing didn't make the most of his opportunities.
LEONARDO, BRAZIL
For joga bonito, it was an unthinkable act of ugliness, but there it was. The Brazilian midfielder Leonardo threw an ice pick of an elbow at the head of U.S. midfielder Tab Ramos in their round of 16 match at U.S.A. '94. It had been a chippy, hard-fought game featuring seven yellow and two red cards, and Leonardo was clearly frustrated with Brazil's inability to assert their authority over the upstart Americans. In the 43rd minute, he got tangled up with Ramos on the touchline as the two players battled for possession. Attempting to separate himself from the U.S. playmaker, Leonardo suddenly crashed his arm into the left side of Ramos's face, spinning him around before Ramos fell to the ground and briefly lost consciousness.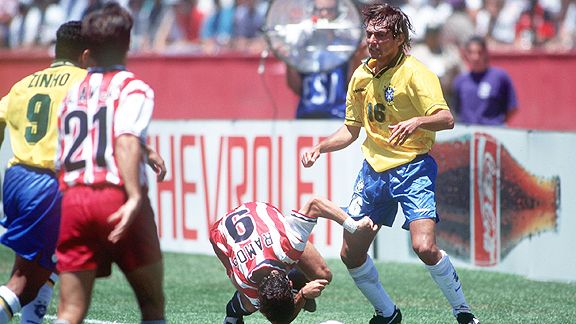 Getty ImagesThe aftermath of a thug's elbow: Tab Ramos collapses to the turf after Leonardo's blow to the face.
"I was just acting on instinct," Leonardo said afterward. "I didn't mean any harm." But the blow fractured Ramos's skull, sidelined him for months, and earned Leonardo a four-match suspension. Ramos, ever gracious, later said, "I don't think he meant to hurt me." Leonardo went to Ramos's hospital room to apologize. However, for virtually every one of the 84,000 people in Stanford Stadium, it was chilling proof that even the most stylish of soccer teams could commit acts of mayhem.
As further evidence of soccer fans' proclivity to forgive all things Brazilian, Leonardo did not suffer any lasting recriminations for his moment of ignominy. Fifteen years later, he would be named the head coach of the Italian powerhouse club AC Milan, even though he had no previous managerial experience.
LEONEL SÁNCHEZ, CHILE
Anytime you need to call in the police to assist the referee in keeping the players from killing one another, the fuse has usually been lit long before kickoff. That, at least, was the case with the 1962 World Cup group match between host Chile and Italy, dubbed "the Battle of Santiago." Passions had been running high in the days before the match as the Chileans were manipulated into believing that the Italians had made derogatory and insensitive remarks in the aftermath of the devastating 1960 Chilean earthquake. The enmity became so intense that two offending Italian journalists were forced to flee the country. The contest itself deteriorated quickly into one of the World Cup's most shameful displays of soccer.
It began with what appeared to be a fairly innocuous foul on high-scoring Chilean winger Leonel Sánchez by Italian defender Mario David near the left corner flag. Sánchez, the son of a boxer, bounded to his feet and coldcocked David with a haymaker that the announcer described as "the neatest left hook" that he had ever seen. Astonishingly, Sánchez's pugilistic gifts went unpunished. David, not surprisingly, retaliated a few minutes later, with a two-footed flying kick to Sánchez's neck that led to his immediate ejection and a full-blown melee between the teams. Amid the bedlam, Sánchez broke striker Umberto Maschio's nose with another textbook blow. There were now two Italians down, only nine to go.
Sánchez escaped punishment again, and the Chileans scored two late goals to secure the victory that vaulted them into the quarterfinals.
The national motto of Chile translates to "by reason or by force." Leonel Sánchez's motto was punchier.
JOSÉ BATISTA, URUGUAY
Prior to the '86 World Cup, Scottish striker Ally McCoist said, "I've heard of a group of death, but this has to be the group of certain death." McCoist's quote was prophetic. Needing a tie to advance to the knockout round, the Uruguayans -- with a long, proud history of being South America's most infamous hatchetmen -- were instructed by coach Omar Borrás in his pregame exhortation to show their "commitment" against Scotland.
Defender Batista committed himself to kicking lumps out of the Scots, waiting less than a minute to barge into the back of pint-sized Scottish playmaker Gordon Strachan without ever coming near the ball. And just like that, at 56 seconds, Batista earned the fastest red card in World Cup history. For the remaining 89 minutes, the South Americans fouled and hacked their way to a 0-0 draw, so enraging the Scots that a member of their delegation later called them "scum of the earth." FIFA was more diplomatic; they simply levied a fine and a threat of expulsion from the tournament.
HARD MEN
"Off the pitch I was always an ordinary, mild-mannered bloke," English defender Terry Butcher once said, "but it was tin hats and fixed bayonets the moment I pulled on a football shirt."
Despite his surname, the serrated-edged Butcher was the embodiment of a hard player rather than a dirty one. Since soccer teams no longer had the freedom to park a goon on the field, protecting superstars meant send-a-message tackles that would make an opponent think twice about venturing into the defenders' zip code again. If you had Anglo-Saxon blood, Hard Men brought back fond, ancestral memories of tattooed faces, lusty battle cries, and the pillaging of coastal towns; the fans of the British Isles, Ireland, and Germany took to these players like a Scotsman to a discount store.
This is not to suggest that Anglo-Saxons have a monopoly on these rough-hewn warriors -- Hard Men are also revered in Argentina and Italy -- just that they hold them in higher esteem than the Brazils and Spains of the world who reserve their love for the step-over, the back-heel, and the beautifully curled free kick.
STUART PEARCE, ENGLAND
What do you call a guy who gets his leg snapped like a twig, waves off medical attention, and refuses to come out of the game? Brave. What do you call him if he breaks his leg in a second match and again insists on staying in? You call him "Psycho" -- the nickname that English defender Stuart Pearce answered to in his 25-year career as a consummate Hard Man who left body parts -- sometimes his own -- scattered in his wake.
In the tradition of English working-class soccer heroes such as Nobby Stiles, Bobby Moore, and Bryan Robson, Pearce put muscle and bone on the line for 90 unrelenting minutes. "We are in a results business," he once explained, "so Stuart Pearce being a jolly old boy won't keep me in a job." Pearce helped lead England to the semifinals in World Cup 1990, where his reputation was mitigated when he missed a critical penalty against Germany. After the game, Psycho, normally the picture of stoicism, collapsed in a welter of tears.
All told, the rugged defender played in 18 World Cup qualifying and final round matches. Much like Italy's Claudio Gentile, Pearce was clever at masking his soccer crimes -- he was never ejected and accumulated only two yellow cards. Pearce has no regrets about his legacy, although, he once noted, "It can be a bit of a hindrance when you walk into a restaurant for a quiet meal and one or two launch into 'Psycho! Psycho!'"
CLAUDIO GENTILE, ITALY
Some soccer stars can only be controlled, not contained. By Spain '82, Maradona was clearly one of them. Or at least he was until he ran into Gentile, Italy's fearsome terminator whose job description was simple: Mark the opponent's most dangerous player into oblivion and don't get caught.
"A defender needs to find a way to let his presence be known," Gentile has said, and he went about his business with the subtlety of the Angel of Death. In pursuit of his prey, he spared no knee to the back, kick to the ankle, or elbow to the neck. In Italy's second-round upset of defending champion Argentina in 1982, Gentile reduced Maradona to a state of such whimpering petulance that he received a yellow card for excessive whining. "Football," Gentile once explained, "is not for ballerinas."
Born in Libya and endowed with the unfortunate nickname "Qaddafi," Gentile epitomized the fierce tackling and pugnacity that defined the '80s edition of the Azzurri, but his extraordinary skill lay in his ability to get away with tackles that would otherwise be cited for human rights violations. In Gentile's 71 games for Italy, he was never redcarded, though all eyes were upon him. He was the master of the stealth attack, cagily timing his assaults to avoid the referee's gaze. But it wasn't just well-disguised fouls that set Gentile apart. He was also adept at mind games, although he didn't always use his mind. Italian journalists still talk about how early in that Italy-Argentina match, Gentile attempted to provoke Maradona by sidling up to him from behind and administering the soccer equivalent of a colonoscopy.
For all his macho posturing, Gentile viewed his Hard Man reputation with a healthy dose of humor. The story is told of the black-tie awards dinner for European Player of the Year in 1978: As England's Kevin Keegan walked toward the stage to collect the trophy, Gentile stuck out a foot and tripped him. Picking himself off the floor, Keegan glanced up at the Italian who was smiling mischievously.
"You wouldn't have won any award," Gentile said, "if I had been marking you."