MLS continues to feed national team
March 29, 2010
Major League Soccer and the World Cup are inextricably linked. And while MLS owes its existence to the World Cup, the World Cup is also proving damaging to America's top soccer league.
When the United States was awarded the 1994 World Cup, a precondition was that it would start a new professional soccer league to replace the North American Soccer League, which by 1984 had been run into the ground. Major League Soccer debuted in 1996 with 10 teams and has expanded to 16 for the 2010 season, with two more expansion franchises beginning play in 2011.
But as the league, which kicked off its 15th season last week, has grown in stature, it has had a smaller hand in the fate of the U.S. delegation in each subsequent edition of its beneficiary, the World Cup.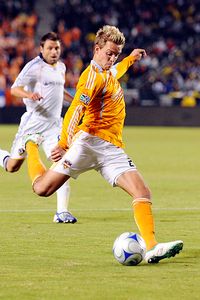 Kevork Djansezian/Getty ImagesAfter leading Houston to the best record in the Western Conference in 2009, Stuart Holden signed to play in England.
During the 1998 World Cup, 16 different players made a start for the U.S., 11 of whom played in MLS and one more (Chad Deering) who would join MLS before the World Cup had ended.
In the 2002 edition, when the modern high-water mark was set when the U.S. reached the quarterfinals, 16 different players again received a start. Eight of them hailed from MLS clubs.
In 2006's fateful and brief campaign, 14 players started. This time only five of them played for MLS clubs.
You can see where this is going. There are eight remaining MLS players in the running for spots on the World Cup 2010 team that will head to South Africa in just over two months. Yet only one of them -- Landon Donovan -- will be a starter, with almost none of the other candidates standing a reasonable chance of playing any games from the first whistle.
That means that, in its short existence, MLS has gone from supplying 11 starters to the U.S. World Cup team to one -- and Donovan, of course, just spent two and a half months with Everton of the English Premier League.
What to think of this? Is MLS getting better because it's graduating more players to the World Cup? Of those likely to make up the U.S. team this summer, 16 of 23 will have passed through MLS at one time or other. (Jay DeMerit, Oguchi Onyewu, Steve Cherundolo, Benny Feilhaber, Jonathan Spector, José Torres and Charlie Davies are the exceptions -- although DeMerit and Spector did both play for Chicago Fire Premier.) Or is it getting worse because fewer starters on the U.S. are currently plying their trade in MLS?
For a league that makes no bones about its ambition to one day be among the world's best, this is a frightening development. World Cup appearances by the league's leading players offer much-needed exposure and a chance at the respect the enterprise craves. There's no telling what World Cup excellence by a handful of MLS representatives could accomplish. But the chances of that are smaller than ever.
Yet if the melting away of World Cup starters from the MLS ranks is a detriment, it can similarly be construed as a compliment. MLS has to be doing something right if it's responsible for helping develop such a vast contingent of World Cup players on the notoriously tight budgets the league operates under. One could quite possibly argue that no other league in the world, except quite possibly that of North Korea (who can be sure?) delivers so much World Cup talent for so little money.
The punishment for that success in breeding talent is losing it. It's a self-fulfilling prophecy of sorts. As Major League Soccer players appeared at World Cups, they caught the eye of European clubs. Realizing that the small, nascent stateside league was starting to deliver prospects capable of competing in Europe, and that they could be had for little or no money at all, interest in the players skyrocketed. Major League Soccer developed into a legitimate feeder league for the northern European leagues in particular. As a consequence, by the time a World Cup came around, more and more U.S players have been employed in Europe.
"MLS is more heavily scouted than ever before," MLS spokesman Will Kuhns said of the increased interest in the league's players. "We're quite proud that. The level of play in the league is improving incrementally each year."
Chris Canetti, chief operating officer of the Houston Dynamo, saw two of his best players, midfielders Stuart Holden and Ricardo Clark (both of whom could start in South Africa), leave for Europe this past offseason. "I do think it's a compliment that players are developing here against viable competition, being noticed by scouts around the world and ending up in the Premier League or Bundesliga. At first glance it could look negative but it's a really positive thing," Canetti said. "It lends credibility for sure, the fact that Holden signed with an English team and Clark signed with a German team, that's something to be proud of, that our league isn't all that far from theirs. It's a little bit of a measuring stick."
And while this intensified exposure leads to more departures, it is ultimately favorable to the national team. "It's likely that in, say, 1990 a lot of guys with the talent like a Clint Dempsey, Tim Howard or Jozy Altidore wouldn't have been able to play at the level they play at now or would have been able to make the jump to European clubs because there was no MLS for them to develop their talent," Kuhns said.
As a result, MLS is now starting to attract players looking to further their careers, rather than castoffs from bigger leagues. "Players are coming from South and Central American countries and some African countries to our league to gain the exposure and notoriety to go to the World Cup," Canetti said. "I deal with a lot of players and agents who see coming to MLS as a great opportunity to make their national teams."
MLS isn't the first league that's become a holding pen for greener pastures. After the 1995 Bosman Arrest -- which essentially granted European soccer players their free agency and lifted stringent quotas on the number of foreigners European clubs could field -- those with the most ability naturally started to converge in the richest leagues, and then at the richest clubs within those leagues. This has turned the European club system into an unshakable dichotomy of elite leagues (England, Spain, Germany and Italy) and feeder leagues (everyone else). Such are the evils of soccer's economic-industrial complex. Yet for MLS, a league on another continent, to be a part of it lends it a relevance, pays it homage of sorts. It's an undeniable sign of growth, no matter the damage it inflicts on the league itself.
Leander Schaerlaeckens is a soccer writer for ESPN.com. He can be reached at leander.espn@gmail.com.