Previewing the quarterfinals
We're getting down to the business end of the tournament, with the quarterfinals set to kick off on Friday. Here's everything you need to know about each match.
Uruguay-Ghana
Two Cinderella teams face off with a place in the semis on the line. After losing Michael Essien to an injury prior to the World Cup, Ghana wasn't exactly a favorite to get this far, but a win over the U.S. proved that coach Milovan Rajevic's Black Stars have responded.
Uruguay, meanwhile, is having its best World Cup run since 1966. Led by Luis Suarez and Diego Forlan, Uruguay has been a consistent performer in this competition. Suarez, a star on the rise for Ajax of Amsterdam, scored both goals in Uruguay's round of 16 win over South Korea. He is joined by Edinson Cavani up front, with Forlan just behind them. Forlan excels in this role, and Ghana will have to be aware of the danger he can create from this deep position.
Uruguay coach Oscar Tabarez deserves credit for the way his side has come together at the right time, but now he has to deal with the news that defender Diego Godin could be out with a quadriceps injury. Mauricio Victorino replaced him at halftime of the team's win over South Korea, and Victorino could be set for a starting role on Friday. Other changes seem unlikely for Uruguay, which is missing no players through suspension.
Tabarez will be hoping that Uruguay can keep its three-game winning streak going. The midfield trio of Egidio Arevalo, Diego Perez and Alvaro Pereira will be key to any success. With only three players in midfield, Uruguay needs to make sure it retains possession.
But given the nature of Ghana's game, possession won't be an easy thing for Uruguay. Ghana's five-man midfield is full of strong and hard-working players who press the ball at every opportunity. Ghana will be without Andre Ayew and Jonathan Mensah, who picked up their second yellow cards of the tournament in the win over the U.S. Ghana will also be sweating over the fitness of lone striker Asamoah Gyan and attacking midfielder Kevin-Prince Boateng. They were the goal scorers in the Black Stars' triumph over the U.S., but both are hobbling with injuries.
If Boateng is not ready to go, it could mean a start for Sulley Muntari, the Inter Milan midfielder who has yet to start a game for Ghana in this tournament. Stephen Appiah is another experienced player who could fill in.
It's a matchup so even, 120 minutes and penalty kicks is not out of the question.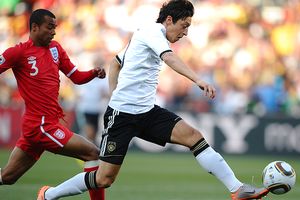 Paul Ellis/AFP/Getty ImagesGermany's Mesut Ozil has been one of the tournament's breakout stars.
Germany-Argentina
A clash of giants as Germany and Argentina meet in Cape Town. The winner of this match will surely be one of the favorites to go all the way. Both sides have been fun to watch in South Africa. It's hard to imagine this game not living up to its billing.
After destroying England 4-1, Germany coach Joachim Loew, a brilliant tactician, will match wits with Diego Maradona and Argentina. This game will be a much harder test for the Germans than anything they have faced thus far in the tournament. As good as the Germans looked in victories over Australia and England, they lost an ugly game to Serbia and were not all that sharp in a 1-0 victory over Ghana.
But when Germany has clicked, it's been attacking football at the highest level. Young stars like Mesut Ozil and Thomas Mueller have truly been revelations for Loew. Doubters who thought this World Cup was too soon for the next generation of German stars now realize the timing was, in fact, perfect. The young legs have been blazing.
Don't expect many changes at this point for Germany. Lukas Podolski and Miroslav Klose will support Ozil and Mueller in attack. Podolski will play wide left with Mueller on the right, while Klose will stay high and Ozil will be free to go wherever he wants. He has been Germany's most dangerous player.
In midfield, Bastian Schweinsteiger will play alongside Stuttgart star Sami Khedira. Maradona's midfielders will need to make sure they press the ball at all times, because given time, the German duo can pick any team apart.
This game will test Argentina, but with Lionel Messi, there is always hope. Messi has yet to score in South Africa, but his presence has been felt in many ways, mainly in setting up Gonzalo Higuain, who has four goals, and Carlos Tevez, who scored twice in a 3-1 victory over Mexico. Germany's back line will be given a stern test.
In midfield, captain Javier Mascherano will try to close down Ozil, while Angel Di Maria will be the pivot responsible for getting the ball to Messi, Higuain and Tevez.
Argentina can be suspect defensively. Maradona's decision not to include Javier Zanetti in the squad was controversial. Nicolas Otamendi or Jonás Gutiérrez play right back, and neither one is a lockdown defender. In the center, Walter Samuel and Juan Sebastian Veron (or Maxi Rodriguez) will have their toughest test to date.
Maradona appeared to be in over his head during a dismal qualifying campaign, but the team has responded to his zaniness here in South Africa. Now, the manager has to hope Messi brings his A-game. If he does, Argentina could be on its way to its third World Cup title.
Brazil-Holland
Brazil will meet the Netherlands in Port Elizabeth in another dream quarterfinal matchup. We all know about Brazil's talent all over the field, but Holland is also extremely polished technically and tactically. Like Argentina-Germany, this is the game at its highest level.
Five-time winner Brazil will be favored, especially after its 3-0 drubbing of Chile. In group play, Brazil ironed things out in wins over North Korea and Ivory Coast, then snoozed through a goal-less draw with Portugal. Any notion that coach Dunga's team would not be ready for the knockout stages was erased in the first half of the Chile match.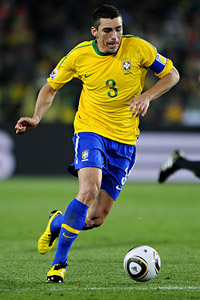 Fabrice Coffrini/AFP/Getty ImagesBrazil's ironclad defense is led by Lucio.
Dunga has so many weapons at his disposal. Look for Kaka to play in his normal spot behind Luis Fabiano. With Elano out due to an ankle injury, the coach will probably play Dani Alves. Not too shabby a fill-in.
As always, the core of Dunga's team will be the key. He will deploy his two defensive midfielders Gilberto Silva and Felipe Melo in front of a back four that allows fullbacks Maicon and Michel Bastos to push forward on the flanks, looking to find the dangerous tandem of Robinho and Luis Fabiano. The Dutch will have their hands full.
But the Netherlands has talent, too. And with Arjen Robben back to full strength, the team has taken a step forward since the beginning of the tournament. Robben came on for Rafael Van der Vaart in the win over Cameroon and has gotten better by the game. Robben's inclusion has freed up Wesley Sneijder, the most talented of all Dutch attacking players. Sneijder has often been used in a wide role, but don't be shocked if he slips inside to try to create chances for strikers Dirk Kuyt and Robin Van Persie.
Defensively, the Netherlands doesn't have the same quality as Brazil, but who does? The back four will have to concentrate for 90 minutes and hope turnovers in the midfield don't turn into jailbreaks for Brazil. As Chile learned Monday night, no one counters quite like Dunga's team. This game has classic potential, but much depends on the Netherlands' raising its game. No one expects anything less from Brazil.
Spain-Paraguay
Spain, the reigning European champion, is showing some grit to go along with its vast talent. Tuesday's 1-0 semifinal victory over Portugal was a triumph of creativity and resourcefulness in the face of a Portuguese side that was on the field only to defend. The game will serve now as a dress rehearsal for a quarterfinal matchup with a Paraguayan side that also figures to bunker. Will Spain be up to the task again?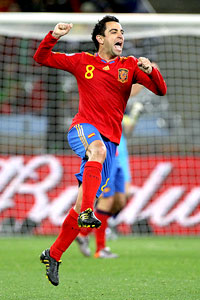 Doug Pensinger/Getty ImagesSpain's sublime passing game is orchestrated by midfielder Xavi.
Spain's midfield is one of beauty and precision with Xavi, Xabi Alonso and Sergio Busquets working the ball in and out of tight spaces, almost daring the opposition to pressure them. Before David Villa's goal, Spain was having difficulty penetrating Portugal's defense. But after going up a goal and forcing Portugal to finally come out of its shell, the mismatch in talent and skill was even clearer.
The decision by coach Vicente del Bosque to replace Carlos Marchena (Carles Puyol's former partner) with Puyol's Barcelona teammate Gerard Pique seemed to provide improved understanding in central defense for Spain. However, in the matchup with Paraguay, you have to wonder if Spain's defense will be tested. The game figures to be a massive test, once again, of Spain's ability to break through a nine-man defense.
Paraguay is struggling for goals. After managing a 1-1 draw against Italy and a 2-0 win against Slovakia, Paraguay mustered little attack against New Zealand and Japan. It doesn't bode well for its chances against Spain.
Roque Santa Cruz has certainly not been in top form. But unlike Spain, which can replace struggling forward Fernando Torres with a player like Fernando Llorente, Paraguay has no such option on the bench.
The onus will be on Spain to create. Paraguay will sit back and pray.
Jeff Bradley is a senior writer for ESPN The Magazine.