Friday, June 18, 2010
Jun 18
8:13
AM ET
Posted by Paul Grant
I don't know where to begin with this one. So without further delay, here's the press release announcing the new comic book -- wait, shouldn't it be called an illustrated novel or something? -- featuring David Beckham as the hero.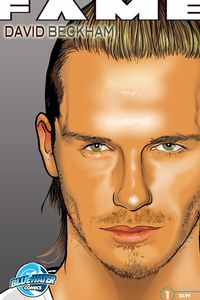 Bluewater Productions
Dreamy.
He may be the most famous soccer star in the world. He's married to a Spice Girl. He is, by any measure, an international sex symbol. And now soccer player David Beckham has become a comic book hero. This September, Beckham will star in Fame: David Beckham from comic book publisher Bluewater Productions.
Writer Pete Rogers and artist Pablo Martinena bring Beckham's amazing career to life, from his earliest days on the soccer field, when he dreamed of playing for Manchester United, to the challenges of his soccer days in the United States.
"Working on the Beckham book was quite different from any other comic I've worked on to date," Rogers said. "Telling someone's real life story was quite a challenge, and I tried to find as many ways as possible to ensure that it was visually interesting and not just a case of 'he did this and then he did that'."
Fame: David Beckham is just the latest installment in Bluewater's popular series of biography comics tracing the lives of influential movie stars, sports heroes and musical icons. Past issues have featured Lady GaGa, Twilight star Robert Pattinson and pop sensation Taylor Swift.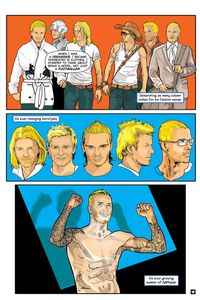 Bluewater Productions
Washboard abs, anyone?
"David Beckham is the first sports star we've featured in a Bluewater comic," said Darren Davis, president and founder of Bluewater Productions. "Of course, Beckham is much more than simply a sports star. He's also an international celebrity, as famous for his looks as he is for his soccer abilities, so he's a perfect fit for our Fame line."
His kryptonite must be, er, playing soccer?