Tuesday, June 15, 2010
Jun 15
9:53
AM ET
Posted by Jeff Bradley
PORT ELIZABETH, South Africa -- The 10-day soap opera, which we'll call "Le drame de Drogba," appears to have reached its climax. This morning, FIFA announced that Didier Drogba -- the star of Ivory Coast's Elephants and arguably the biggest star among all African footballers -- has been cleared to play Tuesday's match against Portugal. FIFA approved the cast that will protect Drogba's right arm, which was fractured in a friendly with Japan. Now all that's left to see is Sven-Goran Ericksson will call Drogba off the bench to play.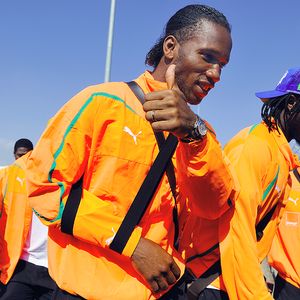 Fabrice Coffrini/AFP/Getty Images
Ivory Coast's striker Drogba gives a thumb over his broken arm ahead of the big match with Portugual.
And as this first round of games plays out, all of Africa needs Drogba and Ivory Coast to shine. Because, to be brutally honest, the tournament that was supposed to be a showplace for the Rise of African Football (see my cover story) has been ugly.
Ever since Siphiwe Tshabalala's blistering 55th-minute goal for South Africa in the opener (still the goal of the tournament, as far as I'm concerned), all Africa has to show in this World Cup is a penalty kick by Asamoah Gyan, which resulted in Africa's lone victory (Ghana 1, Serbia 0). Algeria, Cameroon and Nigeria all pitched shutouts.
So much for home-continent advantage.
But that can all change today if Drogba and a few of his high-profile teammates (particularly fellow attackers Salomon Kalou and Gervinho) can put on a nice show versus Portugal. On paper, this could very well be the best matchup of the first round. For one thing, in Group G, with Brazil, Portugal and Ivory Coast all expected to mash North Korea, the head-to-heads between the Big Three take on extra meaning. For another, aside from Germany's clinic versus Australia, we've yet to see a lot of attacking soccer.
Can Portugal and Ivory Coast deliver? Depends on which Ivory Coast shows up, and it depends on whether Drogba is actually ready to play full-bore in a cast. Having seen Ivory Coast lose to Algeria in the African Cup of Nations -- and having listened to the South African television analysts tear Drogba apart for barely breaking a sweat (and it was 100 degrees in Angola, not 56 degrees and windy like it is today in PE), I'm not so sure the Elephants can deliver a performance worthy of their tag as "Africa's best hope."
"Le drame de Drogba" is probably far from over, because Drogba is just not the type of character who can play without getting a reaction. He's loved. He's hated. He's hacked. He dives. He scores dramatic goals. And he sometimes jogs the field disinterestedly.
What's it going to be today?