Tuesday, June 8, 2010
Jun 08
4:44
PM ET
Roger Bennett is a journalist and author who has written about soccer and popular culture for the finest publications and websites in the known world. Michael Davies is a complete amateur who somehow blagged his way into covering the 2002 and 2006 World Cups for ESPN.com. Together they will be covering the 2010 FIFA World Cup in blog, video and pod from New York, Los Angeles and points east. What is Off The Ball? Join us as we read, watch and listen as Roger and Michael figure that out.
DAVIES
Saturday, June 5 -- 12:15 p.m., Bridgehampton, N.Y.
All right, Rog, less than a week until Global SoccerBowl XIX. I've varnished the teak on my boat and finished a quick game of croquet, so let's put some Kingsford in the Weber and get this blog fired up.
This morning, I watched the USA's final warm-up "friendly" game against Australia. I was reminded of three things: (1) International friendlies are complete balloon pants (the score really could have been anything to anything); (2) It's so much fun watching Australians lose (we rarely witness that at English hands in any sport); (3) announcer Martin Tyler walks on water (seriously, I am reminded of Bobby Charlton's thoughts on Wayne Rooney -- how much more beautiful this game would be if everyone commentated like that).
But as I listened to the awful honking of those vuvuzelas, and watched David Beckham desperately trying to remain interested in an awful game of football (midfield, anyone?), on a terrible pitch (more on that later), with that Jabulani beach/Wiffle ball flying all over the altitudinous air, what really dawned on me was this: With all the conflicting tangibles and intangibles in play, only complete idiots would attempt to predict the outcome of the biggest sporting event in the world (outside of Texas).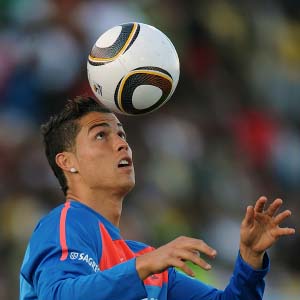 Francisco Leong/AFP/Getty Images
Players such as Cristiano Ronaldo are trying to figure out the curves and spins of the World Cup ball.
Which got me thinking, Rog: Who better than us to actually predict the entire World Cup? Previews are for losers, you know that, but to actually predict the whole Copa del Mondo? That would take big, swerving Jabulanis. At any altitude.
And I'm not just talking about who will advance out of each group, or the eventual quarterfinalists or the winner of the all-important third-place playoff. We can spew out all that stuff as inaccurately as the next person. What I want to predict is the much more fascinating unpredictable -- tantrums, meltdowns, curious haircuts, strange refereeing behavior…
So come on, Rog, here goes. Let's high-five Zakumi, remove our blazers, do that "not bovvered" walk into the center circle, exchange pennants, make brief "let's go in hard" eye contact and kick this MotherCopa off.
Only Idiots Attempt To Predict A World Cup -- Part 1
Opening arguments:
1. Nobody knows anything
Those are the words of great American screenwriter William Goldman in the opening of his seminal Hollywood memoir, "Adventures in the Screen Trade," with regards to how film-industry executives really have no idea how a movie is going to do until it opens. But it could just as easily apply to the worldwide soccer writing glitterati ('cept you, Rog) in regard to this or any other World Cup. And it's not really their fault. The World Cup has no long regular season when we see these teams play each other multiple times or even when these teams get used to playing together. England has played three games together this entire calendar year. And I strongly suspect that the starting lineup versus the U.S. will have never played with each other before. Most of the other teams are in similar situations; moreover, past the group stage, this is a single-elimination tournament. And a tournament in which (almost) any of the teams could beat (almost) any other of the teams on (almost) any given day. One red card to the wrong player at the wrong time, one key injury (beyond the dozens we've already seen), one inexplicable refereeing decision (there will be many) and North Korea could win the whole thing.
2. But in all likelihood Brazil or Germany will be in the final
That's just the way it tends to work out. In the 15 World Cups since 1950, one of these two nations (or in some cases just the Western part of one of these nations) has made all but two finals. And in those two years, Brazil (1978) and Germany (2006) finished third.
3. The pitch
As you know, Rog, I have been obsessed with the playing surfaces in South Africa for a couple of years now. My premise has been that just as golfers from different backgrounds prefer different kinds of greens and some tennis players play better on faster surfaces and some on slower ones, no European team will be able to play its brand of fast-passing football on the spongy, slow, Southern Hemisphere-ish second-cut rough in South Africa. But then I discovered an amazing website called Google and actually did some research. FIFA has gone to great lengths to install European-like playing surfaces (some actually a blend of artificial and natural grasses) at all the stadiums in South Africa. Here's the problem, though: Many of these non-native fields, it is feared, will be cutting up worse than Wembley. Did you see the pitch in Roodepoort for the USA-Australia game? Shocking. Stay tuned.
BENNETT
June 5, 1:30 p.m., Randall's Island, New York (scouting for WC 2022)
Davies, you and I have our last-ever mind-meld. Although I admire your horticultural perspicacity, this might be the one thing we agree on all month: Previews are for bloviators.
Unlike the NCAA tournament, for which teams arrive battle-hardened after a regular season, World Cup squads will not jell until the end of the opening round. Training and "friendlies" tell us little, and they are evidently good for only one thing -- avoiding injury. Take note, Messrs. Drogba, Ferdinand, Robben, et al. Even though superstars continue to disappear at an Agatha Christie-esque clip, fear not. This tournament is shaping up to be the World Cup of Parity -- the most unpredictable World Cup of all time in which every team has a chance to be a dark horse. The half-ball/half-Frisbee that is the Jabulani will only level the playing field all the more. So grab your remote control, get ready for the heads to roll and put a few bucks on New Zealand hit man Shane "Smeltzy" Smeltz (best name at this World Cup?) to take home FIFA's coveted Golden Shoe.
My opening arguments:
1. USA-England -- kind of not a big deal
Saturday's clash will gain all the hype, but the Americans' tussles with Slovenia (June 18) and Algeria (June 23) will be more critical in determining their fate. (I also had the moderate pleasure of watching today's Australia game: Kempes. Romario. Buddle?)
2. I am not sure that Don Fabio really is Don Fabio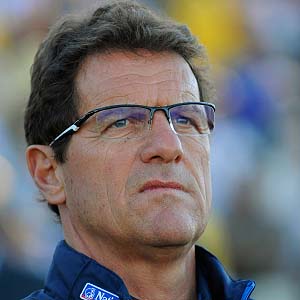 Michael Regan/Getty Images
Don't mess with this man.
I Netflixed "Apocalypse Now" this week, as I habitually do ahead of any major England campaign. Watching Marlon Brando's renegade Col. Kurtz, bogged down in the jungle, I was moved to think of Fabio Capello, and especially Francis Ford Coppola's quote about the making of the film: "We had too much money and too much equipment, and little by little we went insane." The Italian arrived as England coach with a winning track record and a reputation as a tactical disciplinarian. He started strongly, but then the injuries started to pile up, a sex scandal or three jarred morale, and Capello watched his team toil against mediocre opposition (I know, we don't read too much into friendlies). His response was to stuff the squad to the gills with aging veterans, dump his wild-card spark plugs (I mean Adam Johnson, not Theo Walcott, the English Freddy Adu). Does Don Fabio still have a tactical master plan, or has coaching amid the tabloid-infested culture of English soccer done him in? So many questions still hang over our brave English heroes: Who will partner with Rooney up front? Will our midfield bind without Gareth Barry to do the dirty work? Is the loss of Rio Ferdinand an upgrade? Can we field a goalie who can reliably catch a ball, never mind the Jabulani?
3. The Mourinho Factor
Davies, before you accuse me of being a pessimist, nay, a traitor, there is one ray of hope I cling to in regard to the England team and the influence of a foreign manager, but it is sadly not Capello. Jose Mourinho will be sitting in the stands with a cartload of Real Madrid's ducats as he treats the tournament as a monthlong casting call for the next Galáctico. If that does not bring the best out of Steven Gerrard, Frank Lampard and Wayne Rooney (and, it goes without saying, Shane Smeltz), nothing will.
DAVIES
Sunday, June 6, 10 a.m., East Hampton Tennis Club, East Hampton, N.Y.
Well, that was an exhausting and highly contentious game of doubles, Rog. And now I'm sitting here watching the French Open men's final, checking my Twitter and devouring facts on the insanely detailed internal ESPN research site we've been given access to by our friends in Bristol, Ct.
First, Don Fabio will have you whipped for your impudence. How dare you question the Dark Lord?
Second, did you realize that England's Aaron Lennon is the shortest player at this World Cup? Only 5-foot-5, which is the same height as my diminutive wife. Weirdly, she is not at all interested in that fact.
Third, 17 members of Algeria's 23-man squad were born in France. From this point on, I will be referring to Algeria only as France B (or maybe not; we're going to that lively Algerian restaurant in Queens on Sunday for the Slovenia game).
Fourth, our boss John Skipper was just on NBC in the crowd at Roland Garros watching Nadal take apart Robin Soderling. While I'm toiling away in the Hamptons!
So far, Rog, in our…
Only Idiots Attempt To Predict A World Cup -- Part 1
…we have managed, by my count, to come up with only eight predictions. Here they are in reverse order of their boldness, brilliance and originality. Starting with the most half-assed.
8. Turf may or may not be a issue. (A trifle vague, I know; must consult turf experts and work on this half-assed theory more.)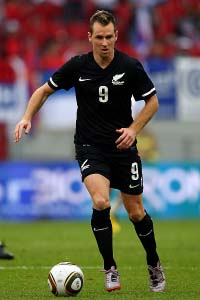 Michael Steele/Getty Images
You cannot stop Shane Smeltz, you can only hope to contain him.
7. Look out for New Zealand's Shane "Smeltzy" Smeltz. (This will be loads of fun, but it's not much of a prediction.)
6. England's starting lineup against the USA will never have started an international for England together before. (Inevitable, but kind of boring and not at all bold.)
5. The USA's games against Slovenia and Algeria are way more important than its game against England. (Mathematically sound, but boring enough to warrant a slap.)
4. Germany or Brazil probably will be in the final. (See above.)
3. This will be the World Cup of parity, partly thanks to the Frisbee-like Jabulani. (Now we're getting warmer.)
2. Martin Tyler will actually walk on water at some point in the next 5½ weeks. (But will ESPN/ABC cameras capture this?)
1. The Mourinho Factor. (Players playing to win a contract at Real Madrid will affect the outcome of the tournament.)
The Mourinho Factor is so good and original, Rog, that I can actually forgive you for doubting Don Fabio (though I am sure he and his Dementors will never forget). So let's challenge ourselves to come up with a few more predictions to strengthen Part 1 of our list.
Here are mine:
Beware the number 10.
You do not yet know this about me yet, Rog, but occasionally I am moderately psychic. Weirdly, this seems to happen most on days when I forget to put on deodorant. And as I have not yet showered after my strenuous exertions on some of the finest Har-Tru courts anywhere on the South Fork of Long Island, today is one of those days.
I see the number 10.
It is 2010.
A new prime minister has just gone into No. 10.
Messi, Rooney, Kaka, Forlan, Donovan and my favorite one-name player of the tournament, Danny (from Portugal), are all wearing No. 10.
The average height of the three Honduran goalkeepers (the shortest in the tournament) is 5-foot-10!
Miroslav Klose of Germany has more World Cup goals than any other player at the tournament. Guess how many, Rog … 10.
And Theofanis Gekas of Greece (dark Trojan horses) scored 10 goals in World Cup qualifying, the most of any player. Definitely a player to watch.
With the help of ESPN research, I could go on, but I think you get the point.
Nadal just won the French. And here's a little more research that should concern the Spanish. No nation has ever won the French Open and the World Cup in the same year.
BENNETT
2:45 p.m., Clarks Store, New York City, unsuccessfully hunting down a pair of Clarks Polyveldt reissue.
A No. 10 to adore? Look no further than Gervais Yao Kouassi, aka Gervinho, the tasty Ivorian striker who is going to have to bang in a goal or two now that Didier Drogba's arm is in a sling. How glorious would it be if an African team went deep in this tournament? Just 44 years ago, the entire continent had to boycott the whole World Cup just to gain a single direct qualification slot. Now the tournament comes to Africa for the first time. If only one of its representatives would give us a mild hint that he intends to do something dangerous. Most of them are battered by injuries; some are undermined by football federations that are as chaotic as the state of Arizona; and one (Ivory Coast) is hampered by coach/Lothario Sven-Goran Eriksson as he prepares to repeat the same kind of miracles he unleashed at Notts County. So which squad am I picking as the best African team in the tournament? Here's a bold prediction:
Nigeria will advance further than any other African team in the tournament.
By process of elimination, and out of desperation more than any semblance of confidence, I have become madly obsessed with the Super Eagles. I admire the disciplined approach of Lars Lagerbeck, their coach, whose name sounds like a thirst-quencher. Their nickname was the clincher.
And here's another one:
Jose Torres is going to the Premiership.
If Bob Bradley can work out who will play in midfield alongside the seed of his loins, the speed of the U.S. could trouble lumbering England (which, Premier League fans will note, is slowing morphing into Tottenham Hotspur) when they clash in Rustenberg. My vote sadly will not come true, but I have grown so very fond of Mr. Jose Torres. I admit, my eye was first drawn by the luster of his mane, the single finest pompadour since Joe Pesci's in "Casino." But I have rarely seen a young player so confident and hungry for the ball. If he can see any playing time, a blockbuster move to Blackpool, Blackburn or Bolton is surely in the cards.
And now for a really bold claim.
Favorite Spain will not win the World Cup.
Too much pressure mentally. Too many war wounds physically. A defense that can be susceptible to teams on the break that park the bus at the other end of the field … and, kiss of death, the bookies have made Spain the favorite.
Come on, you Super Eagles …