Saturday, May 22, 2010
May 22
9:37
PM ET
PRINCETON, N.J. -- Friday, May 21, will mark the seven-month anniversary of the day Oguchi Onyewu underwent surgery to repair a torn left patella tendon that many thought would keep him out of this summer's World Cup.
Yet there he was on the practice field Thursday afternoon, kicking, running, chasing, heading -- doing all the things every one of his teammates was doing -- in hopes of being ready to return to his customary spot of defensive anchor when the U.S. takes the field against England on June 12.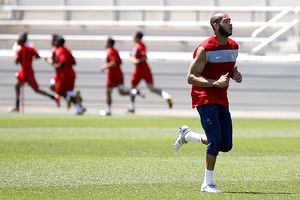 AP Photo/Mel Evans
Onyewu was running in practice but has yet to play in a game since his injury.
Gooch spoke to the media for the first time since suffering the injury and returning to U.S. camp. He knows there are doubters -- including many observers who noted a limp during a series of sprints Onyewu did after practice -- but he is hell-bent on proving every single naysayer wrong.
"A lot of people are saying I won't come back like I was," Onyewu said Thursday. "I'm going to go out there and agree with them -- I won't come back like I was. I'm going to come back stronger."
The injury occurred in the final minutes of the team's last World Cup qualifier against Costa Rica. After a corner kick, Onyewu leaped for a header and landed awkwardly. He thought he had been kicked in the hamstring by one of the Costa Ricans and was looking over his shoulder at the referee, hoping for a foul, when he turned back around and looked at his knee.
"That's when I knew something was wrong," he said. "My kneecap was in my quad muscle."
Doctors would surgically reattach the tendon to the knee by drilling a series of holes in the kneecap and threading a wire-like material through those holes. It's left Onyewu with a left knee that is slightly larger than the right, which he couldn't care less about as long as the joint works.
"It can look like this," he said, holding up a nearby sports-drink bottle. "Just as long as I'm able to play."
Onyewu has spent the past seven months undergoing "extreme" rehab in Italy, Delaware and Los Angeles. In Delaware, he was motivated by working alongside Charlie Davies, who suffered his near-fatal car accident the day before Onyewu's injury.
The hardest part of the rehab, Onyewu said, was overcoming the mental hurdle of jumping again.
"Just because that's how I injured it," he said. "It was always in the back of my mind -- do I want to do it? Do I want to do it? The doctors kept telling me, 'You're not going to hurt it again; it's reinforced,' but you always have that fear in your mind."
Now, Onyewu says, that fear is in the past. During two-a-day workouts and training with his club team, AC Milan, he says, he has done everything necessary to be ready to play including sprinting, cutting, heading and, yes, jumping.
Still, he has yet to step on the field for a match since that fateful night in Washington, D.C. Gooch will likely get his first chance to quiet the cynics in one of the U.S.' three upcoming friendlies.
"From day one, it's been 'Onyewu is going to miss the World Cup.' I'd read that and then turn the page to the funny section," he said. "I know who I am and what I'm capable of and nobody on the outside can tell me what I'm capable of besides me.
"There is no element of the game I haven't taken part in yet. I'm ready to go at it and put to rest all these concerns from people."
Onyewu's importance to the team is unquestioned. As the defensive anchor on a team that relies heavily on its ability to absorb pressure from the opposition and counterattack, Onyewu has the height (6-foot-4) and strength that is nearly unmatched on the roster. Jay DeMerit, who teamed with Onyewu during the team's runner-up finish in last summer's Confederations Cup, says he believes Gooch will be ready for England.
"He looks like he is ready to go," DeMerit said. "Now all he needs is game experience to get that sharpness back."
Onyewu caused headlines in Italy and the U.S. this week when he announced he would play an additional year for his club team for free. It was his way of saying thank you to the folks at Milan for supporting him during a first year at the Serie A club when the injury kept him from contributing.
On Thursday, he had little interest in talking about his eye-opening gesture. Instead, he said his entire focus is on the national team and the upcoming World Cup.
And as for that slight limp when he jogs, Onyewu says he can't feel a thing. He feels 100 percent normal and insists he is going to be a better player than he ever has, despite what conventional wisdom might suggest.
"I don't think right now I'm the same player I was seven months ago regardless of what anybody thinks," he said. "And I'm going to use this year, 2010, to prove that."