Saturday, May 22, 2010
May 22
9:37
PM ET
PRINCETON, N.J. -- Cold or hot, damp or dry, rain or sun. It doesn't matter. Here, the daily training sessions in preparation for the World Cup all end pretty much the same way. Players hunched over, hands on their knees, gasping for air. There are high-fives, scattered words of encouragement and maybe a few pats on the back. Atta boys, if you will.
Don't be alarmed. The 30 players in camp with the U.S. men's national team are not out of shape, in poor fitness or lacking form. It's just that at the end of each practice, fitness coach Pierre Barrieu is pushing the players' bodies to their absolute limit.
"Any marathon runner can run a marathon. Any soccer player can go for 90 minutes," Barrieu said. "But the question is at what intensity can he play? For how long? We train like this so that whatever the demands of the game are, fitness will never be a factor.
"We want our players to be in the state of mind where when they step on the field, they know that whatever the reason we're not going to win that day, it isn't going to be fitness. That is taken care of."
And for good reason. When the U.S. reached the quarterfinals of the World Cup in 2002, much of the credit -- perhaps even too much -- was given to the players' physical conditioning, which allowed them to play five matches in 17 days without showing signs of fatigue. Even in Germany in 2006, when the team failed to advance out of the group stage, a tie with eventual World Champion Italy -- when the Americans played much of the match down a man -- opened eyes.
Though Barrieu has one less week to work with his players this year than he did in '02 or '06, the goals are the same this time around: Prepare the team, physically, to be ready for anything.
So after each session this week, after manager Bob Bradley finishes his on-field work, Barrieu grabs his laptop, splits the team into five running groups and barks the assignment for that day. Maybe it's an all-out sprint for six minutes. Maybe it's a 25-minute run at 85 percent capacity. Whatever the case, every player is given a target distance or time.
Though the overall goals are the same -- increasing each player's maximum aerobic capacity -- the program is individually tailored for each player. Besides his prior experience with many of the players, Barrieu uses a pre-camp physical examination and the results of six-minute sprinting test on the first day of camp to determine where each player is at physically and thus what the day-to-day goals should be. While they run, every player wears a wireless heart rate monitor that instantly transmits pulse and heart rate to Barrieu's laptop, allowing him to know -- while the players are still running -- who is pushing themselves and who isn't, who is on pace and who isn't.
"When the numbers aren't where they should be, you can ask: Did they hit the wall? Is their hamstring tight? Are they just being lazy?" Barrieu said. "And you can tell them, 'Look, hang in there. I see the numbers. You're going to be OK. You have way more left in the tank than you think."
The players, who admittedly don't like the extra running, know its benefits.
"It's not fun. It's not something you want to do," midfielder Ricardo Clark said. "But you know it's going to pay off in the end."
"We know we're going to be one of the fittest teams at the World Cup," defender Jonathan Spector said. "And during a game, when you see someone on the other team with their hands on their knees, you know you put your work in. And that's the time to strike."
Since the 2002 World Cup, the Americans have built a reputation as a team that is seemingly always in top physical form. That stereotype bothers Barrieu, who believes the praise of his team's training regimen often overshadows their technical ability. He bristles at the longstanding international joke that, when it comes to soccer, Americans have square feet but can run forever.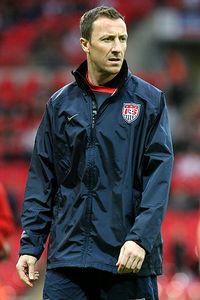 Andy Mead/Icon SMI
Fitness coach Pierre Barrieu puts the U.S. men's team through tough workouts.
"They don't realize the work that is needed for the team to be like this," Barrieu said. "They don't understand that our guys have the mental strength to put themselves through this. There are a lot of players around the world who would want no part of working this hard. Our guys don't have that problem."
And running, of course, is a major part of the game. At last summer's Confederations Cup, Americans Landon Donovan and Clint Dempsey were among the top three tournament leaders in distance covered. Donovan ran nearly 36 miles and Dempsey 35 in the five-match tournament. Spector also covered 31 miles, finishing seventh for the tournament in distance covered.
For some, like the runners in Barrieu's Group 1, typically comprised of Donovan, Michael Bradley, Jonathan Bornstein and Sacha Kljestan, running comes naturally. They are each capable of running sub-five-minute miles. For others, like Dempsey, it's a greater challenge.
"Clint is someone who has to produce more effort to be at the same level as the gifted guys," Barrieu said. "That means more training on his end to achieve the same results. And the work is not easy. But he's somebody who's put the work in because he knows the potential benefit to his game. And that's always impressed me."
Beyond running, the team is also undergoing daily weight-lifting sessions during the first week of camp, designed more at injury prevention and recovery than building muscle or endurance. Each team meal is also carefully approved by Barrieu as well as the team's training and medical staff.
"Not a single stone goes unturned," Barrieu said. "You can't push the soccer aside; obviously that's still paramount. But we don't have 11 players on Champions League teams like the big countries all do. So we have to take care of everything we can control so that when it's time to take the field, our bodies are ready to excel at their maximum potential."
Here are a couple of photos of players working out:
Wayne Drehs/ESPN.com