Portugal face Spanish bandwagon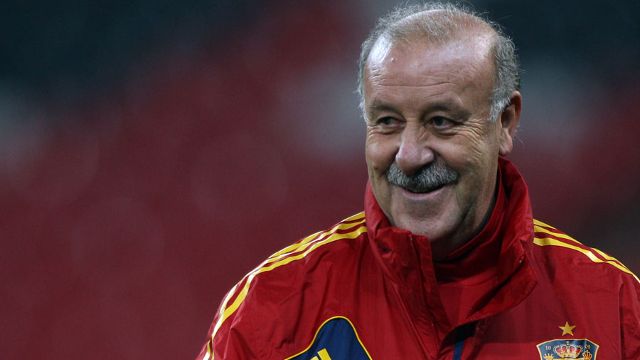 Spain's march towards international history is obscured by a Portugal side who might have sowed a seed of doubt in their Iberian neighbours' minds ahead of this semi-final tie. Spain have indeed been of metronomic nature in their approach at Euro 2012, looking untroubled in spite of not having to click through the gears. Yet, back in November 2010, the Portuguese inflicted on the Spanish their heaviest defeat since 1963.
In Lisbon, the Spanish were left "hurt", according to their midfielder Cesc Fabregas, as Portugal, Wednesday's opponents, recorded a 4-0 victory against the world and European champions. The Portuguese might just hang onto their potential psychological swing, for one grasps at any straw when playing the Spanish - who have won 31 out of 34 competitive games under head coach Vicente Del Bosque.
When taking on France in the quarter-finals this tournament, Spain barely drew breath to achieve a 2-0 scalp. It was another clean sheet, another success - they are 18 competitive games without defeat. There has been a waft of the churlish with regards this nation, their 4-6-0 formation mooted as arrogant, or even experimental to the extent they have won every other which way.
The haters perhaps stem from a neutral's perspective that understandably grows weary of consistently error-free performances while the other favourites for this year's crown, Germany, go about their business with a carefree swagger. Yet being top dog comes with a price, for even versus the better nations - see France - it is ensured the hatches are battened down for fear of the inevitable peppering.
"We have a lot of respect for them, but we have respect for ourselves too; we have a great squad and great players, and we're confident in our way of playing," right-back Joao Pereira said, in an attempt to reassure that Portugal will not be crawling within their shell. Certainly, it is a guarantee that at least Cristiano Ronaldo will have his chest puffed out.
Regarding team news, Portugal head coach Paulo Bento will not be able to name the same starting XI for the fifth game running as striker Helder Postiga is to miss out with a high injury. Hugo Almeida will spearhead the attack in his absence. Spain, meanwhile, have a clean bill of health and will therefore toy with idea of whether to deploy a false or a real nine.
Portugal player to watch: Cristiano Ronaldo.
The superhuman force that is Ronaldo is, without question, Portugal's best hope of sealing a place in Sunday's final in Kiev. He has taken the proverbial scruff of the neck of this competition, destroying Netherlands before launching himself at a diving header that defeated the Czechs 1-0. The Dutch paid the price for affording the Real Madrid star too much space to exploit, while the Czechs were ultimately unable to cope with his strengths. "For all the talk about Ronaldo we won't change our style and we don't have a special marking plan," Xabi Alonso said. "We'll study his play and we might make minor adjustments but our best defence is to play as a team and not give him space."
Spain player to watch: Andres Iniesta.
So concerned were France about the Barcelona player that they deployed two right-backs in a bid to nullify his threat. The trouble with Spain, though, is that they boast more than the one barrel with which to cause you damage. The French were right, however, to be wary of Iniesta, who, on his day, is one of the world's best playmakers. Perhaps he has not dazzled at Euro 2012 as much as he would have liked, but it is clear his focus is on the team, which he defended following question marks over their ethos this tournament: "We have our own style and it's brought us success. We won two trophies with this style of play. This is the style that brought us success and we cannot forget that a few years back this changed the history of Spain forever."
Key battle: Joao Moutinho v Sergio Busquets.
With Raul Meireles and Miguel Veloso the more defensive-minded of Portugal's central midfield trio, the creative onus is placed on Moutinho, who has enjoyed an impressive campaign this summer. After assisting Pepe's headed goal from a corner in the 3-2 win over Denmark in the group stage, Moutinho found the forehead of Ronaldo against the Czechs for the fixture's decisive moment. While Spain deploy two, on paper, more restrained midfielders in Alonso and Busquets, it is the latter who is charged with being the less progressive, as demonstrated by the former's brace against France. Busquets will need to support his team-mates in a bid to quieten the irrepressible Ronaldo.
Stats: Cristiano Ronaldo is the first ever player to attempt 30 shots (including blocked) at a single European Championship finals.
Trivia: Spain have won just two of their last 12 games against Portugal.
Odds: Portugal (4.20), Spain (2.00) and the draw (3.25) are on offer with bet365, while Spain to win in extra time is 10.00
Prediction: Even if the game swings in Portugal's favour, via a Ronaldo intervention, there is the feeling Spain can/will up the ante, as they did versus Italy in their opening game. It won't be a whitewash, but it'll be another spot for Spain in the final, and with that a record-breaking third successive trophy in their sights.
Follow James Dall on Twitter @JamesDallESPN