Canaries hope to fly at last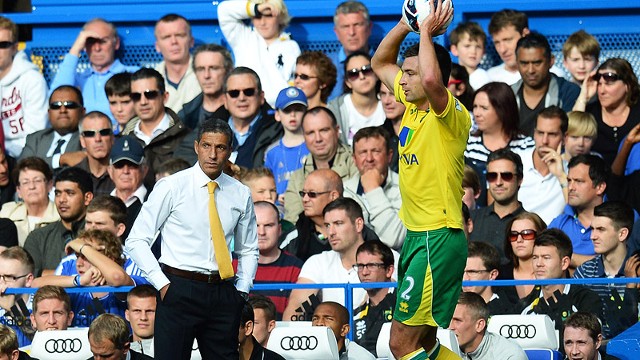 International football is rarely convenient for club managers. Arsene Wenger may find auxiliary employment in commentating on matches for a TV station back in France, but he is rarely one to celebrate legs being wearied in a cause other than his own.
While delivering pearls of wisdom on Spain v France he will have been heartened that Santi Cazorla completed a match he joined after just 12 minutes when he replaced David Silva, and also that Olivier Giroud's confidence will have been further lifted by Les Bleus' equalising goal. He may not have been quite so cheered by Laurent Koscielny's slack defending for Sergio Ramos' goal for Spain.
- - Blog: Relying on the Italian Don
- Blog: Calm before the storm as Norwich bite back
Arsenal entered the international break with spirits revived after a demoralising defeat to Chelsea, with twinned 3-1 defeats of Olympiakos and West Ham United. Norwich City, by contrast, have had a fortnight to digest the bitter pill of two canings at the hands of big clubs - 5-2 by Liverpool, 4-1 by Chelsea. The visit of Arsenal suggests that the fixture list has not been kind to the Canaries of late. Then again, they have hardly helped themselves all season.
A club desperate for its first league win of 2012-13 will not be keen on having to entertain an Arsenal team who have played some of the best football of the Premier League season. Chris Hughton is a much-beloved figure in football, and Arsenal fans may even forgive him for nearly 30 years of association with Spurs, but he is yet to demonstrate at Norwich that nice guys can prosper. Even if he was successful at both Newcastle United and Birmingham City under trying circumstances, Norwich looks like being the toughest test yet in his managerial career.
Where predecessor Paul Lambert was hugely adaptable in his thinking during games, Hughton has been accused of being too inflexible. Players that had previously looked able to make the jump from the Football League have often looked out of their depth this season. Norwich are many people's idea of a relegation favourite, including among a section of their own fans, but they will hope that they can catch Arsenal cold after a fortnight away from their manager.
Arsenal will want to pick up from where they left off. Norwich will hope this can feel just like starting all over again.
Norwich City player to watch: Wes Hoolahan. The Irishman is yet to fully look a part of Hughton's long-term plans, just as he has been largely ignored by Giovanni Trapattoni for his national team. But amid some harrowing recent results, he has been a beacon of hope for a group of supporters who clearly admire him. What good play was supplied against Chelsea was supplied by him, on only his third start of the season. Creativity has been lacking, and Hoolahan can provide it.
Arsenal player to watch: Olivier Giroud. Considering his recent public declaration that he is just about ready to play again, it would be cheering to Arsenal fans if this selection was Jack Wilshere, but while he may travel to Carrow Road, it will surely be to reacquaint himself with Premier League affairs. Instead, we have an in-form Frenchman, who scored against West Ham after a long wait that drew uncharitable comparisons with Marouane Chamakh and even Stephane Guivarc'h, but an assist against Olympiakos set Giroud on the road to recently rich form.
Key battle: Grant Holt v Per Mertesacker. Among the rare positives to be drawn from heavy defeats to Liverpool and Chelsea was a return to goalscoring by Holt. He certainly enjoyed netting the opener at Stamford Bridge before it all came apart, but end-product has arrived after a summer where he stretched his popularity with a contract dispute. He should fancy himself against Mertesacker, who may still be in some kind of state of shock after being part of a German defence that conceded four second-half goals against Sweden to blow a 4-0 lead. Mertesacker is now regarded as Arsenal's prime organiser at the back; one of his first tasks will be to nullify Cumbria's finest hitman.
Trivia: On the opening day of the inaugural Premier League season, Norwich travelled to Arsenal and won 4-2, silencing the Highbury crowd, though it must be remembered that this was a time that Arsenal's North Bank was shrouded in a mural in which fans were painted on, as rebuilding work was taking place. Steve Bould - now Wenger's assistant - and Kevin Campbell scored for the Gunners, while Mark Robins (2), David Phillips and Ruel Fox netted for the visitors. Norwich finished the season 3rd, Arsenal in 10th.
Stats: Santi Cazorla has scored more goals from outside the box than any other player in the top five European leagues since August 2011 (Opta).
Odds: Norwich are a mighty 6.00 to win, Arsenal are 1.53 at bet365, and a draw is on offer at 4.20.
Prediction: It is hard to see beyond an Arsenal win.
Catch action from every Barclays Premier League match on your mobile for FREE on the enhanced ESPN Goals app (UK only).