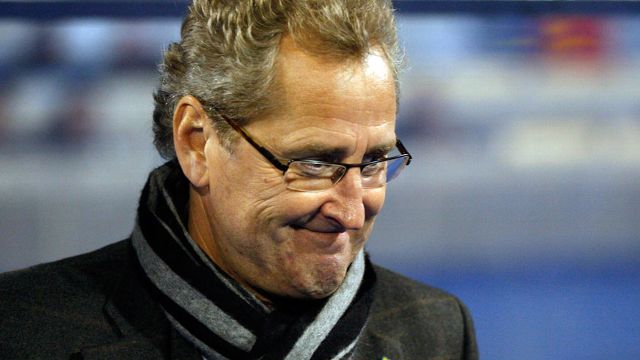 Of the various negative stories that have emerged since Sweden's defeat to co-hosts Ukraine in their opening match of the tournament, one of the most surprising has been the criticism from the country's Prime Minister, Fredrik Reinfeldt, over a training-ground game in which players took it in turns to fire shots at goalkeeper Johan Wiland's exposed backside.
"People who have responsibilities should be aware of that and they should act accordingly," Reinfeldt said. "It is important to think about what one needs to do in order to live up to that responsibility." Midfielder Pontus Wernbloom said that the exercise was just a bit of fun, while the various reports of dressing-room unrest have also been dismissed by various members of the squad, but Sweden cannot rely on words to change the mood. As the publicist Max Clifford noted as he prepared to cut his ties with former England boss Steve McClaren: "No matter what anyone does from a PR perspective, if McClaren is winning, he's popular. If he's losing, he's dead."
For Sweden, victory over England has become essential not just to regenerate some positivity but also, and rather more importantly, for their chances of progress. On paper, Ukraine had perhaps appeared the most winnable match ahead of the tournament and, after throwing away a lead in an eventual 2-1 defeat, there is no further margin for error. "I think we need to win against England to go forward," vice-captain Anders Svensson said. "It will be win or die."
England, meanwhile, had entered the tournament amid a wave of negativity. Having failed to perform even creditably at a tournament since Euro 2004, England's hopes of improvement this time around suffered a succession of hitches: Wayne Rooney was suspended for the first two games, Fabio Capello resigned, and an array of key players was ruled out through injury. A draw with France in the opening game, then, was greeted with pleasant surprise in the country and fostered a mood of qualified optimism.
Svensson has suggested that there is little justification for the positivity - "I just think maybe you think you are a little bit better than you are" - while former Sweden international Jonas Thern went a step further in his analysis. "Apparently the one shot towards the France goal over 90 minutes was all it took to ignite the chronic English illusion of world football supremacy," he said. "I said before the Euro finals started that Sweden would beat England and I stand by that statement despite the horrific display against the Ukraine.''
England's bubble could certainly burst quickly. The rigours of the Premier League season have evidently taken their toll on the squad, and any further injuries could have a catastrophic effect. Central midfield is a particular concern, with little back-up available for Scott Parker, who sustained an injury at the back-end of the season, and Steven Gerrard, who has spent much of his recent career battling to maintain his fitness.
Sweden player to watch: Johan Elmander. Elmander, struggling with a foot injury, played the final ten minutes of the Ukraine defeat and passed up a gilt-edged chance to even the scores. Even so, Zlatan Ibrahimovic, who is said to have had a fierce row with assistant manager Marcus Allback after that match, is known to have a preference for playing alongside Elmander and has reportedly requested that the Galatasaray forward starts against England.
England player to watch: Alex Oxlade-Chamberlain. In an England squad that excited few, the inclusion of this young Arsenal winger was the anomaly. When Theo Walcott, also having made the move from Arsenal to Southampton, was taken to the 2006 World Cup to offer the X-factor England had lost through an injury to Wayne Rooney, he did not feature at the finals; Oxlade-Chamberlain has already made an impression after starting against France, with his ability to run with the ball livening up a largely lacklustre encounter.
With both sides likely to prioritise defensive organisation, it may be that Oxlade-Chamberlain can inject the necessary spark.
Key Battle: Zlatan Ibrahimovic v John Terry. Ibrahimovic's importance to Sweden cannot be overstated, and with manager Erik Hamren having moved him into a more withdrawn attacking role to enable him to influence the play, the quality of his performance is likely to dictate the potency of his team's attack.
As shown by his goal against Ukraine, though, he is a deft goal poacher, and England cannot afford him the space to fire shots on goal. Terry will willingly throw his body on the line in pursuit of a clean sheet and his ability to produce blocks at key times could be decisive for Hodgson's men.
Trivia: England beat Sweden 1-0 in a friendly in November, which was their first victory over the Swedes since 1968. Meetings in the World Cups of 2002 and 2006 both ended in draws.
Stats: Four of England's five efforts on goal against France came from defenders.
Odds: Sweden (3.75), England (2.10) and the draw (3.30) are on offer with bet365, while Zlatan Ibrahimovic is available at 7.00 as first goalscorer.
Prediction: England have not beaten Sweden at a major tournament and have looked blunt in attack in the absence of Wayne Rooney. A tight encounter is to be expected, but if England can maintain the defensive organisation that has seen them concede only once in Roy Hodgson's first three games, a 1-0 win is perhaps the most likely outcome.