| | | |
| --- | --- | --- |
| | ESPNsoccernet: null | |

Wednesday, September 26, 2012
Statue of Zidane's WC head-butt unveiled

---
ESPN.com news services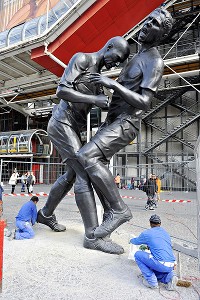 This bronze tribute to Zinedine Zidane's infamous head-butt on Italian defender Marco Materazzi in the 2006 World Cup final was unveiled this week in Paris. (Mehdi Fedouach/AFP/Getty Images/no_source)

PARIS -- The historic head-butt that marked the end of France great Zinedine Zidane's international soccer career is immortalized in bronze.

A 5-meter statue portraying Zidane aiming his shaven head at Italian opponent Marco Materazzi's torso has been erected in front of Paris' Centre Pompidou modern art museum.

"This statue goes against the tradition of making statues in honour of certain victories. It is an ode to defeat," exhibition organizer Alain Michaud told Agence France Presse.

Zidane played for Real Madrid and other professional teams and helped France to victory at the 1998 World Cup. But in the 110th minute of a riveting World Cup final in 2006 against Italy, Zidane lowered his head and rammed Materazzi's chest, knocking him to the ground.

Zidane, who planned to retire after the World Cup, later apologized and said he was responding to repeated insults from Materazzi.

Information from The Associated Press was used in this report.




---
ESPNsoccernet: Help | Media Kit | Contact Us | Site Map | Tools | Jobs at ESPN | Supplier Information | Copyright ©2014 ESPN Internet Ventures.
Terms of Use (Updated 5/6/08), and Privacy Policy and Safety Information/Your California Privacy Rights are applicable to you. All rights reserved.