Shaka Hislop evaluates the best club teams in the world as he compiles his weekly Top 10 countdown! Here is his latest list -- how did your team fare?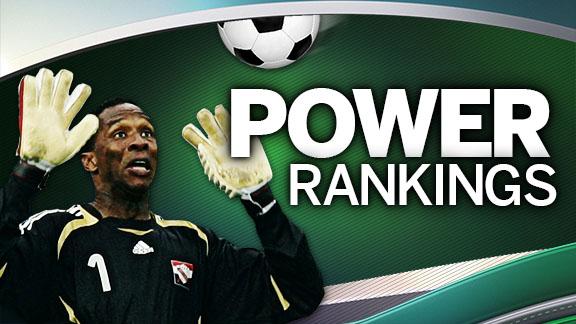 ESPN FC: Shaka's Power Rankings
Check out which team Shaka Hislop put in the top spot of his power rankings!
ESPN FC: Shaka's Power Rankings
2013-14 POWER RANKINGS: MARCH 27
RANK (PV)
CLUB
COMMENT
1 (1)
Bayern Munich
So the inevitable has happened and Bayern are German champions again. While it may have appeared a procession, you cannot take away from the fact that Pep Guardiola's men have reached their target by dropping just FOUR points. Remarkable.
2 (3)
Paris Saint-Germain
Talking of cruises to league titles, PSG edged closer to their second straight French crown with a narrow win at Lorient last weekend which, coupled with Monaco dropping points, means they now lead Ligue 1 by 10 points with eight games left.
3 (8)
Barcelona
Now then, we really do a have a title race in Spain -- with three teams! Barcelona are back in contention after winning a must-win Clasico and seeing off Celta Vigo. The one bit of bad news was the loss of Victor Valdes to a serious knee injury.
4 (5)
Atletico Madrid
Leaders on their own, Atletico know that seven wins and a draw at Barcelona on the final day will make them champions. It probably won't be that straightforward but what is certain is that this has been a sensational challenge by Diego Simeone's men.
5 (2)
Real Madrid
Where did that come from? After losing only two of their opening 28 La Liga games, Madrid succumbed twice in four days. If the Clasico setback was understandable, a follow-up loss at Sevilla -- after taking the lead -- was less acceptable.
6 (4)
Juventus
After Spanish excitement, we return to a familiar theme. Juventus' consecutive wins tally in Serie A now stands at 15 and they hold a 14-point advantage over second-placed Roma. Moreover, their Europa League hopes remain too after they saw off Fiorentina.
7 (6)
Chelsea
Jose Mourinho really wanted to beat Arsene Wenger, didn't he? Never mind Chelsea vs. Arsenal, this was mano a mano and the Portuguese humiliated the Frenchman at Stamford Bridge. It finished 6-0 but could have been more.
8 (7)
Liverpool
A little like Atletico, Liverpool just keep on keeping on. Sure, they conceded four in two games vs. lowly opposition, but when you score eight times, that doesn't matter, does it? Now come the final seven tests of their challenge, starting with Spurs.
9 (N/A)
Manchester City
With two wins, featuring eight goals scored and none allowed, City dispatched Fulham before humbling Man Utd. Two points behind Chelsea with games in hand, they'll fancy their chances, but upcoming trips to Arsenal and Liverpool will be major tests.
10 (9)
Benfica
Jorge Jesus' side consolidated their seven-point lead in Portugal with a 3-0 win vs. Academica, days after finishing off Spurs in the Europa League. Next up in that competition, they face AZ Alkmaar and will be confident of progress to the last four.