Shaka Hislop evaluates the best club teams in the world as he compiles his weekly Top 10 countdown! Here is his latest list -- did your team make it?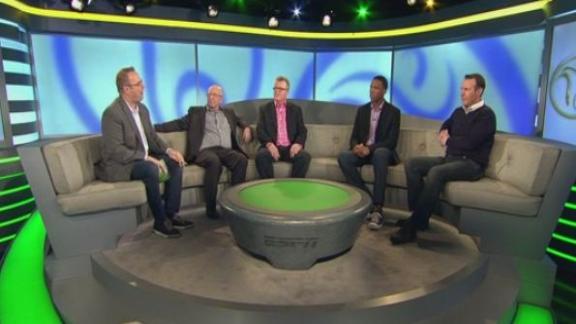 ESPN FC: Shaka's power rankings
Who is at the top of the list this week? ESPN FC's Shaka Hislop gives his rankings for the top ten teams in the world.
ESPN FC: Shaka's power rankings
2013-14 POWER RANKINGS: MARCH 20
RANK (PV)
CLUB
COMMENT
1 (1)
Bayern Munich
Is a 2-1 win for Bayern like a defeat for another, mortal, team? It's now 50 games and counting since they last experienced defeat in the Bundesliga and they could wrap up their second straight title as soon as this weekend.
2 (2)
Real Madrid
Is every clasico billed as the 'biggest-ever'? Whatever, there is no doubt that this Sunday's Real Madrid vs. Barcelona clash is quite important. Hyperbole aside, Madrid lead La Liga by four points and a win would make them overwhelming title favourites.
3 (3)
Paris Saint-Germain
Here is this week's Zlatan Ibrahimovic update. After two more at the weekend, the incomparable Swede now has 40 goals in all competitions, which means he has already broken the club record for most goals in a season. And we're not even in April yet!
4 (5)
Juventus
Two games this week, two superb free-kicks from veteran star, Andrea Pirlo, two 1-0 wins vs. Genoa and Fiorentina. Gianluigi Buffon also saved a penalty vs. Genoa (it's always about the keeper!).
5 (6)
Atletico Madrid
Diego Simeone's side head to Betis on Sunday knowing that at least one of their title rivals will drop points in the clasico. The best-case scenario is probably a Barcelona win, which could mean the top three are separated by just one point on Monday.
6 (4)
Chelsea
I don't think many saw defeat at Villa coming, despite the fact that Jose Mourinho has never won there. A league-damaging blip it may have been but Chelsea recovered in Europe with a clinical display which ruined Didier Drogba's return. Next up? Arsenal.
7 (8)
Liverpool
Can things get any better for Liverpool? Not only are they legitimate Premier League title contenders but they cemented their status as such with a crushing result at Man United that could have been even more one-sided. Anfield fans are in dreamland.
8 (10)
Barcelona
If their Bernabeu trip is not a must-win then it is certainly a must-not-lose for Tata Martino's men. Recent history bodes well for Barca, who have lost just two of their last 10 road clasicos. They certainly warmed up impressively, beating Osasuna, 7-0.
9 (9)
Benfica
Looked nervous against Spurs but held on for a 2-2 draw on Thursday to advance in the Europa League. Key stat: have won 11 and drawn two since Nemanja Matic joined Chelsea.
10 (N/A)
Arsenal
I don't like blowing my own trumpet but it looks like I did it again! Though I have no way of proving this, I am quite certain that Arsene Wenger pinned up last week's rankings -- sans Arsenal -- in the dressing room at Spurs. We know what happened next!