Shaka Hislop evaluates the best club teams in the world as he compiles his weekly Top 10 countdown! Here is his latest list.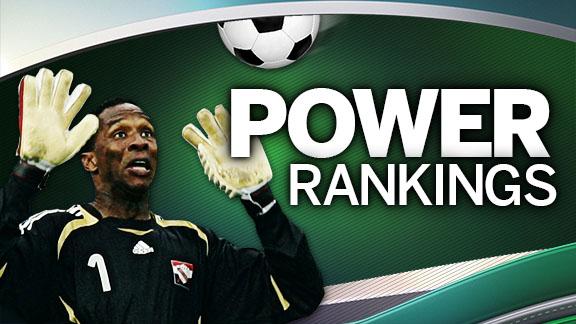 ESPN FC: Shaka's Power Rankings
FC's Shaka Hislop reveals his weekly power rankings, and the rest of the team doesn't necessarily agree.
Tags:
Shaka's Power Rankings
ESPN FC: Shaka's Power Rankings
2013-14 POWER RANKINGS: FEBRUARY 27
RANK (PV)
CLUB
COMMENT
1 (1)
Bayern Munich
Some numbers for you... 19: Bayern's Bundesliga lead in points. 20: Bayern's wins (from 22 games) in the Bundesliga this season. 47: Games since Bayern lost in the Bundesliga. That is all...
2 (3)
Real Madrid
Carlo Ancelotti's side were the big winners over the weekend, which ended with them three points clear atop La Liga. That, though, was just the warm-up for a sensational display at Schalke. Bayern beware?
3 (4)
Paris Saint-Germain
We've been here before but the question is again being asked: Is Zlatan Ibrahimovic the best player in the world on current form? He's certainly the best in France. Another hat trick helped PSG to victory at Toulouse and en route to another title.
4 (5)
Chelsea
It was classic Jose Mourinho, wasn't it? After a futile 90-plus minutes, Chelsea somehow conjured a last-gasp win to stay on top in the Premier League. The Champions League display in Turkey was workmanlike too, though maybe the tie should already be over
5 (2)
Barcelona
Tata Martino chose to rest several key men at a venue where Barca have struggled in recent years and paid the price as Real Sociedad won 3-1. That Barca's next game was not for eight days -- and at home vs. Almeria -- made the decision even more odd.
6 (7)
Juventus
The Turin derby is one of the more one-sided in world football -- Torino haven't won one since 1995 -- and that trend continued on Sunday, though Juve were somewhat fortunate to triumph 1-0. Europa League progress followed ahead of Milan on Sunday.
7 (9)
Olympiakos
Well, I asked and I received! Last week, I suggested that Olympiakos would have to impress vs. Manchester United to stay in my top 10 and they did just that with a fine display against the admittedly hapless Premier League champions.
8 (6)
Atletico Madrid
Like Barca, Atleti slipped up -- at Osasuna -- having rested star men. However, they had more of an excuse. They don't have the depth of the Blaugrana and their next league game is the Madrid derby and several key personnel were suspension risks.
9 (10)
Manchester City
Things still are not clicking into top gear for the Man City machine. Granted, they beat Stoke, but just one goal scored means they have found the net just three times in the last five games. Maybe the floodgates will open in the Capital One Cup final.
10 (8)
Benfica
A 1-0 win over Guimaraes saw Benfica maintain their five-point lead at the top in Portugal and their progress continued in the Europa League too. Victory vs. PAOK sets up an attractive tie with Tottenham.