Shaka Hislop evaluates the best club teams in the world as he compiles his weekly Top 10 countdown! Here is his latest list.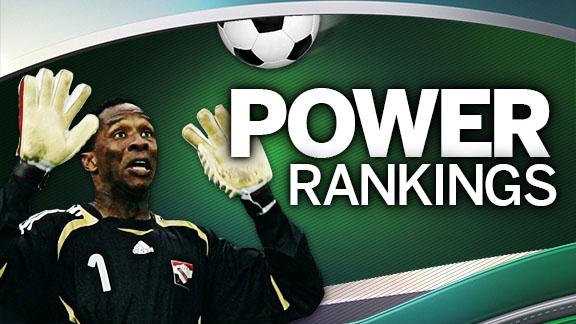 ESPN FC: Shaka's power rankings
ESPN FC: Shaka's power rankings
2013-14 POWER RANKINGS: FEBRUARY 20
RANK (PV)
CLUB
COMMENT
1 (1)
Bayern Munich
They won in the league, of course, before all eyes turned to the Emirates. Well, they passed that test too, seeing off Arsenal after withstanding early pressure, thanks to Manuel Neuer's penalty save. A goalkeeper saves the day again!
2 (3)
Barcelona
A night before Bayern's win, it was a similar story for Barca, who went on the road against ten men and won. It's been a good week for the Blaugrana, who won twice and scored eight goals in the process. Peaking at the right time?
3 (2)
Real Madrid
There's a debate going on in Madrid about whether Jese or Gareth Bale should start. All I can say is, what a problem to have! The young Spaniard scored again at the weekend as Getafe were seen off. No Ronaldo, no problem.
4 (5)
Paris Saint-Germain
After another routine Ligue 1 win, PSG made things look just as easy at Leverkusen in the Champions League. Zlatan Ibrahimovic was the star man and, if he can keep scoring in the knockout rounds, maybe PSG can make a deep run.
5 (4)
Chelsea
Ah, Jose, you're back! After a few subtle barbs over the first few months of the season, Mourinho opened up on Arsene Wenger with a vintage verbal assault. Conveniently, perhaps, it deflected attention away from an FA Cup exit at Man City.
6 (10)
Atletico Madrid
Rumours of their demise had been greatly exaggerated. A two-loss week had me asking for a response and boy did I get one! After a Liga win, Diego Simeone's men went to Milan and emerged with a precious Champions League away win.
7 (6)
Juventus
While Antonio Conte waged verbal war against Fabio Capello off the pitch, Juve continued to win on it with victory vs. Chievo. Meanwhile, a Europa League run that may end with victory on home turf began with a win vs. Trabzonspor.
8 (9)
Benfica
The leaders held serve in the Portuguese Liga with victory at bottom side Pacos before beginning their Europa League campaign with a 1-0 win over PAOK. Could they challenge at home and abroad?
9 (N/A)
Olympiakos
The Greek leaders return to my top ten mainly due to a lack of competition from others and it may only be a temporary stay. They are almost certain to win a 41st league title but will have to impress vs. Man United to retain their spot.
10 (8)
Manchester City
It was a strange week for Manuel Pellegrini's team and for the Chilean himself. An improved display vs. Chelsea secured FA Cup progress before defeat to Barcelona led to all sorts of controversial statements from the manager.