Shaka Hislop evaluates the best club teams in the world as he compiles his weekly Top 10 countdown! Here is his latest list.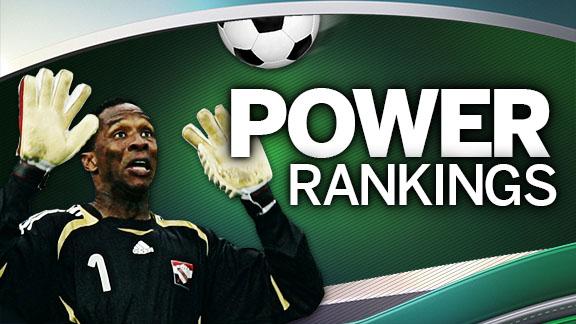 ESPN FC: Shaka's Power Rankings
Real Madrid, Barcelona, Bayern Munich, who holds the top spot for ESPN FC'S Shaka Hislop's power rankings?
Tags:
Shaka's Power Rankings
ESPN FC: Shaka's Power Rankings
2013-14 POWER RANKINGS: FEBRUARY 14
RANK (PV)
CLUB
COMMENT
1 (1)
Bayern Munich
While so much is (rightly) made of Bayern's attacking options, it is also worth noting that Pep Guardiola's men are increasingly formidable at the back. One goal conceded in their last seven games is testament to that.
2 (6)
Real Madrid
Talking of unbeatable, how about Iker Casillas? He only plays cup football right now but has not allowed a goal for 862 minutes, dating back to Nov. 27! Madrid picked up three points in the league and set up a Clasico Copa del Rey final.
3 (9)
Barcelona
In fact, Spain's big two could meet four times in a month. In addition to Copa and league games, they could be drawn together in the Champions League. The highlight of last week for Barca was the form of Lionel Messi, who scored three goals in two games.
4 (2)
Chelsea
Eden Hazard's virtuoso display vs. Newcastle maintained Chelsea's form after victory at Man City so it was a surprise to see the Blues concede late at West Brom. Nobody seems to want to run away with the Premier League this season!
5 (5)
Paris Saint-Germain
A point at Monaco maintained their lead at the top of Ligue 1, which they extended to eight points with Friday's comfortable win over Valenciennes. On the horizon for Laurent Blanc's side is a winnable Champions League last 16 tie with Bayer Leverkusen.
6 (7)
Juventus
Concentration late in games appears to be an issue for Juve: of 18 Serie A goals conceded this season, nine have come in the last 30 minutes. The latest cost two points at Verona and led to Antonio Conte ordering his players to train on their day off.
7 (N/A)
Liverpool
They can't, can they? Liverpool? Champions? Perhaps it is unlikely but they are just four points off the top and are the Premier League's in-form team. After dismantling Arsenal, they left it late at Fulham but two wins in a week kept momentum going.
8 (8)
Manchester City
Just when you thought they'd solved their early-season inconsistency, Manuel Pellegrini's men stumbled again with a 0-0 draw at lowly Norwich. The chance for a morale-boosting win over Sunderland was also denied them by the British weather!
9 (N/A)
Benfica
Welcome! My Power Rankings are open to all and the form of the Portuguese leaders has demanded they be included. Last week, they saw off third-place Sporting to extend their unbeaten league run to 17 games, dating back to the opening day of the season.
10 (3)
Arsenal
I am nothing if not decisive so I decided that, this week, I will have two teams at No. 10! Arsenal just about stay in the list despite their abject display at Liverpool and a muted performance against the players currently impersonating Man United.
10 (4)
Atletico Madrid
Another team beginning to slip, Atleti lost their outright La Liga lead and were then dumped out of the Copa del Rey. The question now is, can they respond to these setbacks at home and in Europe?