Shaka Hislop evaluates the best club teams in the world as he compiles his weekly Top 10 countdown! Here is his latest list.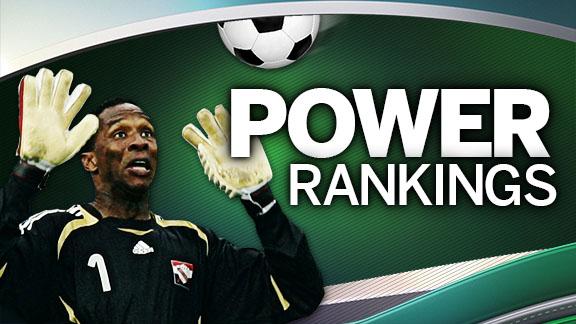 ESPN FC: Shaka's Power Rankings
ESPN FC: Shaka's Power Rankings
2013-14 POWER RANKINGS: FEBRUARY 6
RANK (PV)
CLUB
COMMENT
1 (1)
Bayern Munich
Ho-hum, another weekend, another thrashing administered by Pep Guardiola's machine. This time, Eintracht Frankfurt were on the receiving end as five different players helped themselves to goals in a 5-0 win.
2 (7)
Chelsea
A vintage Jose Mourinho performance saw Chelsea win at Manchester City. Though it was only 1-0, do not be fooled into thinking this was a smash and grab victory. No, Chelsea outplayed opponents hitherto unbeatable at home in the Premier League.
3 (6)
Arsenal
Alex Oxlade-Chamberlain's double vs. Palace was impressive enough but that he scored both while playing in central midfield was even more significant. Arsenal's engine room has been hit recently by injuries and bans so the Ox offers an interesting option.
4 (5)
Atletico Madrid
I'm not putting much stock in the Copa del Rey defeat to Real Madrid (in fact, going out might be the best thing for Atleti). No, this week's big news was that Diego Simeone's men are now top -- on their own -- of La Liga. Can they handle being chased?
5 (8)
Paris Saint-Germain
A team of stars shouldn't really need a talisman but, in Zlatan Ibrahimovic, PSG certainly have one. The Swede scored three goals in two games this week, including a superb opener at Nantes in a cup semifinal, which he later won with a last-gasp header.
6 (3)
Real Madrid
Having a foot in the Copa del Rey final is fine but this was a week when Real Madrid stepped back in the La Liga title race. Dropping points in Bilbao was bad enough but losing Cristiano Ronaldo for up to three games could lead to more costly slip-ups.
7 (9)
Juventus
In beating Inter Milan 3-1, Juventus again showed their superiority in Serie A. However, Antonio Conte will have been annoyed by the way the game finished, as the visitors scored a consolation goal and created a few too many other chances.
8 (2)
Manchester City
Many thought Monday would see Man City go top of the Premier League for good this season. That they did not gave hope to those who desire a race to the final day. City were not terrible vs. Chelsea but Manuel Pellegrini was out-thought by Jose Mourinho.
9 (4)
Barcelona
Hands up who saw Valencia's win at the Nou Camp coming? No, me neither! Defensive frailty cost Barca on Saturday as did some unusual profligacy in front of goal. Lionel Messi has not scored from open play in La Liga since September.
10 (10)
AS Roma
Rudi Garcia's side just keep on keeping on. After heavy rain put paid to their Serie A clash with Parma, Gervinho and Kevin Strootman spent the Coppa Italia semifinal first leg win over Napoli engaged in their own goal of the month contest.