Shaka Hislop evaluates the best that the club game has to offer and works it into his weekly Top 10 countdown! Here is his latest list.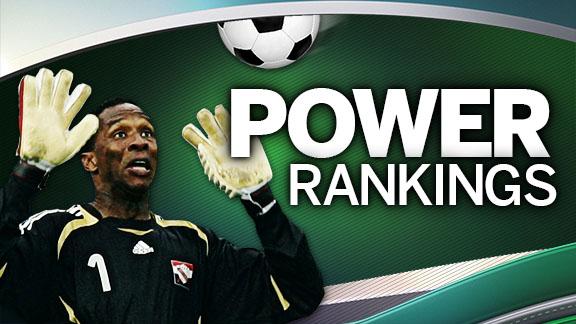 ESPN FC: Shaka's power rankings
ESPN FC's Shaka Hislop is forced to defend his power rankings yet again. See which clubs made his top ten!
Tags:
Shaka's Power Rankings
ESPN FC: Shaka's power rankings
2013-14 POWER RANKINGS: JANUARY 23
RANK (PV)
CLUB
COMMENT
1 (1)
Bayern Munich
On top of the Bundesliga by seven points and with a game in hand, Pep Guardiola's men start the second half of the season with a tricky trip to Monchengladbach. Could their unbeaten league run end at 41 games?
2 (4)
Manchester City
Three more league points and a Wembley final berth meant it was another good week for City. In total, they have scored 106 goals this season, and that firepower seems to continually make up for any deficiencies they may have at the back.
3 (5)
Real Madrid
Back-to-back wins, coupled with more slips by Barcelona and Atletico, mean just one point separates La Liga's top three. While Madrid continue to be prolific in front of goal, their defence needs a mention, too: It's been 568 minutes since they last conce
4 (2)
Barcelona
Two trips in four days to Levante brought mixed fortunes. A disappointing league draw was followed by an emphatic cup win, in which Cristian Tello starred with a hat trick. Maybe it's time to give the 22-year-old more chances in higher-profile games?
5 (3)
Atletico Madrid
Juanfran conceding a penalty against Sevilla meant Atleti missed a chance to go top in Spain. Could they rue that lost opportunity? With the race for the title tightening, Diego Simeone's side will face more questions as to whether they can last the pace.
6 (8)
Arsenal
After taking just two points from three games in mid-December, the Gunners have reeled off five consecutive wins. A consistent feature of the run has been a workmanlike quality, with victories claimed through a mixture of style and steel.
7 (9)
Chelsea
They had an interesting week. First, Samuel Eto'o did a passable impression of his old self vs. Man Utd and then Juan Mata, the club's reigning player of the year, was allowed to leave for Old Trafford. Points on the board and (lots of) money in the bank!
8 (7)
Paris Saint-Germain
After winning their first four games of 2014 -- scoring 15 goals in the process -- Laurent Blanc's men suffered a surprise Coupe de France defeat vs. Montpellier to reduce their trophy opportunities to a mere three. They do remain top of Ligue 1, however.
9 (6)
Juventus
After yet another Serie A win, more cup woe befell The Old Lady as Roma came out on top in the Coppa Italia. Winning the league would hardly mean a failed season but a lack of depth seems to be affecting Juve's ability to compete on multiple fronts.
10 (10)
Olympiakos
Their lead atop the Greek league was stretched to 11 points after a win over Levadiakos coupled with setbacks for their nearest rivals, Atromitos and PAOK. In just over a month, they meet Manchester United in the Champions League.