Shaka Hislop evaluates the best that the club game has to offer and works it into his weekly Top 10 countdown! Here is his first list of 2014.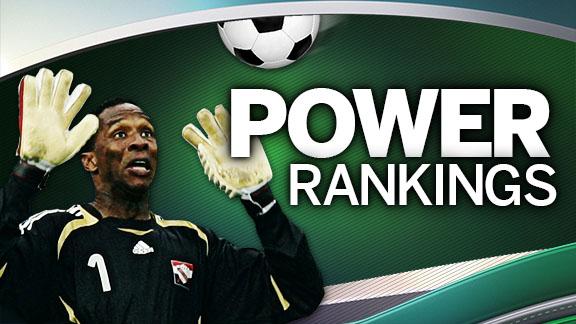 ESPN FC: Shaka's Power Rankings
ESPN FC: Shaka's Power Rankings
2013-14 POWER RANKINGS: JANUARY 16
RANK (PV)
CLUB
COMMENT
1 (1)
Bayern Munich
They haven't played since my last list came out but that's no reason they should shift from the top spot. The Bundesliga is as good as wrapped up, so here's what I want to know: Can Bayern become the first team to retain the Champions League?
2 (2)
Barcelona
Starting with Lionel Messi and Neymar on the bench at Atletico suggests Tata Martino is playing the long game and is keen to avoid risking his star men unduly. Though the game ended in a draw, Barca stayed on top on goal difference.
3 (3)
Atletico Madrid
Was the draw a missed opportunity for Atleti? Perhaps, but maybe even more important was that they did not lose. Besides, they'll get another shot at Barca on May 18, the last day of the La Liga season.
4 (5)
Manchester City
Talk of a quadruple has begun with City showing signs of ominous form. Sergio Aguero is back and any thoughts of more road problems were squashed with their win at Newcastle, although referee Mike Jones helped out a little!
5 (4)
Real Madrid
They haven't been sweeping aside opponents recently but keep winning and, thanks to the Atleti-Barca draw, have closed the gap atop La Liga. With Gareth Bale back and the newly crowned Ballon d'Or winner happy, there's a good feeling at the Bernabeu.
6 (6)
Juventus
Is the rest of the Serie A season going to be a procession towards a Scudetto for Juve? It sure seems that way. Maybe their dominance of the league will enable them to take a proper shot at the Europa League, the final of which their stadium hosts.
7 (7)
Paris Saint-Germain
Another team chasing four trophies, PSG's lead in Ligue 1 has stretched to five points following their weekend win and Monaco's draw. Like Juventus, control at home may allow Laurent Blanc's side to focus more specifically on European prizes.
8 (N/A)
Arsenal
In case you missed it, I got a little bit of stick for omitting Arsenal from my last list. Well, just like Barca earlier this season, the Gunners responded with win after win so, really, their fans should thank me for the inspiration! Wonder if they will?
9 (N/A)
Chelsea
Before Christmas, Jose Mourinho was seeing too many goals scored against his side and said something needed to change. And boy has it. In their past six games (five of which have been won), Chelsea have conceded one goal. Ominous signs ...
10 (9)
Olympiakos
Last weekend's draw was just the second time they have dropped points this season. Michel's men have a healthy eight-point lead in the Superleague and look odds-on to win their fourth straight title, and 41st overall!