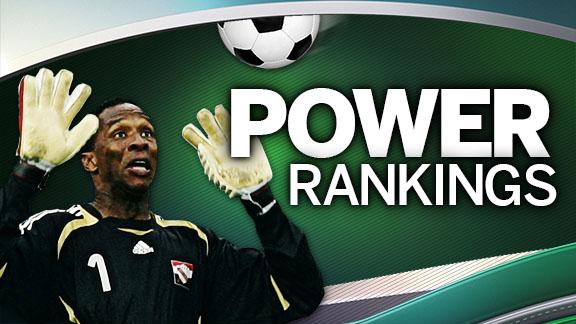 ESPN FC: Power Rankings
2013-14 POWER RANKINGS: DECEMBER 12
RANK (PV)
CLUB
COMMENT
1 (1)
Bayern Munich
After thrashing Bremen 7-0 and going two up on Man City within 11 minutes, it looked like another effortless week of wins. However, City's comeback proved they are not perfect, though they're still a clear No. 1 in my list.
2 (2)
Real Madrid
A goalless draw against lower-league opposition in the Copa del Rey was a surprise, but the second leg should remain a formality especially now that Cristiano Ronaldo is fit again. Naturally, he marked his return with a goal against Copenhagen.
3 (7)
Barcelona
No such problem in domestic cup action for Barca, who followed up a thumping of Cartagena with a thrashing of Celtic. Neymar bagged a hat trick and now needs to transfer that form to La Liga, in which he has not scored for a month.
4 (6)
Atletico Madrid
As a former goalkeeper, I'm always on the lookout for a solid defensive record. Thus, how could I fail to be impressed with Atleti, who in their past 12 games have kept nine clean sheets and conceded only three goals!
5 (4)
Arsenal
The Gunners wobbled this week. First, Everton denied them victory and then they were beaten by Napoli in Europe. Sure, they're still through but, having finished second in their group, now face a tougher last 16 task. Plus, they visit Man City on Saturday
6 (5)
Paris Saint-Germain
Like Arsenal, PSG slipped up in the Champions League, though their defeat was less crucial given they already had won the group. Laurent Blanc's side had previously got back on Ligue 1 track with a 5-0 mauling of Sochaux.
7 (8)
Manchester City
They may not have solved their away troubles entirely but a draw at Southampton was a decent result and the fight back from 2-0 down against Bayern was as impressive as it was unexpected. Next up? Back to home comforts and that clash with Arsenal.
8 (N/A)
Bayer Leverkusen
Is this the same side that was embarrassed on its home ground by Man United just two weeks ago? Since then, Leverkusen have won four straight including away victories at Dortmund and Real Sociedad last week.
9 (3)
Juventus
Seven straight Serie A wins keeps The Old Lady in my top 10, but Champions League elimination means she is hanging on at the bottom end. I suppose that the optimists among their fans can now say they can win the Europa League at home next May!
10 (N/A)
Liverpool
While the rest of the top five in England dropped points, Brendan Rodgers' men saw off West Ham and now sit second. They will be tested at Spurs on Sunday, especially as Steven Gerrard and Daniel Sturridge are out for an extended time.