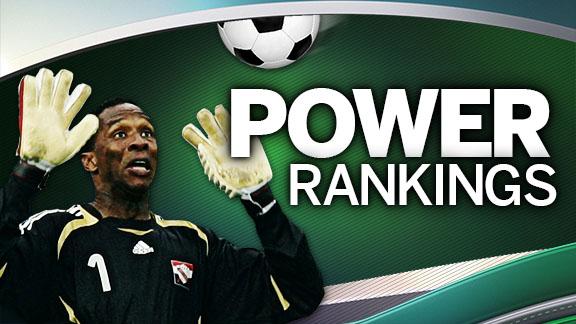 ESPN FC: Shaka's Power Rankings
ESPN FC: Shaka's Power Rankings
2013-14 POWER RANKINGS: NOVEMBER 28
RANK (PV)
CLUB
COMMENT
1 (1)
Bayern Munich
Another two wins, but could Bayern's biggest threat come from within their own ranks? While Pep Guardiola searches for a "mole," his players have no problems finding the goal.
2 (2)
Barcelona
Can a 4-0 win be underwhelming? Maybe when you're Barcelona. After dispatching Granada, the Blaugrana lost to Ajax, but as they were already through to the Champions League knockout stages, I'm willing to let that slide!
3 (3)
Real Madrid
With Isco to the fore, Carlo Ancelotti's men overcame the loss of Cristiano Ronaldo (injury) and Sergio Ramos (red card) to thrash Almeria and Galatasaray.
4 (4)
Paris Saint-Germain
Zlatan Ibrahimovic got over his World Cup despair with goals against Reims and Olympiakos as PSG stayed on top in France and clinched a last 16 place in the Champions League.
5 (5)
Juventus
A bit like PSG, Juve claimed workmanlike wins in Serie A and Europe. Arturo Vidal was the main man in the latter game, hitting a hat trick. The best midfielder in the world on current form?
6 (7)
Arsenal
The Gunners bounced back from defeat to Man United with two wins. They got some help from Artur Boruc -- even I can't defend that goalkeeping! -- before Jack Wilshere took care of Marseille.
7 (6)
Atletico Madrid
Anything Barca and Real Madrid can do ... Atleti hit Getafe for seven and remain firmly in the running for the La Liga title. Early qualification for the Champions League last 16 is helping that challenge.
8 (N/A)
Manchester City
After games at the Etihad Stadium, City tend to loom large in my rankings thinking. Post-away matches? Not so much. Ten goals in two games, including six in a shellacking of Spurs, made it a decent week of home comforts for Manuel Pellegrini's men.
9 (8)
Cruzeiro
The Brazilian champions may have been enjoying their title a little too much, given they haven't won either of the two games they have played since clinching. But who can blame them? Enjoy the party, lads!
10 (N/A)
Borussia Dortmund
I won't lie: Leverkusen were in my top 10 until their no-show against Man United. Dortmund take advantage, despite a mixed week. The defeat versus Bayern was less one-sided than the score suggested, but victory over Napoli was deserved -- and much-needed.