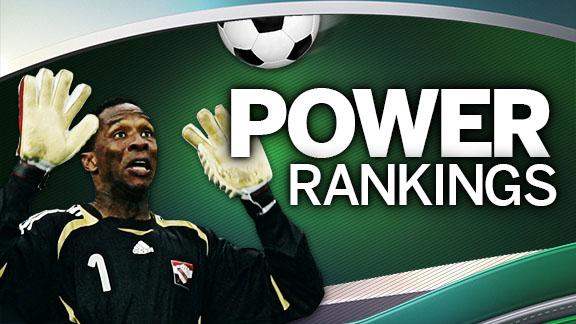 ESPN FC: Shaka's Power Rankings!
Darke, Burley and Twellman react to Shaka's latest Power Rankings that saw a league champion climb!
Tags:
Espn Fc
,
Power Rankings
ESPN FC: Shaka's Power Rankings!
2013-14 POWER RANKINGS: NOVEMBER 14
RANK (PV)
CLUB
COMMENT
1 (1)
Bayern Munich
A routine win over Augsburg means Bayern have now gone a Bundesliga record 37 games without defeat. Extending that run might be tricky -- Dortmund away are next -- but, right now, Pep's Guardiola's men are untouchable.
2 (2)
Barcelona
The good news was that victory at Real Betis, combined with Atletico's draw, extended their La Liga lead. The bad, of course, was Lionel Messi's injury. Barca should be fine in the short-term without him but others must step up.
3 (6)
Real Madrid
Another week, another Cristiano Ronaldo spectacular. His hat trick against Real Sociedad means he already has 16 La Liga goals in 13 games this season, which is more than ten teams have amassed!
4 (7)
Paris Saint-Germain
Talking of triples, Zlatan Ibrahimovic helped himself to one of his own last weekend. Laurent Blanc's side leads Ligue 1 by four points and, with Monaco stuttering, could be set to run away with the title.
5 (N/A)
Juventus
Juve return to my top ten after an emphatic win over Napoli. All three goals were scored by players -- Llorente, Pirlo and Pogba -- who joined The Old Lady on free transfers. I guess you can't put a price on quality like that!
6 (3)
Atletico Madrid
Although they dropped points for just the second time this season, a draw at Villarreal wasn't a bad result. There will be some concern that Diego Costa withdrew from the Spain squad as he is a man they cannot do without.
7 (4)
Arsenal
They may look back at Sunday's defeat at Old Trafford as a missed opportunity but the Gunners remain two points clear in the Premier League and so have to be the highest-ranked of the English teams in my rankings.
8 (10)
Cruzeiro
What a week for Cruzeiro, who have climbed two places in my countdown. Oh, and they won their third Brazilian title! 16 points clear with four games left - congratulations to Marcelo Oliveira's team.
9 (5)
AS Roma
Remember what I was saying about their winning run being likely to continue? There's that Shaka curse again... With injuries mounting up front, the international break has come at a good time.
10 (9)
Chelsea
They're still in the top ten... but only just. Were it not for Andre Marriner's sympathy vote towards Ramires, West Brom would have won at the Bridge. Jose Mourinho has plenty of work to do.