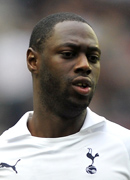 Ledley King
Squad No: 26
Position: Defender
Age: 32
Birth Date: Dec 10, 1980
Birth Place: London
Height: 6' 2" (1.88m)
Weight: 193 lbs (87.6 kg)
LEDLEY KING
Long earmarked as a star for the future, Ledley King has matured into a player of considerable poise and his calm approach in defence makes him the ideal captain for his club, Tottenham, where he is the longest serving player.
A prodigiously talented defender, King's career has been blighted by injury, with rumour circulating in recent years that persistent knee trouble could bring about a premature end to a promising career. However, he has continued to fight for his livelihood and trains only a few times a week in order to prolong it.
First jumping onto the international scene at Euro 2004, King was named in England's squad and got his chance when John Terry pulled a hamstring in the run-up to the opening game. His versatility and ability to play as a defensive midfielder, ensured he was a back-up to the first-choice partnership of Terry and Ferdinand after the tournament, but a broken foot saw him miss out on the 2006 World Cup finals.
Arguably one of the finest defenders of his generation, his injury record has held back what could have been a stellar career, but he remains an important player for club and country.
Strengths: A great reader of the game, King has poise and calmness on the ball and isn't afraid to put his head where it hurts.
Weaknesses: A lack of pace, hindered by his long-term injury problems. He can still only train a few times a week.
Career high: Helping Tottenham to a top four finish and the Champions League in 2009-10.
Career low: In May 2009 he was arrested outside a central London nightclub over an alleged assault and the footage was splashed all over the internet.
Style: Committed, calm, graceful, a leader by example.
Quotes: "There's no cure. There's no cartilage, nothing to operate on. It's just bone on bone. So it's just a question of managing it. It swells up after games and it normally takes seven days to recover but having played on Monday night he's had less time than usual. He rarely trains, he mostly just goes to the gym to keep himself ticking over. But not running or anything like that. But even if he only plays 20 games a season, he's worth having because he's so good we have a much better chance of winning." Harry Redknapp on King's injury.
Trivia: King scored the quickest Premier League goal in history after just 10 seconds against Bradford in the 2000-01 season.