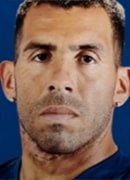 Carlos Tevez
Full Name: Carlos Alberto Tevez
Squad No: 10
Position: Forward
Age: 30
Birth Date: Feb 5, 1984
Birth Place: Ciudadela, Buenos Aires, Argentina
Height: 5'7'' (1.70m)
Weight: 67 kg
2013/14 Italian Serie A
| GAMES | GOALS | ASSISTS | SHOTS |
| --- | --- | --- | --- |
| 30 | 18 | 7 | 114 |
CARLOS TEVEZ
Carlos Tevez's story is very similar to that of many other kids in Argentina. Born into poverty in a working-class neighbourhood in the province of Buenos Aires known as Fort Apache (thus his peculiar moniker, the 'Apache'), he was able to escape thanks to football.
Even in those early street games, he displayed the fierceness, courage and poise that he would later exhibit on the pitches of Argentina and beyond. He started his road to stardom in the lower ranks of the local All Boys soccer club, and was acquired by Boca Juniors, the club that gave him his debut in the Argentine top division. Coached by Carlos Bianchi, he became an idol and participated in one of the club's most successful championship runs, winning the domestic league, the Copa Libertadores and an Intercontinental Cup in 2003. With Bianchi no longer at the helm of the team towards the end of 2004, Tevez left the club after securing another title: the Copa Sudamericana. He arrived at Brazil's Corinthians, where he earned the love of the fans and won a league title. But a bad run of form saw him back up for auction once more. West Ham, a modest English team, picked him up on a controversial third-party deal and he was a key figure in steering them clear of the drop that season. The big clubs finally took notice, and Manchester United added him to their star-studded squad, though he struggled to find his place. He participated in several of the club's successes, including winning a league title, the UEFA Champions League and the FIFA Club World Cup in 2008. In 2009, his lack of playing time and subsequent differences with Sir Alex Ferguson saw Tevez accept an offer to play for neighbours and rivals Manchester City. He became the club's most influential player and helped them to their first trophy since 1976 by winning the 2011 FA Cup, but then revealed that he wanted to move nearer to his family in the summer as a move back to Corinthians collapsed.
After refusing to warm-up against Bayern Munich in September 2011, Tevez went AWOL back to Argentina and was fined. However, he failed to secure a move away in the January transfer window and made his return back to Manchester in February 2012. Is it surely only a matter of time before he departs once more.
Strengths:
A courageous player, Tevez makes full use of his body. He adds a great ability to protect the ball to his technical skills, and he can be a traditional centre forward in the box or play deeper.
Weaknesses:
With the exception of his long tenure at Boca, he has been unable to stay at one club for more than two years in a row. More trouble than he is worth?
Career high:
Winning the Double with Man Utd when he scored a lot of important goals for the side on the way to the trophies.
Career low:
His second season at Corinthians included disputes with his team-mates and the fans.
Style:
Strong, powerful and courageous, a passionate player.
Quotes:
After receiving criticism for a series of low-key performances with his national team, he declared: "Sometimes I don't even want to play for Argentina."
Trivia:
He has a large scar on his neck, a consequence of a bad burn suffered as a child. He has been offered the chance to have the scar tissue surgically removed, but has always refused as he insists it is part of who he is.