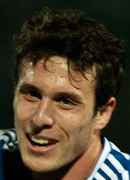 Angelo Henriquez
Squad No: 20
Position: Forward
Age: 20
Birth Date: Apr 13, 1994
Birth Place: Santiago, Chile
Height: 5' 11'' (1.80m)
Weight: 75 kg
2013/14 Spanish Segunda
| GAMES | GOALS | ASSISTS | SHOTS |
| --- | --- | --- | --- |
| 5 | 4 | 0 | 0 |
ANGELO HENRIQUEZ
When Manchester United snapped up Chilean teenager Angelo Henriquez for £4 million it was branded a 'shock swoop' by many. In reality, it was a transfer that had been four years in the making. Henriquez is a fine example of the breadth of the Red Devils' vast global scouting network, with the club having spotted him at 14 and agreed a first-option arrangement with his club Universidad de Chile just two years later. Since then, he has well and truly blossomed into the star that United had hoped he would.
With impressive displays for his country's Under-15 and Under-17 sides at the South American Championships of 2009 and 2011 behind him, Henriquez made his debut for hometown club Universidad in June 2011. But it was following the sale of former U star Eduardo Vargas to Napoli that Demeber that the young forward was really propelled into the limelight. Easing the pain of Vargas' departure, Henriquez stepped into the breach to become his club's leading light, scoring 15 goals in 28 games as they won the 2012 Apertura title and reached the semi-finals of the Copa Libertadores.
With a number of European clubs reportedly beginning to take note, United decided the time was right to cash-in their first-option deal and despite his tender age of 18, the Red Devils brought him to England in September 2012. Sir Alex Ferguson talked up his new acquistion's abilties on his arrival but a careful nurturing, which could yet include a loan return to South America, will be necessary if he is to prove more sucessful than the last promising South American striker signed by United, one Diego Forlan.
Strengths: A natural finisher, Henriquez's instinct, acceleration, control and movement make him a tricky prospect for any defender.
Weaknesses: While unquestionably skilful, Henriquez's build is a bit slight for the rigours of the Premier League and the player has himself admitted that he must "improve physically".
Career high: Moving to Manchester United capped off a superb 2012 for Henriquez, during which he scored 11 goals in 17 league appearances for Universidad de Chile and 14 goals in 9 games for Chile's Under-20 side.
Career low: Despite scoring in three of Chile's four group games at the 2011 South American Under-21 Championship, Henriquez and his nation suffered an early exit from the tourament.
Style: A predatory striker who also possesses flair in abundance.
Quotes: "Angelo has made a tremendous impact on the game in his short career so far. His pace is a great asset and he reads the game really well for someone of such a young age. We have a proud record of developing young talent and Angelo fits the profile of a United player - skilful, attacking and someone who plays the game with real flair." Sir Alex Ferguson on his new recruit, September 2012.
Trivia: Henriquez was brought to United's attention by their South America scout John Calvert-Toulmin, who was also responsible for bringing the Da Silva twins and Rodrigo Possebon to Old Trafford.