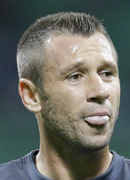 Antonio Cassano
Squad No: 99
Position: Forward
Age: 31
Birth Date: Jul 12, 1982
Birth Place: Bari, Italy
Height: 5' 9'' (1.75m)
Weight: 80 kg
2013/14 Italian Serie A
| GAMES | GOALS | ASSISTS | SHOTS |
| --- | --- | --- | --- |
| 30 | 11 | 5 | 49 |
ANTONIO CASSANO
A poor kid from the Southern Italian city of Bari, Cassano was born a day after Italy won the 1982 World Cup and burst onto the scene as a 17-year-old with a wonder goal against Inter. However, he failed to live up to his massive potential as controversy followed him throughout his career and he remains a figure who divides opinion.
The world's most expensive teenager in 2003, he moved to Roma for 30 million euros but was unable to settle under any of the many managers who tried to get the best out of him. Showing signs of quality on the pitch, he clashed with the club over a contract renewal off it and joined Real Madrid for just 5 million euros in 2006.
Reunited with Fabio Capello, he again clashed with management and was fined for gaining weight due to poor eating habits. Lasting just two seasons at the Bernabeu, he played less than 20 games for the club before joining Sampdoria on loan and then on a permanent deal a year later. There, he reinvented himself for a few seasons, while at the same time ending his hopes of playing for the national team with his now-trademark tantrums. Then a heated row with chairman Riccardo Garrone ended his time at Samp and, in January 2011, he joined AC Milan.
Strengths: Skilful and intelligent on the ball, Cassano has excellent vision and also impresses with his eye for goal.
Weaknesses: His mentality is his biggest downfall, tempestuous, hot-tempered and arrogant. His lack of focus has seen him fail to settle at any of his clubs.
Career high: A 30 million euro transfer to Roma aged 19 saw him become one of the world's most recognised players.
Career low: Cassano was handed a five-game ban in 2008 after throwing his shirt at a referee. Just one of many incidents that saw him excluded from the national team to the extent that he only made 20 appearances in eight years.
Style: Brash, skilful, confident, a potent scorer with a tough attitude.
Quotes: ''You're not coaching those useless players you had at Udinese. This isn't your house - it's my house.'' Cassano vents his anger at his former manager Luciano Spalletti.
Trivia: Amongst tales of bedding "600-700 women", Cassano declares in his autobiography Dico Tutto ('I'll Tell You Everything') that he would be brought post-coital pastries by a waiter at one of his regular hotels. "His job was to bring me three or four pastries after I had sex,'' he said. ''He would bring them up the stairs, I would escort the woman to him and we would make an exchange. Sex and then food, a perfect night."