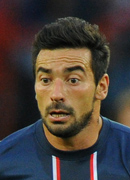 Ezequiel Lavezzi
Squad No: 22
Position: Forward
Age: 28
Birth Date: May 3, 1985
Birth Place: Villa Gobernador Galvez, Argentina
Height: 5' 8'' (1.73m)
Weight: 75 kg
2013/14 French Ligue 1
| GAMES | GOALS | ASSISTS | SHOTS |
| --- | --- | --- | --- |
| 27 | 7 | 0 | 36 |
EZEQUIEL LAVEZZI
Ezequiel Lavezzi became one of the hottest properties in European football after his performances helped send Napoli into the Champions League in 2011, and he joined Paris St-Germain for around €30 million the following summer.
The Argentina international came through the youth ranks of Rosario Central and Boca Juniors but it was with Argentine second division club Atletico Estudiantes that he was given his chance, scoring 17 goals in 39 appearances despite being just 18.
Italian club Genoa bought the rights to the player for €1 million in 2004, even though he had never played top-flight football, but he remained in his homeland with San Lorenzo on loan. The match-fixing scandal which engulfed Genoa, and saw them demoted to the third tier, meant Lavezzi never played for the club, as he was sold to San Lorenzo for €1.2 million
But the forward's hopes of playing in Italy weren't over. After he helped San Lorenzo to the Clausura title 2007 he was snapped up by Napoli for €6 million following their promotion back to Serie A. Though Lavezzi has never been a prolific striker, he still bagged a hat-trick against Pisa in the Coppa Italia early in his Napoli career. His brilliance at creating goals was shown in the 2010-11 season when he recorded 12 assists as Napoli qualified for the Champions League.
Being an Argentine at Napoli there were, understandably, comparisons to Diego Maradona but the player said "the Maradona comparison is an exaggeration. The word idol is too much for me. Diego is Diego and remains No1. I can only work on giving happiness and joy to the people of Naples".
However, their joy was short-lived as Lavezzi opted for a new challenge in France and signed for PSG in the summer of 2012.
Strengths: Lavezzi is excellent at roaming and finding space in the gap between the opposition's midfield and defence. He has excellent pace and crossing ability and is also adept at beating an opponent or drawing a foul in dangerous areas. He is considered a quality player physically, tactically and technically.
Weaknesses: Though not deployed specifically as a goalscorer, he should be expected to contribute more in front of goal. Also has a tendency to go to ground too easily and is not great in the air.
Career high: Lifting the Argentine Clausura in 2007, his last act in his homeland before heading for Europe.
Career low: Being rejected by Rosario Central, the club he supported as a boy and desperately wanted to play for.
Style: Quick, clever, a support striker who can provide as well as score.
Quotes: "Sometimes I have to leave the training session locked in the boot of my car. I am certain no other place on earth provides love like this," Lavezzi on his hero status with the Napoli fans, January 2012.
Trivia: Lavezzi was on very of quitting the football to become an electrician when he was playing for Coronel Aguirre, before finally getting his chance at Atletico Estudiantes.