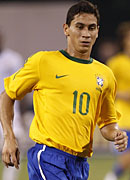 Ganso
Full Name: Paulo Henrique
Squad No: 8
Position: Midfielder
Age: 23
Birth Date: Oct 12, 1989
Birth Place: Mogi das Cruzes, Sao Paulo, Brazil
Height: 6' 0'' (1.83m)
Weight: 73 kg
GANSO
Paulo Henrique Ganso's career trajectory has been markedly similar to that of his former team-mate Neymar, and he also chose to stay in Brazil when he moved from Santos to Sao Paulo.
Former Brazil international Giovanni first took Ganso to youth club Tuna Luso and at 15 he signed for Paysandu, before moving onto Santos within 12 months. He was a regular at Pele's former club since 2009 and, alongside Neymar, won both the Copa Brasil and the Campeonato Paulista in 2010, with his collection of excellent goals and wonderful assists drawing keen attention from across the globe.
Dunga considered taking him to the 2010 World Cup finals but ultimately chose to leave Ganso and Neymar at home, despite the protestations of a substantial number of Brazilian supporters. Instead it was down to Mano Menezes to give Ganso his debut against United States in August 2010, with the playmaker striking the post to serve notice of his talent.
While various clubs were engaged in a fight to secure the signature of the playmaker, who is being talked about as a No. 10 to build the Brazil team around for years to come, he opted to stay in his homeland and joined Sao Paulo. Certainly he has already demonstrated in his domestic career that he is one of the most talented players to emerge from his country in quite some time.
Strengths: His close control, technique and vision have seen comparisons drawn with the great Zinedine Zidane, while Ganso is also capable of scoring spectacular goals and is blessed with an imposing physical frame.
Weaknesses: He is yet to be tested outside of South American football and is somewhat injury prone.
Career high: Winning the Copa Brasil and the Campeonato Paulista in 2010, scoring 11 goals in 19 appearances in the league competition.
Career low: Being forced to undergo knee surgery in August 2010 after damaging his cruciate ligament. Ganso was sidelined for seven months.
Style: Elegant, inventive, intelligent, a No. 10 of real potential.
Quotes: "Ganso is an organiser who reads the game for the team, he puts the pass through on goal, he sets the rhythm. This player is harder to find." Brazil coach Mano Menezes, May 2011.
Trivia: Ganso means goose in Portuguese.