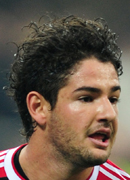 Pato
Full Name: Alexandre Pato
Squad No: 11
Position: Forward
Age: 24
Birth Date: Sep 2, 1989
Birth Place: Pato Branco
Height: 5'10" (1.78m)
Weight: 71 kg
PATO
Viewed as one of the world's best young strikers, Pato joined AC Milan in 2007 for around €22 million and has the potential to become a true great.
Starting to kick a ball at the age of three, by 17 he was already playing with the senior team at Inter of Porto de Alegre, the club that ended up winning the FIFA Club World Championship and the South American Recopa. Indeed, at 17 years and 102 days he became the youngest player to score in an official FIFA tournament, breaking Pele's record.
European clubs then set their sights on him and AC Milan, coached by Carlo Ancelotti, added him to his arsenal in the summer of 2007. After a tough first season he settled and got into double figures for goalscoring in three successive seasons before injury saw his impact decline somewhat.
Having failed to be called up to the 2010 World Cup for Brazil, he became a regular in the national side under new coach Mario Menezes and won his first Serie A title with Milan in 2010-11.
Strengths: Blessed with lots of technique and great vision, he has been compared to Milan's Dutch legend Marco Van Basten.
Weaknesses: Off-field actions can cause him a few issues, while he does not have the experience to adapt to the different situations presented in each game.
Career high: An unforgettable debut. It was against Palmeiras, on November 26, 2006, when Internacional won by 4-1. He scored a goal and provided two assists.
Career low: Missing out on a call-up to the Brazil squad for the 2010 World Cup.
Style: Skilful, fast and powerful, an ideal modern striker.
Quotes: "He knows how to score a goal. Pato is in the style of Ronaldo, although he's a bit more timid. But they're players who participate, they do what you ask them and you give them some room to be creative and play their game." Former Brazil boss Dunga in 2010.
Trivia: His real name is Alexandre Rodrigues da Silva but he is nicknamed 'Pato' because he was born in Pato Branco rather than any resemblance to a duck. [Pato means duck in Portuguese].