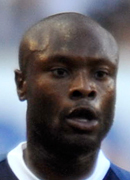 William Gallas
Squad No: 10
Position: Defender
Age: 36
Birth Date: Aug 17, 1977
Birth Place: Asnieres, France
Height: 5' 11'' (1.80m)
Weight: 161 lbs (73 kg)
WILLIAM GALLAS
A divisive and at times controversial figure at club level, Gallas is nevertheless a key player and one of the most experienced defenders around.
After emerging from the prestigious Clairefontaine academy and joining the youth scheme at Caen, Gallas was transferred to Marseille in 1997 and spent four seasons in the south of France, learning valuable lessons from Laurent Blanc. After joining Chelsea in 2001 for £6.2 million, his career skyrocketed and back-to-back Premier League titles in 2005 and 2006 followed under Jose Mourinho, as well as a League Cup triumph.
But Gallas' versatility created a rod for his own back as he was shifted around the back four, causing friction with his manager and he joined Arsenal in a part exchange deal with Ashley Cole. An important figure for the club, he failed to win a trophy and was stripped of the captaincy following an embarrassing reaction to a draw against Birmingham in 2008 and some ill-advised media comments.
Released on a free transfer in the summer of 2010 after a dismal World Cup with France and having failed to agree terms on a new deal at the Emirates, Gallas provided his critics with more fuel as he sealed a move to Arsenal's main rivals Tottenham.
Strengths: Gallas is a fearsome and versatile competitor and, with his strength, pace and stamina, is a match for any forward. He also reads the game well, scores goals and is a born winner, demanding similar commitment from his team-mates.
Weaknesses: He lacks a bit of height but Gallas' key failings are largely mental. He has been involved in a succession of arguments and has demonstrated a petulant streak which can translate from dressing room to pitch.
Career high: Playing a key role as Chelsea secured their first league trophy for 50 years in the 2004-05 season. Gallas and Chelsea repeated the trick the following year.
Career low: Being stripped of the Arsenal captaincy in November 2008 after he broke the trust of the dressing room when criticising team-mates in public.
Style: Dominant, aggressive, serious, an experienced centre back.
Quotes: ''What's he done? It's not the Yorkshire Ripper I'm signing, he's a footballer, he plays football. When he plays here he might go and play for West Ham - what's he supposed to do? I'm sure the fans will give him a good reception." Harry Redknapp, August 2010.
Trivia: Gallas was born on the same day as Thierry Henry (August 17, 1977) and in the same city, Paris.