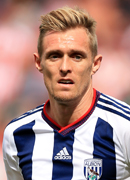 Darren Fletcher
Squad No: 24
Position: Midfielder
Age: 30
Birth Date: Feb 1, 1984
Birth Place: Edinburgh
Height: 6' 0'' (1.83m)
Weight: 188 lbs (85.1 kg)
2013/14 English Premier League
| GAMES | GOALS | ASSISTS | SHOTS |
| --- | --- | --- | --- |
| 10 | 0 | 0 | 4 |
DARREN FLETCHER
Fletcher has won round even the most sceptical of United fans over the last couple of seasons and has now firmly established as a vital first-team player for club and country. His impressive work rate and ability to do the simple things effectively have seen him emerge as arguably United's most important player in the middle of the park.
Having come through the youth ranks at United, he made his debut in March 2003 in a 1-1 Champions League draw at home to FC Basel at the age of 19. He enjoyed a highly impressive 2003-04, starting 17 Premier League games. With David Beckham having moved on to Real Madrid, Fletcher was deployed in his old role on the right side of midfield, though he always appeared more comfortable playing in a central position.
At the end of the season, after some stirring performances, he rose to become the captain of Scotland despite being aged only 20. Despite finding himself more involved in the first-team, Fletcher was allegedly one of those who came in for fierce criticism from Roy Keane during a canned interview for MUTV and when the captain left Old Trafford, most fans shared the view that the young Scot was not an able successor.
Fletcher's appearances were not particularly regular for United during their 2006-07 title win but he played enough games to pick up a first league medal, before adding another in 2008 when he was also an important part of the Champions League-winning squad, though he was an unused substitute in the victory over Chelsea in Moscow.
The long-term injury to Owen Hargreaves in September 2008 provided Fletcher with a chance to cement his status as a regular starter, something he has achieved with some distinction. A player who excels in the big games, Sir Alex Ferguson has become heavily reliant on Fletcher's energy, to such an extent that he claimed United's 2009 Champions League final defeat to Barcelona was partly down to the absence of his midfielder through suspension.
At international level, Fletcher was first named Scotland's vice-captain under Alex McLeish, deputising in the absence of regular captain Barry Ferguson, but following the removal of Ferguson as captain in 2009, he was named as full time captain in August 2009. With determination and drive aplenty, Fletcher continues to be a valuable asset for both United and Scotland.
In December 2011, a chronic bowel condition saw him disappear from action and such is the nature of Fletcher's condition that the possibility exists that he may never return to the level reached earlier in his career, and it has even been suggested that the Scotland international may be forced into premature retirement.
Strengths: Fletcher is a battling midfielder with a touch of class. His passing and tackling are exemplary, as is his discipline and commitment to the cause.
Weaknesses: Perhaps doesn't score enough goals and can be outmuscled by opponents at times; has also earned himself a reputation for whinging at referees. When decision don't go his way.
Career high: Just days after Roy Keane's alleged criticism, Fletcher headed the winner against Chelsea at Old Trafford to end the the 40-match league unbeaten run of the then-reigning champions. The goals he scored - both from headers - in United's 4-3 win over rivals Manchester City in 2010-11 also underlined his quality.
Career low: Missing out on the 2009 Champions League final after being sent off for a contentious foul on Cesc Fabregas in the semi-final against Arsenal. He was also an unused substitute during the 2008 final.
Style: Energetic, calm, intelligent; Fletcher has made himself a regular fixture in the United midfield with a string of mature performances.
Quotes: "Fletch underlines what United are all about. He is a world-class player and I wouldn't swap him for any other in the world." Wayne Rooney hails Fletcher's importance.
Trivia: Fletcher became the youngest player to captain Scotland since John Lambie - who was 17-years-old in 1886 - when he led his country to a 1-0 friendly win against Estonia in 2004 at the age of 20.