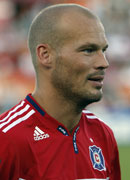 Freddie Ljungberg
Full Name: Fredrik Ljungberg
Squad No: 8
Position: Midfielder
Age: 37
Birth Date: Apr 16, 1977
Birth Place: Vittsjo, Sweden
Height: 5' 9" (1.75m)
Weight: 155 lbs (70.5 kg)
FREDDIE LJUNGBERG
In his prime, Ljungberg was a fast, tricky wide-man boasting industry and impressive goalscoring ability, but a spate of injuries saw a dramatic deterioration in the Swede's form and fitness and, in moving to the US, he hoped to prove himself to be a committed performer in latter days of his career.
The midfielder made began his career with Halmstads BK before moving to the Premiership with Arsenal for £3 million, turning down Sheffield Wednesday, in 1998. It took him time to bed in, but his ghosting late runs into the box saw him win two titles with the Gunners and three FA Cups and become one of the best attacking midfielders in the game.
He left in the summer of 2007 to join West Ham for a fee of £3 million, but suffered from injuries and terminated his lucrative contract after a year to move to the MLS with Seattle Sounders. After surgery to repair a persistent hip injury, he became one of the leading lights of the US league and moved to Chicago Fire after a season.
The Swedish international represented his country at the Euros of 2000, 2004 and 2008 and the World Cups of 2002 and 2006, with his high point a headed goal to take Sweden out of their group in 2006.
Strengths: A great dribbler, he has a habit of popping up at the right place at the right time in the box to score goals. His stamina is excellent and he has a great touch.
Weaknesses: He lacks pace now, and has problems with injuries. He also has a desire to get into confrontation with officials far too often.
Career high: Scored 12 goals in 25 starts to help Arsenal to the league in 2001-02. And was part of the unbeaten 'Invincibles' of Arsenal in 2003-04.
Career low: A move to West Ham saw him criticised for picking up a huge pay packet, without playing many games.
Style: Direct, fast paced, a god dribbler and excellent team player.
Quotes: "I always thought Freddie might end up in America. It suits him well. He is Hollywood. He is a free-spirit and a creative. He is an artist and an art-lover. We all remember his red hair while he was here and I think he will do very well over there." Arsene Wenger on Ljungberg's decision to move to the MLS.
Trivia: In 2003 he was contracted as a Calvin Klein underwear model, fronting a worldwide campaign which became one of Calvin Klein's most successful ever.