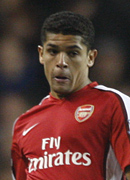 Denilson
Full Name: Denílson Pereira Neves
Squad No: 15
Age: 25
Birth Date: Feb 16, 1988
Birth Place: Sao Paolo, Brazil
Height: 5' 11'' (1.80m)
Weight: 68.1 kg
DENILSON
Denilson's arrival at Arsenal was very much under the radar. With William Gallas moving to North London and Ashley Cole departing on August transfer deadline day 2006, the addition of an 18-year-old from Sao Paulo did little to generate excitement. But the midfielder has outlasted Gallas at Arsenal and with over 100 appearances to his name, is now an established member of the Gunners squad.
£3.4 million appeared a good price for a player who had represented Brazil at every level from Under-15 to Under-19 and the quiet midfielder enjoyed a promising debut season, making ten Premier League appearances after being blooded, as is custom at Arsenal, in the Carling Cup. He was to be denied a medal in his very first season though, when starting in the 2-1 defeat to Chelsea in the final in Cardiff.
Injuries restricted him to just four league starts the following season but the summer of 2008 proved a turning point for Denilson. Arsenal saw Gilberto Silva, Mathieu Flamini and Lassana Diarra depart, but instead of recruiting an expensive replacement, Wenger placed his faith in Alex Song and the Brazilian, who made more appearances than any of his team-mates in the 2008-09 season.
Though Abou Diaby has since supplanted him as the favoured colleague for Song and Cesc Fabregas in the Arsenal midfield, Denilson still made 19 league starts in the 2009-10 season and enjoyed his most prolific campaign in front of goal when scoring six times, proving his potency from long range. Strengths: Denilson's strengths lie in his short passing and reading of the game. He is very effective at retaining possession and has become stronger in recent seasons, adding a goal threat.
Weaknesses: His positioning can sometimes be suspect, allowing his man to drift away from him, and Denilson's passing in the final third is not as incisive as some of his team-mates'. He lacks star quality.
Career high: Returning from a two-month absence due to injury to score a long-range effort in his 100th game for Arsenal - a 2-0 win over Standard Liege in November 2009.
Career low: Watching Barcelona's stars run rings around him in April 2010 when Lionel Messi scored four times to knock Arsenal out of the Champions League.
Style: Unassuming, effective, reliable, an unspectacular midfielder.
Quotes: "If you look at the numbers and the amount of balls he wins, he is one of the top midfield players in the country on many indexes. He doesn't talk too much but he is very efficient." Arsene Wenger, February 2009
Trivia: In the 2008-09 season, Denilson touched the ball more times than any other Premier League player.