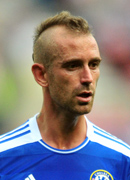 Raul Meireles
Full Name: Raul Meireles
Squad No: 33
Age: 31
Birth Date: Mar 17, 1983
Birth Place: Porto, Portugal
Height: 1.79m
Weight: 65 kg
RAUL MEIRELES
Raul Meireles has gained praise for his work-rate and skills as an all-round midfielder.
He first came to prominence with Boavista FC in 2003 and was picked up by hometown club FC Porto the following season. Establishing himself quickly in the centre of the Porto midfield, his ability to get goals while also acting as a defensive midfielder won over his critics and he picked up four Portuguese titles and three Portuguese cups while at the club.
After six years, Meireles opted to take on a new challenge with Liverpool after impressing at the 2010 World Cup with Portugal and signed for the Premier League club for £11.5 million. He made a slow start under Roy Hodgson, but he improved markedly when Kenny Dalglish took charge in January.
However, with Liverpool reinforcing in central midfield in the summer of 2011, there were rumours he would be on his way. On the final day of the window, he submitted a transfer request before completing a move to Chelsea, where he would link up with former Porto boss Andre Villas-Boas.
Villas-Boas' reign came to an early end, but Meireles ended his first season having played a part in the club's FA Cup and Champions League successes, memorably netting a sensational goal against Benfica in the quarter-final of the latter competition.
Strengths: Dominant and dynamic, he loves a physical battle and is also capable of the spectacular.
Weaknesses: He has a short fuse, while he can give away too many fouls and his passing can be wayward.
Career high: Winning the treble of league title, Portuguese Cup and Super Cup with FC Porto in 2006.
Career low: Picking up a suspension in the Champions League semi-final second leg against Barcelona, which ruled him out of the final.
Style: Tough, uncompromising, a classy all-round midfielder.
Quotes: "You only have to look at the consistency Raul displayed in the qualifiers to realise that he is as important to this team as some of the big stars" - Portugal coach Carlos Queiroz, 2010.
Trivia: He is renowned for his tattoos. He had his first one done at the age of 19 and regularly adds new designs all over his body.