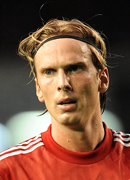 Christian Poulsen
Squad No: 5
Position: Midfielder
Age: 34
Birth Date: Feb 28, 1980
Birth Place: Asnæs
Height: 6' 0'' (1.83m)
Weight: 76 kg
2013/14 Dutch Eredivisie
| GAMES | GOALS | ASSISTS | SHOTS |
| --- | --- | --- | --- |
| 27 | 1 | 3 | 12 |
CHRISTIAN POULSEN
Adding grit and determination in the centre of the park, Poulsen's experience as one of Europe's toughest defensive midfielders has allowed him to make his mark on the game.
An uncompromising midfielder with a colourful disciplinary history, Poulsen began his career at FC Copenhagen in 2000 and quickly made the step up to the international scene. His performances caught the eye of Schalke, where he earned back-to-back Danish Player of the Year awards, and was soon snapped up by Sevilla, where he won his first European trophy - the 2007 UEFA Cup.
It wasn't long before Juventus brought him into their ranks - despite a few misdemeanours - and he eventually began to make his name in Italy. However, he did not last longer than two years and opted to move to Liverpool for a fresh challenge after the 2010 World Cup.
He failed to make his mark at Anfield, though, and was shipped out to newly-promoted Ligue 1 side Evian after just one year in England.
Strengths: Fierce in the tackle and has a good work ethic.
Weaknesses: Loses his temper too easily, gets booked too often and has a limited range of passing.
Career high: The first player to be named Danish Player of the Year for two consecutive years, when he won the 2005 and 2006 awards.
Career low: Giving away a penalty after he punched Swedish striker Markus Rosenberg in the stomach in a Euro 2008 qualifier - an action that resulted in a Danish fan running onto the pitch to attack referee Herbet Fandel. The match was forfeited to Sweden as a 3-0 victory, while Denmark were fined 66,000 euros and forced to play their next four home qualification matches at least 250 km away from Copenhagen.
Style: Fiery, aggressive, hard-working, a tough customer.
Quotes: ''This [against Sweden] is the best match I've ever seen Christian Poulsen play. It was excellent and then some. In a nerve-wracking battle, he was the brain of the team' -' Denmark coach Morten Olsen, September 2009
Trivia: At Euro 2004, Poulsen was spat on by Italian star Francesco Totti, who received a three-match ban and gave a "full public apology" for his actions.