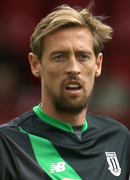 Peter Crouch
Squad No: 15
Position: Forward
Age: 33
Birth Date: Jan 1, 1981
Birth Place: Macclesfield
Height: 6'7" (2.01m)
Weight: 156 lbs (70.6 kg)
2013/14 English Premier League
| GAMES | GOALS | ASSISTS | SHOTS |
| --- | --- | --- | --- |
| 32 | 8 | 5 | 59 |
PETER CROUCH
The 6' 7'' striker has attracted a lot of attention during his career for his height, but offers more than just aerial ability in his roles for club and country.
A nomadic player, Crouch has played for 12 teams during his career, but came full-circle when he returned to his first club Tottenham in July 2009. An FA Cup winner with Liverpool, the tall striker failed to make a lasting impression at Anfield and first rose to prominence in Southampton's relegation season of 2005.
Crouch's second stint at Tottenham was a mixed bag. His overall league record for the club is 12 goals struck in 73 matches, one of those strikes proving valuable indeed as he netted against Manchester City to propel Tottenham into the Champions League. And his hat-trick versus Young Boys ensured Spurs competed in the group stage of Europe's premier competition. Alas, his European adventure turned sour in the knockout phase when he was sent off in the 14th minute against Real Madrid in the quarter-finals.
Then, on the domestic stage, Spurs again locked horns with City as the pair battled it out for Champions League qualification. This time, however, Crouch scored an own goal to help City on their way to a third-placed finish. That summer, speculation emerged over Crouch's future, with Sunderland said to be keen. But, ultimately, Stoke landed the forward on transfer deadline day for around £10 million.
For England, he got his first international call-up in 2005 and did enough to cement his place at the 2006 World Cup - scoring a hat-trick against Jamaica - but, despite impressing when given the chance, he has failed to nail down a starting spot. His unusual build gives his side a 'Plan B' though and he has the potential to cause problems to any defence. Indeed, his scoring record continues to impress.
Strengths: Height and aerial prowess, obviously, but he has deceptively decent feet and is more than the one-dimensional player many pundits make out.
Weaknesses: His scoring record is inconsistent, especially against the bigger teams, he lacks pace and he commits far too many fouls.
Career high: Picking up his first major trophy, the 2006 FA Cup with Liverpool.
Career low: Relegated by Southampton in 2005 after getting his first England call-up for his good form.
Style: Ungainly, imposing, skilful, an unusual blend of styles.
Quotes: "He may be unusual because of his incredible height, but the boy can also play. He has great feet for a big man, which is something you don't always expect from players as tall as him - not that there are many!" Former Chelsea defender Mario Melchiot, October 2005.
Trivia: Crouch made the ''robot dance'' famous after scoring against Hungary, but claimed he would only do it again if England were to win the World Cup, saying: "It's not about robotic dancing. It is about scoring goals and winning matches.''